At a Glance
Expert's Rating
Pros
Easy to use
Adds screen real estate to Mac laptops
Works in a Thunderbolt daisy chain
Cons
Occupies a USB port on the Mac
Our Verdict
The Matrox DualHead2Go Digital ME is an external multidisplay adapter that allows you to add up to two DVI monitors to a Mac.
The $179 DualHead2Go Digital ME measures just 3.8 by 2.5 by 1.1 inches and comes in a silver aluminum housing with two DVI connectors on the back for video output. The front of the device has a DisplayPort connection for video input and a USB port for power. Matrox includes a USB cable, a Mini-DisplayPort-to-DisplayPort cable, desktop software, and a two-year warranty. DVI cables and video adapters are not included.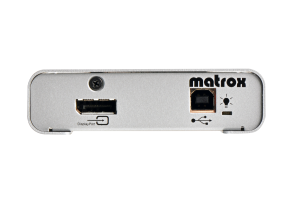 The DualHead2Go Digital ME is a straightforward device to use; you can finish installation in a few steps. Using the USB cable, you connect the DualHead2Go Digital ME to a USB port on your Mac to power the device. As for the second included cable, you connect the Mini DisplayPort end to the Mini DisplayPort or Thunderbolt connector on your Mac, and the other end to the DisplayPort on the DualHead2Go Digital ME. External monitors connect to the DualHead2Go Digital ME's DVI ports. After everything is hooked up, you simply install the Matrox PowerDesk software, and the DualHead2Go is ready to use.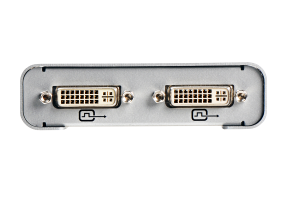 Through PowerDesk you can optimize your new display landscape via the Mode Management tools and Desktop Divider feature. Mode Management lets you customize display settings such as resolution and refresh rates. The Desktop Divider allows you to choose between using the extra monitors as one big display for widescreen viewing (also handy for digital signage), or using them in a traditional setup as individual screens. If you opt to use each screen individually, the software configures the displays in a "4×2" manner, allowing for up to eight different applications across both monitors. PowerDesk also lets you move the Dock to one of the external displays.
One issue is worth noting for laptop users, especially 2011 Mac users. Because the device draws power via USB, you'll have fewer ports for other peripherals, such as external hard drives or optical drives. That may not be a huge problem for some people, but for others it could be a deal-breaker. The DualHead2Go Digital ME can, however, work in a Thunderbolt daisy chain, so if you're a video editor and you back up your projects to a Thunderbolt external drive, you will be able to connect your drive and the DualHead2Go Digital ME at the same time. The DualHead2Go must be the last device in the chain.
Another factor to keep in mind is that different Thunderbolt-equipped Macs have different capabilities when it comes to adding external monitors. For example, 15- and 17-inch MacBook Pros from early 2011 and later, iMacs and the 2.5GHz Mac mini from mid-2011, and MacBook Airs from mid-2012 are all able to run two external Thunderbolt displays. On the other hand, 13-inch MacBook Pros from early and late 2011, the 2.3GHz Mac mini and the Mac mini Server from mid-2011, and the MacBook Air from mid-2012 can support only one external Thunderbolt monitor. If you have a system that doesn't support two displays, or if you simply do not want to pay the Thunderbolt premium and want to use DVI displays, the DualHead2Go Digital ME can work for you.
Bottom line
The Matrox DualHead2Go ME is a device that does exactly what it's meant to do: add desktop space by adding DVI displays. It's simple to connect, and the PowerDesk software makes optimizing your display setup really easy.
Updated 11/1/12 at 8:15 a.m. PT to correct information about Thunderbolt connectivity and to clarify DVI display support. Also updated the mouse rating to a 4 out of 5.