"It's killing time!" shouts the small, faceless barbarian I've just hired to defend my lands. Adorable, distinctive, and exceptionally charming, the barbarian upgrade rapidly became one of my favorite features of Kingdom Rush, a tower defense strategy game for the iPhone, iPad, and iPod Touch. With a deft hand, app developer Armor Games offer a strikingly immersive, challenging, and humorous game that is somehow more than the sum of its parts.
The tower defense genre has been an old standard on the iOS platform. Simply tap on a build location and voila! You have a defensive tower that you can upgrade and utilize to defend yourself against wave after wave of enemies. Kingdom Rush is just such a tower defense game, with about 20 missions, two difficulty levels, and 75 stars to earn. Each star earned gives you an upgrade, or you could throw a bunch of stars together and unlock heroes—powerful single units you can deploy to aid your army.
Nothing that Kingdom Rush does is particularly original, but the overall package is exceptionally compelling. Your cartoonish kingdom is under attack, and you're given a mission briefing before each level detailing the fantasy armies you'll confront. Spiders, orcs, black knights, and yetis are part of the rogues' gallery of villains you'll have to defeat, and your arsenal is just as familiar: magic towers, arrow towers, artillery, and soldiers. The game acknowledges the debt it owes to predecessors, referencing lands and characters from Lord of the Rings and Warcraft. Each tower comes with its own unique sound effects and persona—artillery towers will feature wisecracking dwarves while magic towers will house wizards who like to quote Yoda and Gandalf. If you like referential humor, then Kingdom Rush will be hilarious to you; if not, there's always the mute button.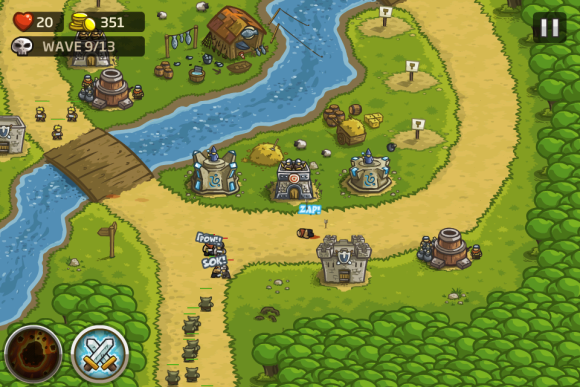 The cartoonish characters will remind you of the artwork of Castle Crashers, a similarly humorous medieval game for the Xbox and PlayStation 3 systems. The scale, of course, is very different, but the cartoonishness is approachable for younger audiences (though sometimes the language may not be).
Kingdom Rush works because of its balance and its brutal difficulty. Knowing where to deploy barracks, when to upgrade them or buy a new tower, and what upgrades to get for your armies are all exceptionally important decisions that will be rewarded or punished by the game's immense challenge.
The tap controls aren't the determining factor in your success—it's instead determined by build order, placement of your troops, and how you choose to upgrade. If you buy a big artillery placement initially, for example, you can take care of low-level spiders with ease. But you'd have to throw a lot of money to upgrade it, and it won't be affective against certain heavily-armored or flying enemies. And you need to make these mental calculations quickly, as the game throws wave after wave at you mercilessly. Often, you won't know that your strategy failed until an entire wave makes it through your defenses and you go from hero to dead in seconds.
Bottom Line
I never thought I'd recommend a tower defense game for iOS, after the gold standard set by Plants vs. Zombies. While not quite as deep or as humorous, Kingdom Rush is nevertheless just as well built and just as fun. It belongs on your iPhone and, ideally, your iPad, where the game's large battlegrounds can really shine.