This week's collection of apps include new ways to navigate the world—as well as new options for destroying the planet in your home movies.
Already this week, we told you about how MyFitnessPal had hit the 30-million user mark, we gave you a look at leaked screenshots for the forthcoming Google Maps app, and we offered a review of the WriteUp text-editing app.
Other new and updated apps that caught our eye this week:
Action Movie FX: If you've ever wanted to make your home movie look like it has big-budget special effects, you could probably do worse than turn to the folks at Bad Robot—the production house for Star Trek and Super 8 director J.J. Abrams. Action Movie FX, a free app for iPhone and iPad that lets you add explosions, missile attacks, lasers, and more to videos of your backyard barbecue. This week's update offers four new "sci-fi blockbuster" effects: "Robo attack," "laser blaster," "alien burst," and "space destroyer." There are also new user interface features, including pinch-to-zoom and drag-and-drop tools that make it easier to turn your home movies into something special.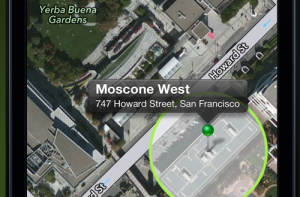 Checkmark: Lots of getting-things-done apps remind you when to accomplish certain tasks. Checkmark, a $2 iPhone offering, does that and more—it reminds you where to do those things, too: Double-tap a location on the app's map, and when you arrive there it will alert you to the task in need of accomplishing. This week's update improves the maps available on the phone, offering users the ability to see satellite and hybrid views of neighborhood, as well as the ability to place a pin anywhere on that map. The update also includes new features to help users set recurring reminders or hit "snooze" on tasks they're not yet able to accomplish.
Circa News: Here's an app for people who want to stay caught up with the news, but don't necessarily want to dive too deeply past the headlines. Circa News, a free iPhone app, offers a photo-rich summary of the day's top news stories—but, unlike other aggregation services, promises not to provide you with five different versions of the same story. Instead, you get a bullet-pointed overview of the most important stories: It's like getting a PowerPoint summary of the day's news.
Glympse: It's frankly hard to do a social-networking app that lets your friends know you're nearby without seeming a little creepy: The free Glympse app for iPhone and iPad tries to solve the problem by putting users in total control of who sees their location and when; It offers tools to send friends a notification of their location (via email, Twitter, Facebook, and text) and how long they'll be there. When the timer on that notification expires, the user's location is no longer visible to the public. This week's update lets users request Glympse notifications from each other, and also allows multiple users to form "Glympse groups" for common activities.
Emanata Comics: If you love indie comics—and the artists who make them—you should check out the free Emanata Comics app for iPad; it lets those artists display and sell their work (issues start at $1 apiece) while letting the artists retain the right to sell the same work elsewhere. Readers get a chance to see the work of up-and-coming creators, as well as odd and eccentric voices that aren't showcased elsewhere. Everybody wins.
Quick Route/Atlas by Collins: The advent of iOS 6—and Apple's much-discussed decision to replace the formerly native Google Maps app on the iPhone and iPad—has been a boon to makers of mapping and GPS apps. Quick Route, a $5 navigation app for iPhone, might be greeted happily by users waiting for Google to release its own mapping app for iOS: The app uses Google Places to power its routing instructions, but displays them overlaid on Apple's own maps. If your purpose isn't navigation, but simply to enjoy the glory of a well-made atlas, Atlas by Collins—a $10 offering for iPhone and iPad—offers beautiful imagery and detailed information by locations all across the planet. The app is compatible with the iPhone 4 or later, or the iPad 2 or later.
VocaLive: Another week, another top-flight music-making app from IK Multimeida. This time it's VocaLive, a $20 iPhone app that contains a dozen vocal effects to help get the best out of your lead singer's vocal tracks. This week's update offers a number of new features, including the ability to export tracks to SoundCloud or an FTP account. Happy singing!
Other apps of note: Klout added Passbook support … Check the Weather debuted as the newest way to, um, check the weather … Sonic Jump launched your favorite hedgehog on a new adventure … Localscope updated for compatibility with iOS 6 … and Nigella Lawson's eponymous app is now available on the iPad.