Apple's 15-inch Retina MacBook Pro has a problem: OS X doesn't allow users to easily take full advantage of the Retina display. Specifically, OS X doesn't provide a simple, quick way to switch between the many supported screen resolutions; in addition, the Retina display supports higher resolutions than OS X provides access to. Fortunately, several developers offer software tools to fix this problem, and the one I've come to favor is Inertiactive's QuickRes.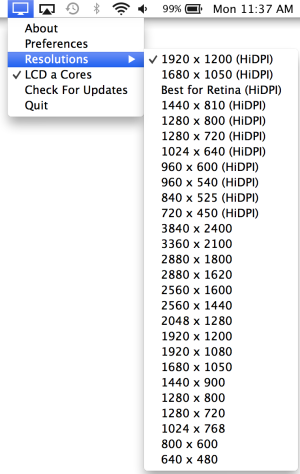 QuickRes can appear in your Mac's menu bar; a few other display utilities may offer a menu bar option, but OS X's Displays system preferences doesn't, and neither does a utility I previously used called Change Resolution. In addition to the standard five resolutions that are available in the Displays pane of System Preferences, QuickRes on the 15-inch Retina MacBook Pro lets you access 22 additional resolution settings—for a whopping total of 27 available resolutions—including the native 2880 by 1800 resolution and two even-higher resolutions, 3360-by-2100 and 3840-by-2400. Right-clicking the QuickRes menu-bar icon shows you all of these resolutions, letting you quickly choose any of them.
Alternatively, a simple click of the QuickRes icon in the menu bar cycles through available resolutions—there's no need to open an app, select a setting, and click a button to apply the chosen resolution. Similarly, a press of a configurable keyboard shortcut—by default, Command+Option+R—to switch resolutions instead of clicking the menu bar icon.
But you don't have to cycle through all these options—you can choose up eight resolutions that are used for this cycling. For example, you could set up a three-setting sequence where the first resolution is 1024 by 640, the second is 1440 by 900 (or what QuickRes calls Best for Retina), and the third is 1920 by 1200. Whenever you click the QuickRes menu-bar icon or use the keyboard shortcut, you switch to the next setting in the sequence. If the display is at 1024 by 640 and you press Command+Option+R, the display switches to 1440 by 900. Press it again, and the display switches to 1920 by 1200. Press it again, and QuickRes goes back to the beginning of the sequence. (You can move only in one direction through the sequence, however.)
You can also toggle the visibility of the QuickRes menu-bar icon by pressing Command+Option+Control+I. This keyboard command is actually very useful, because when QuickRes is running, it doesn't appear in the Dock, in Recent Items, or when pressing Command+Tab.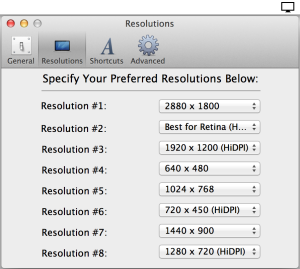 With a regular laptop, I normally set the display to the display's highest screen resolution and rarely changed it. With the Retina MacBook Pro, however, I found myself modifying my work habits to take advantage of the display, changing the screen resolution based on the task I'm performing. I generally use the 1920 by 1200 resolution, but when I do long-form reading and editing or minor image editing, I switch to the Best (Retina) setting. When I need a lot of screen real estate for, say, Final Cut Express, I switch to the Retina display's native 2880 by 1800. With QuickRes I can switch between these setting with a few taps on the keyboard.
One issue I had with Change Resolution was that if you used it to switch from 2880-by-1800 to 1440-by-900 Best (Retina), the image quality wasn't as crisp and clean as it usually is. QuickRes doesn't have this problem, and you see the high clarity that you expect.
Earlier versions of QuickRes were for Retina laptops only. Version 2.2 can be used with non-Retina MacBooks, as well, offering similar functionality. I tested QuickRes on a 17-inch MacBook Pro, and the app offered 17 different resolution settings, compared to just three available screen resolutions in the Displays pane of System Preferences.
The one annoyance I found with QuickRes is that when you're switching from a low resolution to a higher one (for example, from 640-by-480 to 1280-by-720), windows that fill the width or height of the screen at the lower resolution—but are not in full-screen mode—don't automatically scale to fill the larger screen. (When using apps in full-screen mode, I was able to switch resolutions without a hitch.)
There are other apps available that provide similar features, and some even offer more customization settings. But QuickRes has a straightforward and no-nonsense approach that many users (including me) will appreciate and prefer. It's a great tool for Retina MacBook Pro owners—and any other MacBook user—who needs to switch resolutions on a regular basis.