Panorama images provide a broader view of the world than typical photographs. With iOS 6, Apple brought the ability to create these big pictures to a pair of mobile devices: iPhone 4S and iPhone 5.
Two things distinguish the Panorama option in the Camera app from most other offerings. First, just how darn well it works. Even when I try to screw up, it still produces an interesting picture. And second, how well integrated panoramas are into the Aperture, iPhoto, and iPhoto for iOS applications. This integration encourages me to use pano images in new ways.
Before I dig deeper into that, however, let's first take a look at how panoramas work on the iPhone.
Shooting a panorama
Begin by tapping the Camera icon on the iPhone, choosing Options, and selecting Panorama. You're presented with a screen that has an arrow pointing to the right and a line for you to follow as your record the image. In use, it actually feels like you're recording a movie. But you're not. The result is a still picture.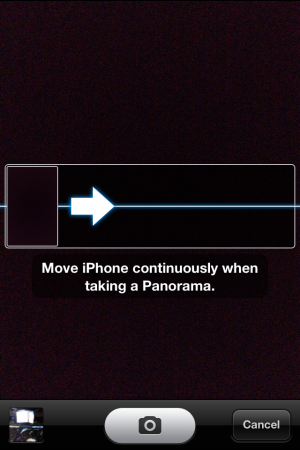 Point the camera to the far left of the scene, tap the shutter button, and then steadily sweep from left to right, keeping the arrow tracking the line as best you can. You can sweep the entire 240 degrees, or tap the shutter button again when you've recorded enough to stop capture. At this point, the iPhone will assemble the panorama and place it in the Camera Roll.
Additional recording tips
If you prefer to sweep from right to left instead, just tap once on the arrow while in panorama mode. It will change directions. You can also take vertical panos by holding your phone horizontally and sweeping upward. You can control focus and exposure, just like when taking a regular picture, by tapping on an area in the composition that you want the phone to calibrate for. Since you have 240 degrees to play with, you can do fun things like have the same person jump in the image at both ends.
On average, my full panoramas worked out to be about 16MB in file size, 10,800 pixels wide, or about a 25MP image. Specs say images can get as large as 28MP. Not bad for a camera phone. And consistently, they look great.
You'd think that the story might end here. But it doesn't.
Viewing panoramas on a Retina iPad
Enjoying your panoramas on the iPhone is good. Seeing them come to life on a Retina display iPad is stunning. The trick is to open the images in iPhoto for iOS (v 1.1, available in the App Store for $5), which can now handle these large files. You can zoom in and examine the fine details of your shot, then zoom back out for the full view. (The iPhone 5 also has enough horsepower to do this, albeit on a smaller screen.)
You can further enhance the experience by including panoramas in an iPhoto for iOS slideshow. Because the application is now "pano aware," it displays these images with the drama they deserve. For example, when applying the Ken Burns style to your presentation, the panorama images gracefully sweep from right to left. The Origami style shows your image unfolding on the screen. The best part is, you don't have to do anything special beyond capturing the panorama and adding it to the slideshow. The software takes it from there.
Not bad on the Mac either
When you copy your panoramas to the Mac, they retain their full resolution. You can share the images using Photo Stream, or connect the iPhone directly to the computer and import the images into iPhoto or Aperture.
Aperture 3.4.1 and iPhoto 9.4.1 are also "pano aware," displaying wide thumbnails and filmstrip-style jagged edges that visually indicate which images are panoramas. Once the pictures are in Aperture, I recommend adding them in a slideshow using the Ken Burns style. Just like on the iPad, the panoramas will come to life, dynamically moving across your screen. Same goes for iPhoto slideshows. They're quite impressive.
In books too
You can use panoramas to jazz up your photo books. A number of book themes in iPhoto on the Mac have been updated to include layouts designed for these wide shots. For example, Picture Book, Photo Essay, Journal, Modern Lines, and Travel, let you choose single panorama pages, two-page panorama spreads, or pages that mix panoramas with regular photos.
To create a book with these layouts, select an album or an event that includes some panorama shots, and then choose Book from the Create menu at the lower right. Choose your book's size, binding style, and theme, and then click the Create button.
Once your book is created, you can either change an existing page to a panorama-friendly layout or add a new page using the Add Page button. Use the Layout panel to choose from one of the page layouts that feature panoramas, then go to the Photos panel and drag in your panorama shot.
To make a big impression, choose the Spread layout option and have your panorama spread across two adjoining book pages. Note that the application automatically resizes the frame to match each particular shot's aspect ratio so you see the entire photo with no cropping (up to a maximum of 5:1 which is an extremely wide pano).
Panos are a big deal
What may have sounded like a simple new feature in the iOS 6 Camera app turns out to be a big deal. I'm particularly impressed with how iPhone panoramas are improving my slideshows, both on the iPad and on my Mac.