Good news for readers: Apple on Tuesday announced the newest version of its ereader software, iBooks, available as a free download on the App Store for iOS devices.
Apple CEO Tim Cook began his iBooks demo with a brief overview on the iBookstore, noting that customers have downloaded more than 400 million books. The iBooks app is "one of the most popular apps on the store," said Cook, before outlining the enhancements in the new version.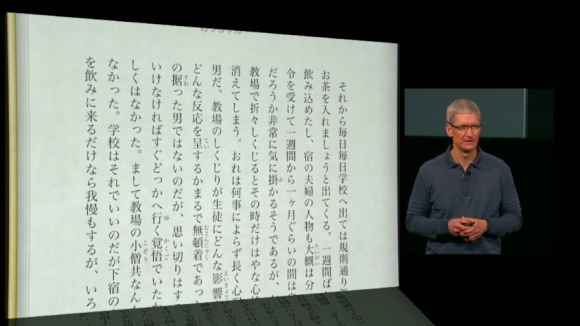 The app now supports more than 40 languages—including Korean, Chinese, and Japanese—and features a new "continuous scrolling" reading option for those who prefer scrolling over page-turning. Another welcome addition: iCloud not only syncs your page turns, but all your purchased iBookstore books over your various devices. (Cook did not mention on-stage if books purchased elsewhere would also sync.)
Book sharing, too, has been improved: Just tap and highlight a quote or paragraph and share it via Facebook and Twitter.
We'll have more information on iBooks 3 later in the day.