That didn't take long—within hours of Apple's Tuesday announcement of the iPad mini, accessory makers began announcing products that would go perfectly with the new device. Here are a few that landed in our in-box in the first couple days, as well as the other new iOS accessories we saw this week.
iPad mini-specific gear
These products are designed specifically for the iPad mini—note that shipping dates haven't been announced for most.
Dr. Bott: This company said it would sell 74 different accessories for the iPad mini—including the $40 Cover Stand from Gear4. Most of the rest of the products are so new that Dr. Bott doesn't yet have pictures available, but they largely run the gamut from protective films for the tablet's screen to folios to prevent scratches all over.
iLuv: This accessory maker said it would adapt its entire line of iPad cases to fit the iPad mini, with that lineup led by the $65 CEO Folio, a plush case that lets you carry the tablet on one side, along with pens, documents, and styluses in the other. The $55 Snoopy Folio is aimed at a younger crowd, while the $40 Epicarp provides a slim case that offers both protection and a kickstand.
Kensington: This company announced three new products for the new tablet: A $20 protective back cover; a $35 cover and stand; and a SmartCover-compatible back cover that also comes in at $20.

Padacs: The $40 Rubata Mini is a scaled-down version of Padacs's Rubata hard-shell keyboard case. The 59-key keyboard connects to the tablet using Bluetooth; the case itself is made from synthetic leather for rugged durability.
Other iOS accessories
Not all the new accessories this week were pegged to the iPad mini announcement.

Belkin: The $90 WeMo Baby is an iOS-linked baby monitor for your home, relaying audio from your infant's room directly to an app on your iPhone or iPad. You can even sign up to get "cry notification" text alerts. There's no word on when the WeMo Baby will be available, baby—Belkin's website says only that the device is "coming soon."
Chef Sleeve: Among its many attributes, the iPad often a great replacement for paper cookbooks. But sometimes it's scary to take your favorite iOS device into the kitchen where crumbs, gravy, and boiling sweetmeats can make a mess. Chef Sleeve offers a variety of products to keep your tablet safe, including our favorite, a $70 cutting board with iPad stand—you can follow cooking instructions while you chop vegetables (see the picture at the top of this article), or you can watch your favorite cooking show. If you're still worried about the mess, you can buy a $20 pack of disposable iPad sleeves or iPhone sleeves, which let you use your device in the kitchen while protecting it from foreign substances.
GameDock: The $89 GameDock is pretty much exactly what it sounds like: Plug in your iPhone or iPad, and you suddenly have a 1980s-style Nintendo gaming system on your hands. You can play games on your iOS device's screen, or plug it into a TV for big-screen gaming. After a successful Kickstarter campaign, the GameDock is now available for pre-order; units are expected to ship in December.
Griffin Technology: SUNDAY! SUNDAY! SUNDAY! Well, ok, you can actually play with the $60 Moto TC Monster any day of the week. You can control this " app-powered monster truck" using your iPad or iPhone, and you can do it from the comfort of your own seat—BUT YOU'LL ONLY NEED THE EDDDDDDDDDGE!
NewerTech: Maybe the Apple TV is evolving into something more than a niche product. Why do we say that? Because we're starting to see accessories for the device. The latest is the $18 NuStand Alloy, an aluminum Apple TV stand with a silicone rim for a safe, secure grip, and a rubberized black finish for scratch resistance. The stand weighs in at just 3.5 ounces, and it can also hold Apple's 2012 Airport Express.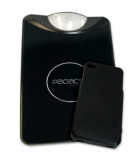 Padacs: Just because the iPhone 5 has arrived doesn't mean it's time to stop making—or introducing—accessories for the iPhone 4 and 4S. (Apple's still selling these models, after all.) The $80 FlexiCharge is a wireless-charging system for those two phone models: Just attach the slimline receiver and place the phone on the charging pad. The device shuts off when the phone's battery is full, preventing overheating and overcharging.
uNu Electronics: This company is offering three new rechargeable batteries compatible with your iOS devices: the $40 Enerpak Tube, the $80 Enerpak Book, and the $80 Enerpak Vault. uNu claims the devices are compatible with iPhones, iPads, and—most cheekily, since the devices were introduced last week, before this week's Apple event—the iPad Mini.