In some ways, Thunderbird 16's open-source origins are a blessing. This free email client from the makers of Firefox—aided by a legion of dedicated volunteer programmers—offers more add-ons and customizable features than Apple's Mail 6 (

) or Microsoft's Outlook 2011 (

). But freedom and flexibility have their drawbacks, too: Thunderbird looks and works like a tool built by committee.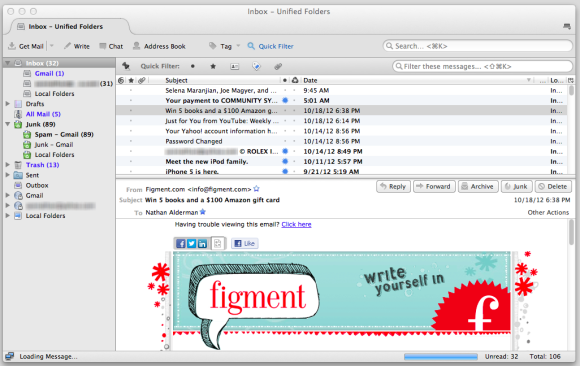 The stark gray interface seems like a holdover from Thunderbird's distant origins as Netscape Communicator. And the initial feature set compares poorly to those of Mail and Outlook: Third-party add-ons give Thunderbird calendar features and the option (after a very long setup process) to view message threads as a seamless conversation, but Thunderbird lacks such capabilities by default.
The program allows you to view HTML messages and see photos and other attachments inline, but only after you search through the menus for ways to activate those features. And although you can group messages by threads, you can't page through all the messages in a thread at once; an unhelpful preview shows you tiny scraps of each part of the conversation, after which you must click through to each individual message.
Thunderbird does permit you to add color-coded tags, à la Mail and Outlook's flags, to individual messages. You can change the names of the five default tags, or create new ones. But tagged messages don't show up globally in the left navigation pane. Tags serve only to sort messages in search, as well as in Thunderbird's Quick Filter within a given mailbox.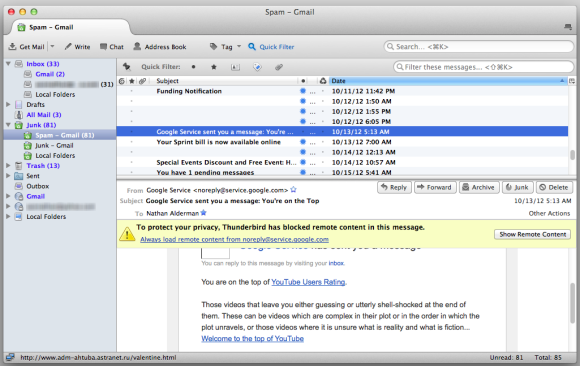 Even when Thunderbird offers something its rivals don't, the feature can be difficult to find, and hindered by the program's open-source allegiances. For instance, the built-in FileLink feature connects Thunderbird to outside file-sharing services, allowing users to swap large files that won't fit email providers' size limits. But by default, FileLink supports only the relatively obscure Box, Ubuntu, and YouSendIt protocols; you can enable Dropbox support via an add-on. Furthermore, to even know how to get to FileLink, I had to consult Thunderbird's spotty online help files, and then burrow a few layers deep into its Preferences.
Its surface appeal aside, Thunderbird's under-the-hood abilities prove to be hit-or-miss. In my tests, its search feature was truly impressive, displaying the results of my query in a new tab, with further filters for incoming or outgoing messages, or those from a given recipient. It's well designed and delightfully useful, and it feels like a real innovation that Thunderbird's rivals would do well to steal.
Thunderbird's account import wizard also worked like a charm. Echoing Apple Mail's own easy setup, it needs only your name, email address, and password to find and configure a new account. However, the process applies only to POP and IMAP, with no support for Exchange. (Third-party add-ons claim to integrate Exchange calendars, but it wasn't clear to me whether any of them offer direct support for Exchange email.)
I wish Thunderbird's security features were more reliable. The program promises to flag scam email messages for you. When I went trolling through my spam folder to test that assurance, Thunderbird did alert me to some bogus messages—but it left other clear attempts at redirecting me to a phony website pass unacknowledged.
In theory, Thunderbird's extensibility deserves applause. But in practice, it seems tedious for anyone but the most demanding users to track down and add third-party extensions just so that Thunderbird can offer the same features its main rivals provide right out of the box.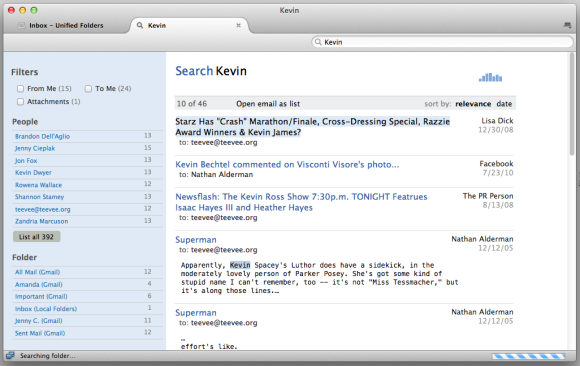 Bottom line
For just $10, competing client Postbox enhances the Thunderbird engine with a layer of polish and poise that its progenitor lacks. If you need a free, extensible mail client with more room to tinker than Apple Mail or Outlook offers, Thunderbird 16 might do the job. But it doesn't make a compelling case for anyone to switch from their current favorite mail program.