Prior to Tuesday's press event, Apple promised that it had "a little more" to show us. That "little more" turned out to be quite a bit, as the company released a smaller version of its iPad tablet, introduced a new generation of regular-sized iPads, and rolled out new iMac, MacBook Pro, and Mac mini models.
The iPad mini was the last in the slew of product announcements Apple made on Tuesday, but it was clearly the most anticipated. The 7.2mm-thick tablet is 23 percent thinner than a full-sized iPad and weighs in at half the weight of its predecessor. The iPad mini sports the same 1024-by-768 resolution of the iPad 2, so that existing iPad-optimized apps will work on this new model.
The iPad mini starts at $329 for 16GB, with 32GB ($429) and 64GB ($529) configurations also available; adding cellular connectivity tacks on another $130 to the price tag. Apple will start taking pre-orders this Friday. The Wi-Fi versions of the iPad mini begin shipping on November 2; the cellular editions will start shipping "a couple of weeks" after that.
In addition to the iPad mini, Apple also introduced a fourth-generation of its full-sized iPad. The new tablets are powered by the A6X chip, which promises faster performance and better graphics. The front-facing camera has been upgraded to a FaceTime HD model, and a Lightning port replaces the 30-pin dock connector. Apple kept the prices on these iPads the same as the third-generation models it introduced just six months ago.
"We're not taking our foot off the gas," Apple CEO Tim Cook said.
Get more information on Apple's new iPads
Apple's tablets may have been the marquee attraction, but they weren't the only hardware unveiled Tuesday. Perhaps the most eye-catching update was the new iMac lineup, featuring dramatically thinner versions of Apple's all-in-one desktop.
The iMac still sports the aluminum design that's been in place for more than five years, but the insides have been re-engineered to make the machine lighter and thinner. The new systems are 45 percent skinnier than their predecessors, according to Apple; they're also about 8 pounds lighter.
The new iMac comes in 21.5-inch and 27-inch sizes, with prices starting at $1299 for a 2.7GHz quad-core Core i5-powered version of the smaller one. The other 21.5-inch iMac features a 2.9GHz quad-core Core i5 processor for $1499, while the 27-inch offerings sport a 2.9GHz quad-core Core i5 or 3.2GHz quad-core Core i5 for $1799 and $1999, respectively. The 21.5 inch models will ship in November, the 27-inch the month after that.
Get the details on Apple's new iMac lineup
Among the build-to-order options for the new iMac is the newly announced Fusion Drive, a hybrid storage device combining flash storage with a regular hard drive. The Fusion Drive features 128GB of flash storage and 1TB or 3TB of hard-drive capacity. Apple hasn't announced pricing or availability for the iMac upgrade.
Get the details on Apple's Fusion Drive
In Apple's MacBook Pro lineup, the company is adding the Retina display feature—first introduced in a 15-inch laptop last summer—to a new 13-inch model.
The 13-inch MacBook with Retina display features a resolution of 2560 by 1600 pixels. It comes in two configurations: a $1699 model with a 2.5GHz dual-core Core i5 processor and a $1999 model with the same processor but 256GB of flash storage. Apple will still offer two versions of its 13- and 15-inch MacBook Pro with standard LED-backlit displays.
Get more on Apple's MacBook Pro with Retina display update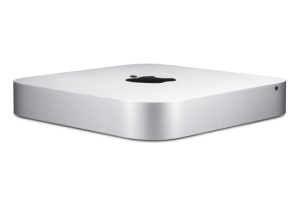 Of the hardware changes unveiled Tuesday, the Mac mini's were probably the most modest—at least on the outside. Externally, the Mac mini is more or less unchanged from its last version, save for upgrades to USB 3.0 ports. Inside, however, the mini has faster processors: a 2.5GHz dual-core Core i5 chip in the $599 model and a 2.3GHz quad-core Core i7 chip in the $799 model. Both Mac minis have improved graphics as well and that new Fusion Drive (as a $250 option).
A $999 Mac mini server now features a 2.3GHz quad-core Core i7 processor, improved graphics, and larger hard drives.
Get the details on Apple's Mac mini update
Apple also offered a handful of software updates during Tuesday's event. Its iBooks ereader software for iOS devices is now at version 3.0. The iBooks update supports more than 40 languages and features a continuous scrolling alternative to turning pages. iBooks Author got an update as well, adding new templates and a portrait-only orientation feature for iPad ebooks.