iBooks 3 is the latest edition of Apple's reading app for the iPhone, iPad, and iPod touch. Like all of its biggest competitors—Amazon's Kindle app chief among them—iBooks is free. In choosing your preferred e-reading app, you're basically choosing which ecosystem you'll use for purchasing the ebooks themselves.
Kindle isn't iBooks' only competitor, but it's worth mentioning one stark difference between the Kindle platform and the iBooks platform: Both can sync your place when you read ebooks between different devices. With iBooks, the only currently compatible devices are iOS devices. With Kindle, there are Kindle desktop apps for the Mac and Windows PCs, and of course the hardware Kindle devices as well. If you're already plugged into the Kindle ecosystem, I'll say at the outset that as good as iBooks 3 is—and it is very good—there's really not enough to motivate you to switch allegiances from Kindle to iBooks.
That said, cliché though it may sound, iBooks 3 is the best edition of the app to date. Significant and minor improvements alike make the app more satisfying a reading environment than ever before.
Surprisingly, one significant iBooks improvement is lifted from the Kindle app: The bookshelf in iBooks now lists all the books you own, even titles you haven't downloaded to your device. That makes it quick and painless to download books you own on demand (provided your iOS device is online, of course). Books in the cloud are marked with a special icon on their covers.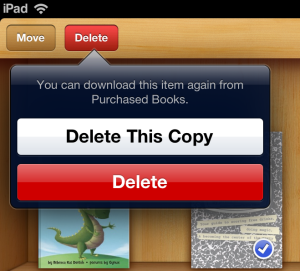 When you delete books from your bookshelf, the nomenclature in iBooks is uncharacteristically lousy. First, you're not really deleting the books at all; you're removing them. When you tap the thus-misnamed Delete button, its two sub-options are even less clear: Delete This Copy and Delete. The former removes the book from your device, but leaves its cover on your shelf (with the iCloud download icon now superimposed). The red Delete button removes the book from your shelf entirely—though you can still get it back again by going into the iBookstore's Purchased tab.
Now's as good a time as any to mention the iBookstore itself. Its selection size is steadily increasing; Apple now claims it has more than 1.5 million ebooks available. And the iBookstore wields one significant advantage over its competitors: You can access the ebook store from within iBooks, instead of being forced out into Safari. Third-party developers are prohibited from offering such behavior (unless they cut Apple in on the ebook sales, which isn't financially viable).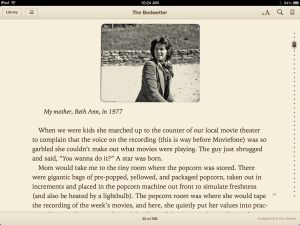 Also new in iBooks 3 is the addition of a third theme called Scroll. Unlike Book (the skeuomorphic theme that places the text upon the virtual pages of a virtual hardcover) and Full Screen (which ditches the book to give more real estate to the text), Scroll doesn't directly paginate your books for you to swipe through horizontally. Instead, it lays out the book vertically; you scroll through it like you would a lengthy email or webpage, no horizontal swipes required.
The Scroll theme is decidedly unpleasant on a full-sized iPad. The scrolling isn't smooth; I encounter frequent stutters. The goal of any ebook app at its core should be to get the heck out of the way so that the reader forgets about the app and just gets immersed in the text. Scroll on the iPad constantly pulls me out of the book with its hiccups.
On my iPhone 5, however, Scroll performed noticeably better. And I've certainly tried vertically scrolling my ebooks (in both iBooks and Kindle) in the past; my muscle memory simply expects to perform that scrolling gesture when I'm reading on an iOS device for a long time. It's now my default theme on the iPhone.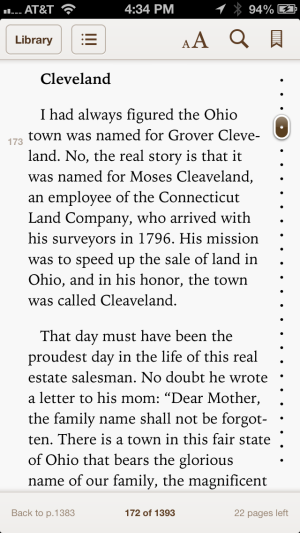 (On the iPhone, you just get two themes: Book and Scroll. But—save for its page-turn animations—Book on the iPhone is pretty close to Full Screen on the iPad, in that there are no faux book pages drawn beneath the text.)
As always, and even in the Scroll theme, iBooks's on-screen information display is better than its competition offers: You get omnipresent details on your current (virtual) page number, and how many of those virtual pages are left in the current chapter. If you don't want that detail, you tap the screen and it fades away. I'm a big fan of quick access to the pages left in a chapter; I love knowing how far I am from a good stopping point. The Kindle app doesn't offer that option.
Another new feature in iBooks 3 is its ability to share excerpts from the books you're reading. You tap and drag to highlight the passage you'd like to share, and then tap again on the highlighted section. Then you tap the Sharing button (the boxed arrow) and choose to share through Mail, Messages, Twitter, or Facebook, or to copy the text to the clipboard.

It works fine—with one silly caveat. iBooks tries to include attribution information for the quotation, like the book's title and author, and a copyright notice. In some contexts, like Twitter posts, that detail likely won't fit, so the prepopulated tweet text gets arbitrarily truncated. It's not a big deal, but it's a bit sloppy.
One addition Macworld didn't test is iBooks 3's new support for more than 40 languages, including Koren, Chinese, and Japanese. It's there if you need it. iBooks 3 also gains the option to download free updates to books you've purchased. That won't apply to most books you buy, but it could come in handy should you own one that needs updating. We weren't able to test that feature, either.
Other core iBooks features remain unchanged, but still impressive: It offers an excellent selection of crisp, superb fonts; it offers black-on-white, white-on-black, and sepia-toned text/background pairings; it has in-app brightness controls. Its in-book search is quick and accurate. And its support for ragged-right text (as opposed to the Kindle app's unchangeable, awkward forced justification) is much appreciated.
Bottom line
With its latest update, and the iBookstore's continued growth, iBooks 3 offers an excellent reading experience, if you don't mind limiting your ebook reading to iOS devices.