There are plenty of great Mac accessories that we don't cover in standalone articles. Our Mac-accessory roundup gives them a home—and gives you the latest info on stuff to make your Mac more useful.
Just Mobile: This vendor of accessories is known for its variety of aluminum stands, and the company has announced two new models, the $50 AluBase and the $60 AluRack. The AluBase, made from a single piece of aluminum, is a small cradle that holds your laptop upright for closed-lid use (while connected to an external display) at a desk. Soft-plastic inserts let the AluBase fit any current MacBook model. The AluRack (shown at the top of this article) mounts to leg of your iMac, Thunderbolt Display, or Cinema Display and holds either a closed MacBook or a hard drive behind the display. The two-piece AluRack is made of aluminum with an "anti-scratch TPR" cradle, and it attaches securely to the cable hole in an iMac or Display's leg.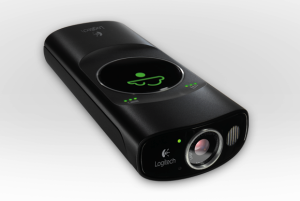 Logitech: This vendor of all things that send input to, and produce sound from, your computer has debuted the $200 Broadcaster Wi-Fi Webcam, a Wi-Fi-enabled webcam that broadcasts your live video to Ustream and can be controlled and previewed from your Mac or iOS device. Included software even lets you stitch together dual-view video from the Broadcaster and your Mac's built-in webcam. The camera features 720p video capture (with H.264 compression) with digital zoom and digital pan and tilt, as well as a built-in microphone and an input for using an external mic. It also sports a lamp for illuminating your subjects. The camera is just 118mm long, 47mm wide, and 28mm thick and weighs just 97 grams (including the two-hour battery); the included base adds 161 grams. The camera can also be used as a standard webcam for FaceTime, iChat, and Skype video chats and for recording video using QuickTime or Photo Booth. Logitech says the camera ships this month.

Macally: Looking for something to protect your MacBook Air that doesn't take away from its svelte figure? Macally's new $50 SlimFolios (website not yet updated), to be available for both 11-inch and 13-inch MacBook Air models, are form-fitting covers that clip onto your MacBook Air, letting you use the laptop without removing the cover. But unlike form-fitting plastic shells, the SlimFolio looks like a folio-style, metallic case. Each case features a soft lining and is available in four brushed-metallic finishes: black, silver, blue, or purple.
Matias: Mechanical keyboards—which forgo the laptop-style keys of most current keyboards in favor of sturdy, old-school keyswitches—remain popular, though they have one significant drawback: They're loud. As in, loud enough to annoy your coworkers or wake your spouse. Matias's Tactile Pro keyboards have long been among the best of these keyboards, especially for Mac users, and the company has recently released—purists, brace yourselves—a quiet version. The $150 Quiet Pro is, according to the company, an ultra-quiet version of the Tactile Pro and the world's quietest mechanical keyboard. Matias says the keys feel the same as those on the Tactile Pro and include the same key labels for typing special modifier-key characters. (The company also plans to sell the quiet keyswitches to other companies for use in other keyboards.) The Mac version of the new keyboard similarly offers a Mac-focused layout with Mac-specific modifier keys and special-function F-keys. The QuietPro features three USB 2.0 ports.
NewerTech/OWC: We previously told you about NewerTech's $18 NuStand Alloy Display Stand for Apple TV, a black, aluminum stand to keep your Apple TV upright and stationary. The company also now offers the $20 NuStand Alloy Display Stand for Apple Mac mini. This one's silver—to match the Mac mini, natch—instead of black, and it securely holds a 2010-or-later Mac mini upright for a smaller footprint (just 7 inches by 3.8 inches). Non-skid rubber feet keep the stand in place, a rubber ring lines the stand opening so your Mac doesn't get scratched, and a rubberized-aluminum finish protects the stand itself.
NewerTech has also updated its $30 Universal Drive Adapter with USB 3.0 support. The adapter lets you use bare 2.5-, 3.5-, and 5.25-inch hard drives—SATA or IDE—with your Mac without having to put them in an external enclosure.
Satechi: Remember Satechi's 12-port USB Hub? It turns out the company also offers hubs for people with more modest demands—and portable needs. The $10 Ultra Portable 4 Port USB Strip Hub is a 3.3- by 0.7- by 0.7-inch, 1.4-ounce, 4-port USB 2.0 hub. The short, built-in USB cable stores in a groove on the bottom of the hub when packed for travel. The $10 Ultra Portable 4 Port USB Pocket Hub similarly offers four USB 2.0 ports, but in a square, 1.9- by 1.9- by 0.5-inch package. Both hubs provide overvoltage protection to keep your computer safe if a connected peripheral short-circuits.
Seagate: This storage vendor has announced that beginning in November, the company's Backup Plus Portable Drive for Mac and Backup Plus Desktop Drive for Mac models will feature USB 3.0 interfaces. The company claims performance will be up to 10 times faster than with the USB 2.0 versions. (The drives are backward-compatible with USB 2.0.) Like the current versions, the new Backup Plus drives will include software that can back up your data from social-networking services such as Facebook and Flicker, as well as share photos and videos on those services. The Backup Plus line features an interchangeable connection, so you can later upgrade to FireWire 800 or Thunderbolt, if necessary. The Backup Plus Portable drives are priced at $110 for 500GB or $130 for 1TB; the Desktop versions are $130 for 2TB or $180 for 3TB.