If you haven't already ordered that iPad mini, be prepared to wait: Shipping times on the new tablets are already slipping.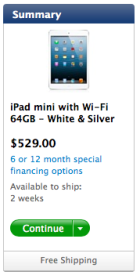 Pre-orders for the new tablet opened on October 26, with the promise that first buyers would receive their Wi-fi-enabled iPad minis on November 2. But online buyers can no longer expect such quick turnaround: Apple's website now estimates shipping times on the new tablet will take as long as two weeks.
Similarly, shipping times for the new wifi-enabled fourth-generation iPad are now listed at a week.
As we noted last week, the delays aren't entirely unexpected: Analysts said high demand for the iPad mini, combined with a short supply chain for the new device, might result in shipping delays. "The new low price point is expected to appeal to a wider audience and drive up demand," wrote Richard Shim of NPD DisplaySearch. "However, panel supply-chain indications point to an even more than typical tightness in the market for the iPad mini."
One way early adopters can still get the mini right away: Stand on line when local Apple Stores make them available at 8:00 a.m. on November 2.
Shipping times for Apple's other new products seem to be staying on schedule. The LTE versions of both the new iPad and iPad mini weren't expected to begin shipping until mid-November, for example, and there's no indication that the timing for those products has changed.
Similarly, the basic models of both the new Mac mini and 13-inch MacBook Pro with Retina display are both in stock at Apple's store and ready to ship; you'll see a slight delay of two to four shipping days, however, if you upgrade the storage or memory capabilities of either device.
And it's still too early to even pre-order the new iMac models: The 21.5-inch model will be available in November; the 27-incher follows in December.