Organize (available at the Mac App Store) is a to-do list manager with project management aspirations, but its ambitious feature set tends to be a drag on the experience. Most essentials for a good task manager are present, like task grouping and categorizing, easy item creation, and due dates. It can sync with its namesake apps for iOS devices over Wi-Fi or the Internet. But a multitude of niche features and some missing core functionality can make using the product ungainly.
At the heart of every to-do list is the task, a discrete unit of action that has to be accomplished. In addition to a title and description, each Organize task can also contain a priority (indicated by a series of blue dots), a color, flagged status, start and end dates, repetition intervals (daily, weekly, etc.) a duration, percentage completed, and persons assigned to be responsible, accountable, consulted, and informed.
Tasks can also have three review stages called Action, Information, and Decision. Each of the three review stages has a review date, context, location, and security classification. Setting the multitude of options can be achieved from the task list view, but I found many of the button labels to be useless. Consider that each task in list view has three different buttons labeled with the letter A, but each has a different function and Organize offers no tooltips to guide your selection. Mercifully, an Inspector palette is available that puts all your options in one place and doesn't use cryptic abbreviations.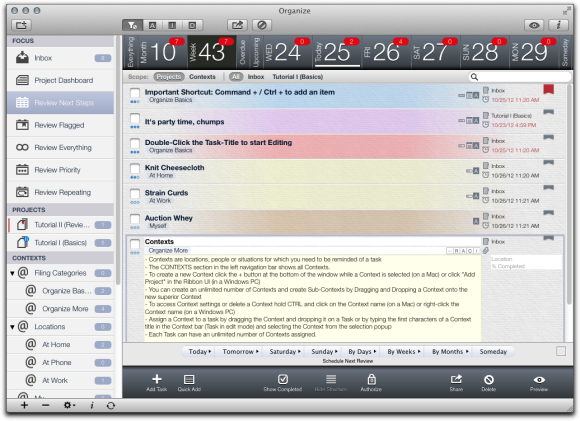 Individual tasks can be grouped into Projects, a very logical way to keep related items together. Each task can also be assigned various Contexts. In Organize, a Context is a label that transcends both Task and Project. In a team setting, for example, the same group of people may be working on multiple projects, and any given person in the group is likely to be responsible for several tasks. By creating a Context for each person, it becomes very simple to pull up a list of one person's tasks across all Projects. The Context concept can be applied to locations, disciplines, or just about anything else. Contexts can be added to a Task by typing in the desired value or dragging a context from the list on the left side of the window and dropping it on the task.
Once populated with Projects, Contexts and Tasks, Organize offers some well-designed ways to review it on screen in the form of seven Foci listed down the left pane of the main window. Unfortunately, the pleasing designs can't overcome some quirky behaviors. The first Focus is entitled Inbox, giving the impression that all new tasks land here upon creation. That's not necessarily the case. The only place you can be sure a new Task will be listed is the Review Everything Focus; from there a Task can be dragged to the Inbox. The Project Dashboard Focus offers a consolidated overview of your Tasks in tiles for each Project. There are also tiles for the inbox, and Tasks occurring in the future and recent past. It's a good place to quickly get a handle on your most relevant tasks on a given day. But Projects don't automatically appear in the Project Dashboard—you have to manually drag a Project into the Dashboard if you want to see it. The Review Next Steps Focus takes a date-centered approach to laying out your Tasks. A ribbon across the top of this view shows the current month, week, the previous, current and next four days. Click a point on the ribbon and Organize displays the Tasks that are active at that time. Of all the Foci, Review Next Steps is the most innovative and compelling.
Adding new Tasks, either by keyboard shortcut or button is best done when a particular Project or the Inbox is selected. Organize will permit you to add a task from the Project Dashboard Focus, but it doesn't give you the opportunity to edit or even name the Task. You'll have to switch to the Review Everything Focus, find your untitled Task and configure it there. That's confusing at first, then annoying. Worse, Organize offers no system-wide keyboard shortcut for adding new tasks without switching applications. The ability to quickly create a Task item, enter just the essentials and move on is a cornerstone of task management software that Organize has totally overlooked. A system-wide Quick Entry drawer exists, but it only creates Tasks from URLs dropped on to it.
Bottom line
Organize has a deep feature set, stability, and above average documentation going for it. But the complexity of the product and some puzzling behaviors around Task creation tend to cancel them out. If you don't require specialized features like, say, six tiers of confidentiality ranking, Organize probably isn't the task manager for you.