There's nothing like the launch of a new iPad to fire up the market for, well, old iPads.
"The trade-in market is rocking," said Dan Brauser, co-founder of uSell.com, a search website that helps users find the best possible price for old electronics they want to unload. And right now, he and other experts say, owners of third-generation iPads are trading in those tablets to prepare for—and pay for—Friday's launch of both the iPad mini and the fourth-generation iPad.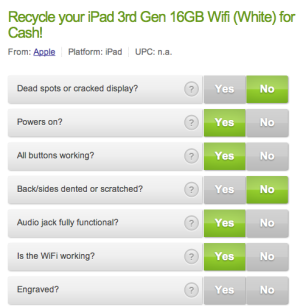 "For us it's the best time of year," said Jeff Trachsel, CEO of NextWorth, another trade-in website. "We see huge spikes in our business."
If you're an Apple fan getting ready to buy one of the products hitting stores on Friday, it's possible you do have an older tablet you're not quite sure what to do with. That's especially so in this case, when Apple's releasing not just one but two new iPads, just six months after the tablet's last revision.
Trading into a third-party reseller is one option, but there are others:
• You can return it to Apple or your wireless carrier: Apple features a Reuse and Recycling Program; earlier this week, the program was offering to pay up to $260 for a gently used, basic 16GB Wi-Fi third-generation iPad. (That payoff—which comes in the form of an Apple gift card, and not cold, hard cash—drops off for tablets with scuffs, scratches, and water damage. And if you're the kind of person who likes to trade in your iPad every generation or so, it's best to skip the engraving if you want maximum resale value. )
Verizon also has a trade-in program that lets you get an online appraisal on your current iPad; the company will pay you that value—about $190 for that basic third-gen iPad—in the form of a Verizon gift card. AT&T, meanwhile, has its own trade-in program, but the company will ask for your iPad's serial number before giving you a quote on the device.
• Give it away, give it away, give it away now: That iPad 3, in particular, probably still has the new-car smell on it, and if you're feeling generous, you might well make the day of that spouse, child, or good friend who has been eyeing your tablet wistfully in recent months.
Before handing it off, though, you'll want to make sure you strip the iPad of your own personal information. (This is a must-do if you're sending it back to Apple or a third-party reseller, as well.) Apple has some pretty clear instructions on how to erase your iPad's memory and settings. Just go to the Settings -> General -> Reset, and tap the Erase All Content and Settings button. You'll also want to guarantee you've backed up all the data on the device first—either locally to iTunes or remotely to iCloud—so that you can restore it to your new iPad.
• And yes, there's still the trade-in market: There are plenty of companies willing to do the job online. Many resellers—among them NextWorth, Gazelle, YouRenew, and the venerable eBay.com—will gladly pay to take your iPhone off your hands. Most of these companies were offering upward of $200 this week for the basic Wi-Fi-only 16GB third-generation iPad.
But, as uSell's Brauser and NextWorth's Trachsel both warned, finding a reputable reseller online isn't always the easiest task. Some companies, they say, will offer you a good price for your tablet online, but then claim it's in worse condition than expected when they receive it, sending you a smaller-than-promised check as a result.
"There's a lot of bait-and-switch," Trachsel said.
NextWorth has tried to enhance its legitimacy by partnering with Target, the national retailer; iPad owners can walk into Target stores to sell their tablet to NextWorth and get paid on the spot. uSell addresses the problem by showing users offers from several resellers, and showing customer-satisfaction ratings for each.
It's also a good idea to do an online check-up on the companies offering to buy your iPhone to see which ones have good reputations and which have a string of unsatisfied customers. Start by checking with the Better Business Bureau website.
If you are going to trade in your third-generation iPad to buy one of the newer devices, though, you'll probably want to act quickly: Once the iPad mini and fourth-generation iPad go on sale Friday, the offer prices for the older model will probably decline fairly quickly.
"The sooner you can lock in a quote, the better," Trachsel said. "Obviously, values decline over time."
And just what happens to your old iPad when you resell it? Some other lucky person gets to buy a cheap iPad.
"There's a budding secondhand market for all small consumer electronics right now," Brauser said. Like the iPad 3, most devices are "built to have a longer useful life than what we're seeing consumers actually use them for … There's a lot of value that's left in that."