At a Glance
Expert's Rating
Pros
Lowest cost Mac available
Much improved all-around performance
Cons
No processor or storage options available
Our Verdict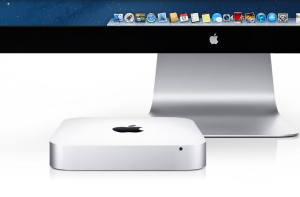 Last year's Mac mini brought a number of drastic changes to the compact desktop computer: Core i5 processors that replaced the aging Core 2 Duo CPUs, Thunderbolt ports, and the discontinuation of a built-in SuperDrive. The new Mac mini may not be quite as revolutionary as the 2011 models, but its updates are still significant.
The 2012 Mac mini introduces USB 3, which replaces the tired, old USB 2.0 ports found in the previous model. The new Mac mini also has faster integrated graphics, and, for the first time, quad-core processors.
You look familiar
This Mac mini update maintains many physical aspects that were introduced with the mid-2010 Mac mini, including a low-profile (1.4 inches high, 7.7 inches deep and wide) aluminum unibody design. The front has a pin-hole sized activity light and IR port. The back of the new model has a power button, power cord input, and ports for gigabit ethernet, FireWire 800, HDMI, Thunderbolt, and USB 3. An SDXC card slot and audio-out and audio-in ports round out the physical connection types, while 802.11a/b/g/n Wi-Fi, Bluetooth 4.0, and an IR port deliver wireless connectivity.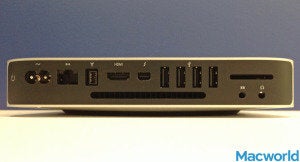 As always, Apple invites you to bring your own keyboard, mouse, and display to the Mac mini party—they're not included. The box includes an HDMI to DVI cable, but you may need additional adapters—such as one for DVI—that will cost extra money.
The Mac mini's body sits on a round, quarter-inch high black plastic disc that, when rotated half an inch, can be removed to expose the two RAM slots. Both the $599 and $799 standard Mac minis come with two 2GB 1600MHz DDR3 SDRAM modules (for a total of 4GB), but they can be upgraded to use up to 16GB of RAM.
Drive issues
The entry-level $599 Mac mini comes with a relatively pokey 5400-rpm 500GB hard drive. Aside from RAM, it has no optional upgrades available from the Apple Store. The high-end $799 Mac mini also comes standard with a 5400 rpm drive, though at 1TB it has twice the capacity. And this high-end model has options: For an additional $300, you can upgrade to 256GB of flash storage, or for $250 you can opt for a new 1TB Fusion Drive.
A Fusion Drive brings together a 1TB hard drive and 128GB of flash storage. The operating system and applications are installed on the flash storage at the factory. Over time, the Fusion Drive is supposed to learn your work habits and move apps and data around between the hard drive and flash storage to provide the best performance. For example, if you use Aperture all the time and infrequently use iPhoto, the Fusion Drive and OS X might move the iPhoto library and application to the slower portion of the hard drive, and move Aperture to the faster flash storage.
I haven't gotten my hands on a Fusion Drive yet, but I'm anxious to see how it differs from hybrid drives, such as the Seagate Momentus XT, which combines a fast but pricey solid-state memory with an affordable but slow rotational hard drive.
Processor boost
The $599 Mac mini has a 2.5GHz dual-core Core i5 Ivy Bridge processor; last year's high-end model also had a 2.5GHz dual-core Core i5 processor, but it was from the Sandy Bridge family. The $799 Mac mini has a 2.3GHz quad-core Core i7 Ivy Bridge processor. Both the Core i5 and i7 support Intel's Hyper Threading technology, which allows applications to address four virtual processing cores on the Core i5, and eight virtual cores on the Core i7. Both processors also support Turbo Boost, which lets processors run faster than their rated speed when necessary. Using Turbo Boost, the 2.5GHz Core i5 can reach speeds up to 3.1GHz, and the 2.3GHz Core i7 can top out at 3.3GHz.
As you'd expect, in processor-intensive tasks that use all of a system's processing cores, the $799 2.3GHz quad-core Core i7 Mac mini was much faster than the $599 2.5GHz dual-core Core i5 Mac mini. MathematicaMark was 72 percent faster on the quad-core system, and Cinebench CPU tests took 51 percent less time to complete than the dual-core model.
The high-end Mac mini can also be customized to use a quad-core 2.6GHz Intel Core i7 processor (a $100 option) that can get as fast as 3.6GHz using Turbo Boost.
Grappling with graphics
The new Mac mini uses Intel's much improved HD Graphics 4000 graphics processor. It's an integrated processor—the graphics processing is built into the main CPU and shares the computer's main memory. Discrete graphics, on the other hand, are graphics processors that are completely separate and use dedicated video memory. Generally, discrete graphics are preferred over integrated graphics for applications that demand the highest performance.
The HD Graphics 4000 is much better at delivering high frame rates in games than the HD Graphics 3000 processor used previously, but it falls far short of the performance of the discrete AMD Radeon HD 6630M graphic processor. In our Portal 2 test, the new entry-level Mac mini was 27 percent faster than the previous low-end model. However, the previous high-end model with its AMD Radeon discrete graphics was 24 percent faster than the new high-end Mac mini with the integrated Intel HD 4000 graphics.
Benchmarks: Speedmark 8 scores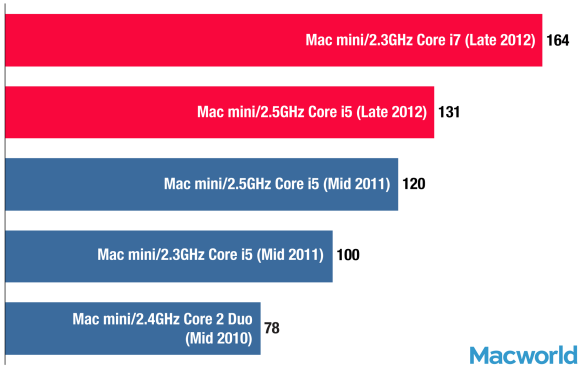 The new $599 Mac mini was 31 percent faster in our Speedmark 8 tests than its 2011 predecessor. The new system was faster in all of our tests, but its processor-intensive test results were only slightly higher. Interestingly, the hard drive test results were much faster on the new systems, though the drives are still just 5400-rpm models.
We also looked at the performance differences between the new low-end machine and a mid-2010 entry-level Mac mini with a 2.4GHz Core 2 Duo processor. The new Mac mini was 68 percent faster and finished the Cinebench CPU test in half the time of the 2010 model. The old system took nearly three times as long to complete our Photoshop action script.
The new $799 2.3GHz quad-core Core i7 Mac mini is 37 percent faster than its 2011 predecessor. Keep in mind that the previous high-end Mac mini had a 2.5GHz dual-core Core i5 processor of the older Sandy Bridge family.
Macworld Lab has a complete look at the performance of the new Mac mini, including a deep dive into the individual application results from Speedmark 8.
Bottom line
The new Mac mini continues to build on the solid foundation set by the 2011 model. If you prefer a Mac desktop computer to a laptop, and/or you don't want to be confined to the glossy 21.5- or 27-inch displays that come with the iMac, the Mac mini is a capable system for most tasks.
The quad-core Core i7 processor and the larger storage capacity make the $799 Mac mini more attractive—plus you can configure this system with Apple's new Fusion Drive for an additional $250. The least expensive Mac available today, the $599 Mac mini, has made its own performance strides and continues to be an affordable option for anyone wanting the Mac experience without paying a high premium.
Updated 1/2/12 11:45 AM PST to correct price of SSD drive upgrade and to clarify info about the processor familes.