Much as we might like iOS 6 around these parts, it's not without its flaws and foibles. Hence Apple's Thursday release of iOS 6.0.1 for the iPhone, iPad, and iPod touch.
iOS 6.0.1 is available over-the-air, from Settings > General > Software Update. According to Apple, the update contains improvements and bug fixes.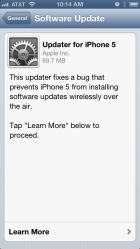 iPhone 5 users have an intermediate step in the process: They first must download and install an Updater for iPhone 5 which fixes a bug preventing Apple's newest smartphone from wirelessly installing software updates.
Among the bugs squashed in iOS 6.0.1 is one where horizontal lines may show up across the software keyboard, another where the camera flash wouldn't fire, a problem where the iPhone couldn't always use cellular networks, an issue where Passcode details could be retrieved from the lock screen, and a flaw with Exchange meetings. In addition, the update features improved reliability of both the iPhone 5 and the fifth-generation iPhone touch when using WPA2-encrypted Wi-Fi networks, and consolidates the Use Cellular Data switch for iTunes Match. There are also patches for a few security issues.
While the largest criticism around iOS 6 has involved the OS's revamped Maps app, don't expect to see any large changes in this update. Those issues largely deal with mapping data, which Apple can tweak remotely without a software update; indeed the company has already been doing so, according to comments on last week's financial results call.
It's also unknown whether or not iOS 6.0.1 will repair an issue many users have experienced with excessive data usage over cellular networks.
Both the iPhone 5 Updater and iOS 6.0.1 are free updates and recommended for all users.