Do you need better speakers for your Mac? How about more memory? Or maybe you just need some laptop protection. You're in the right place, as we've got a roundup of new Mac-complementing gear. Here are the new gadgets we've come across recently.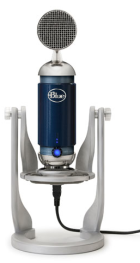 Blue Microphones: The new $200 Spark Digital microphone can plug into either your Mac or iPad via USB and provides studio-grade audio-recording quality for both devices. It comes complete with an adjustable desk stand and built-in shockmount; it also sports an LED monitor so you see your audio levels, as well as a built-in headphone jack so you can listen to your recording as it happens.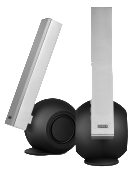 Edifier: The $100 e10 Exclaim speakers are designed to look great flanking the screen of your iMac. The system uses 36 watts of power for six active speakers (there are also two passive speakers). The Exclaim connects to your computer's 3.5-mm headphone jack. For convenience, power and volume controls are located within easy reach on the master speaker.

Hard Candy Cases: You just shelled out a bunch of extra money for that 13-inch MacBook Pro with Retina display—and boy, do the images on that screen look sharp! But now you're terrified of dropping your much-loved laptop on concrete stairs and making the magic go away. Luckily, there's now the $60 Hard Shell Case for the new 13-inch MacBook Pro. The case comes in four eye-catching colors, and it includes corner bumpers for maximum damage protection.
Hex: This accessory maker is offering its new Drake line of sleeves and totes for your Mac, ranging from the $40 MacBook Air Sleeve for 11-inch laptops to the $100 Drake Sonic Backpack, which can carry both a MacBook Pro and an iPad, along with your other possessions. Each model in the Drake lineup features an exterior of woven charcoal-and-black herringbone wool, giving your carrying case a touch of elegance.
Just Mobile: Admittedly, we've never found a good way to store our headphones when they're not in use—they often end up in a tangle of wires somewhere near our desktop. Just Mobile's $50 HeadStand (see photo at the top of this article) offers relief for that challenge, offering an elegantly designed aluminum hook from which to hang your headphones until they're needed again. Designed for tabletop use, the HeadStand should look great next to your Mac.
LaCie: The updated PetiteKey from LaCie is small enough to fit almost unnoticeably on your key ring, but big enough to carry the important data from your hard drive. It comes in 8, 16, and 32 GB versions for $15, $23, and $40, respectively, and it offers 256-bit encryption to ensure your data remains safe even if you leave your keys behind at the restaurant. It's also water-resistant to a depth of 100 meters, but we don't recommend you actually go swimming with your PetiteKey if you don't have to.
Macally: The $50 Protective case cover for 11″ Macbook Air and Protective case cover for 13″ Macbook Air are both slim, form-fitting folio cases designed to protect your computer from scratches and damage. Shipping information on those products is not yet available; however, Macally's new $20 103-key keyboard with shortcut keys is available for immediate purchase and shipping.
Other World Computing: This accessory maker announced the launch of a new version of its 480GB Mercury Aura Pro solid-state drive for the new 13-inch MacBook Pro with Retina display—and touts the $580 product as the fastest SSD available for the new laptop computer. Other variations of the SSD are expected to launch in November and December. Also new from OWC: A $45 Data Doubler kit that lets you add a hard drive or SSD to your new Mac Mini.

Quickertek: The $450 Battery for MacBook Air does two things for Apple buffs: First, the external battery extends your computing time by up to 12 hours when you're nowhere near an outlet. (That's a feature that can be useful for business travelers who spend long hours on planes.) Second it does so in up-to-date fashion, by including a MagSafe 2 modified power adapter, making it compatible with all latest-generation MacBook Air models. The battery weighs 2.2 pounds and it also includes USB ports, meaning you can also power up your iPhone or iPad on the go.
The $70 HiRise for MacBook makes your laptop computer just a little more ergonomically correct, raising any MacBook six inches from the desktop where it can be used on its own or paired with a wireless keyboard and mouse for maximum comfort. The stand also allows maximum airflow around your laptop to keep it cooler.