I'm a big fan of simple personal-finance applications—the kind you can use to quickly collect your purchase and deposit information and then easily reconcile that information with your bank account when it's convenient. FadingRed's $30 Koku, available for both Mac and iOS, hits almost all those marks, making it easy to track your financial information at your desk or on the go, as well as to get a summary of your current financial status. It falls short only when it comes time to reconcile your debits and credits at the end of the month.
Koku for Mac has a simple interface. The app's left side, called the Library, displays a list of your accounts, a collection of pre-defined and user-created reports, Smart Lists of transactions, and folders for organizing your report data.
Koku supports 4 different types of accounts: Savings, Checking, Credit, and Cash. Each of these is set up using the Library menu or the plus-sign (+) button at the bottom of the Library window. Once you select the type of account you want to create, you choose how you want to enter your transaction data into Koku. The default option is to enter each transaction manually, either one transaction at a time or by importing your transaction data from files downloaded from your bank. The second option is to configure Koku to connect directly to your bank's website and download that data automatically.
However you choose to enter your transaction data, I found that both options work well, although the direct-connect feature has a limited selection of supported banks. Most of the big name banks are here, including Wells Fargo, Citizens, Chase, and PNC, but the list is short. My family does our banking at three different banks, and only one is available for direct connect in Koku. Once configured, transaction files download without a hitch. One important note: For the bank I was able to successfully connect to, Koku could download only our checking and savings data, not our mortgage information.
For those banks that you can't use the direct-connect option, you can instead download your banking transactions from your bank's website and then import that data. Koku supports four types of files, most of which are available from most banking sites: QFX, OFX, QIF, and OFC. In my testing, I was able to import these types of transaction-data files with ease.
Koku uses tags to categorize your transactions. Tags are similar to the categories you may have used in Quicken, but they're far more flexible, and anlike Quicken's old categories, your transactions can have more than one tag. Koku also uses tags for generating reports and pie charts.
Reports and charts in Koku are basic but useful, and you have the option of creating reports that fit your specific needs. In addition to the reports, a Tags tab in the Library list allows you to view all of your transactions by how they've been tagged.
Koku's Smart Lists are custom reports that you create using tags, notes, dates, accounts, amounts, states, and descriptions as filters for your transactions. For example, if you want to see how often you spent over $50 at restaurants, you would create a list with Restaurant as a tag, >= $50.00 as the amount, and (optionally) a date range; Koku will create a report that meets those criteria.
The iOS version of Koku is a slimmed-down version of the Mac app, but it offers many of the same features. Like the desktop version, Koku for iOS contains a library of all your bank accounts, reports, and the tags you've used to categorize your accounts. Once you add and tag transactions using the app, you can use the existing charts and reports or create your own.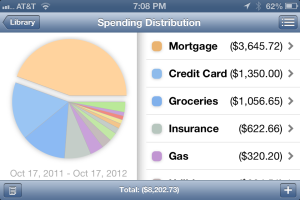 It's easy to create new accounts in the Koku iOS app, but you can't import transaction data files—you're limited to manually entering new transactions or using Koku's direct-connect feature. I tried importing files downloaded from my bank both by emailing them to myself and by uploading the files to my Dropbox account, but in both cases iOS didn't list Koku as an app that could open or import the downloaded files.
Both the iOS and Mac OS apps benefit from being iCloud-aware. If you're using only one of the apps, iCloud can be used as a means of backing up your account data. If you're using both the desktop and iOS apps, iCloud works as a synchronization tool. Enter a transaction in the iOS app and at appears in the desktop app, as well. Import a downloaded data file to the desktop app, and those transactions appear in the iOS app. The two programs do an excellent job of working together to handle all your transaction data.
The only issue I had with iCloud syncing was an apparent time delay. Unlike most iCloud-aware apps, Koku does not sync immediately when a transaction is saved. Instead, you need to either sync manually (by using a command in the Mac app's File menu, or by pulling down on the iOS app's screen), or close and reopen each app (which also forces a sync). This isn't a huge problem, but it is something you need to be aware of when working with the apps or you'll wonder why your data hasn't synced.
If Koku has a downside, it's that the app offers limited reconciliation tools—in fact, such tools are almost nonexistent. Most financial applications offer something that displays all of your uncleared transactions along with a place to enter the ending balance from your bank statement. Checking off transactions that appear in your statement mark them as cleared (in your banking application) and, if your information is correct, your bank statement is balanced at the end of the month. This isn't a huge issue if you're using Koku's direct connect feature, as those accounts reconcile automatically, but manually entered transactions need something better than what Koku is offering.
Koku is a solid, basic, personal-finance app that makes it easy to track your personal finances. While it doesn't yet rise to the level of what Quicken of old could do, it's on par with Quicken Essentials and a tool worthy of meeting your personal-financial needs.