Reader Derrick Craver is having some difficulty sharing images via iCloud. He writes:
I think I understand how to share my pictures with iCloud's Photo Stream but after sharing an album I don't know how to add more people to it. How do you do this in iPhoto and with an iOS device?
Let's run through the thing from soup to nuts, starting with iPhoto.
Launch iPhoto (version 9.4 or later), open its preferences, click on the Photo Stream item, and be sure that Photo Stream is enabled. Now select a group of images that you'd like to share in a photo stream.
From the Share menu choose Photo Stream. A small Share window will appear. To create a new photo stream, click on the New Photo Stream item. A sheet will appear that includes both To and Name fields. Enter the email addresses of those you'd like to share the photo stream with, place an appropriate name in the Name field, and click on Share. Invitations will be sent to those you've entered email addresses for. When they accept your invitation they'll be able to view your photo stream on their computers and iOS devices. (Regrettably the current implementation of photo stream sharing doesn't allow others to contribute to your stream.)
On an iOS device running iOS 6 tap Settings, tap iCloud, and be sure that the Photo Stream option is turned on. Tap that entry and additionally ensure that the Shared Photo Streams option is switched to the On position.
Launch the Photos app, tap on the Edit button, tap on the images you want to share, tap the Share button, and in the window that appears tap on Photo Stream. In the resulting Add to a Photo Stream window tap on New Photo Stream. You'll see a window similar to what you find in iPhoto, with To and Name fields that work just as they do in iPhoto. Fill in these fields and tap Next. In the succeeding window you can choose to add a comment. When you've done so (or chosen not to) tap on Post to share the photo stream.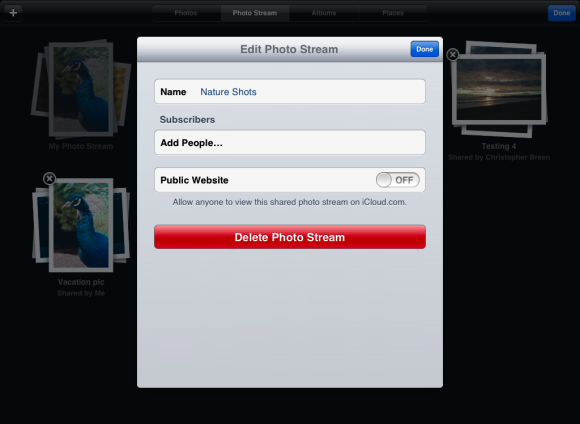 Now, to your specific question. In iPhoto on your Mac you can add more subscribers by selecting Photo Stream in iPhoto's album pane, choosing the photo stream you wish to edit, and then click on the Info button at the bottom of the window. You'll spy a Shared With area where you can add more addresses.
On an iPad, launch the Photos app, tap the Photo Stream tab, tap on the Edit button, and tap the photo stream in question. In the Edit Photo Stream window that appears tap on Add People. Again, use the resulting To field as intended and then tap Add when you've flung in all the names you'd care to.
On an iPhone and iPod touch running iOS 6 the process is a little different. Launch the Photos app, tap on Photo Stream, and then tap the blue icon to the right of the shared photo stream. In the Edit Photo Stream screen that appears tap Add people and then do your thing.