In this week's column, I look at iTunes Store authorization issues, how to get albums to stay together, a question about working with artwork, and how to split your iTunes library.
Q: I consistently get an error message when I sync my wife's iPad to my Mac, saying that some items were not copied, because I am "not authorized for them on this computer." How can I fix this?
You probably have content from the iTunes Store that comes from two different user accounts. In order to authorize your Mac to allow this content to be copied to iOS devices, you can do one of two things. The first way is to find one of the items—a song or video—and double-click it to start playing it; iTunes will display a dialog box asking for you to authorize the computer. (Note that only videos or older, DRM-saddled music purchases from the iTunes Store will request authorization.)
The second way is to choose Store > Authorize This Computer. Enter the Apple ID connected with the account for the items that aren't being copied, then its password, and click Authorize.
If that fails, there may be a problem between your Mac and Apple's authorization servers. You can try deauthorizing all of your devices by going to the iTunes Store, clicking Account in Quick Links, then logging in with your Apple ID and password. In the Apple ID Summary section of your account screen, look for Computer Authorizations, and click Deauthorize All. You'll have to individually reauthorize your computers by playing any items as mentioned above. (But keep in mind that you can only use the Deauthorize All option once per year.)
Q: Is there a way to have art for an album with different art for eachindividual song? For example, I have a compilation album of songs fromthe 1980s, each song with its own artwork. I'd like to see generalartwork for the album when in Cover Flow view, but individual artwork for each track while it's playing. Is this possible?
No, you can't do exactly what you're asking. iTunes displays the artwork of the first track of an album when displaying the album, such as in Grid View or Cover Flow View. However, you can paste individual graphics for each song that will display on, say, an iPhone or iPad when you're listening to songs. If your songs are in a playlist, however, the artwork for the specific song will display in any view.
Q: I currently have more than 55,000 songs in my iTunes library, and iTunes has become a bit sluggish. I would like to create one or more new libraries and transfer large portions of my library into them. Is it possible to create a new library and export into them a volume of tracks from my existing library?
Yes, you can. Before doing anything, though, make sure you have backups of your music files, just in case something goes wrong.
To create a new library, quit iTunes if it's open, then relaunch it and immediately press the Option key. iTunes will display the Choose iTunes Library dialog box. Click Create Library, and choose a name and location for the library files. When you want to switch libraries, launch iTunes in the same way and click Choose Library to choose which library you want to load.

Go back to your main library and create a new playlist. Drag all the tracks you want to move to the new library into that playlist. When you've done so, choose File > Library > Export Playlist. This playlist will contain all of the information about your music that is not in the tags (ratings, play counts, last played dates, and so on).
Create a new folder somewhere, such as on your desktop. Select all the files in the playlist you just created above and drag them to that folder; this will copy the actual music files.
Quit iTunes, launch it holding down the Option key, and choose the new library you created earlier. Drag all the music files you just copied into iTunes, then import the playlist (File > Library > Import Playlist), and you'll have all the music, and all the metadata.
Finally, go back to the original library, select the playlist you created, and press Option-Delete to delete the playlist and delete the tracks from your library.
If you'd rather just move certain items or media types to another hard drive, you could also take a look at Random Applications' $15 TuneSpan.
Q: After using iTunes for quite a while I have to admit I'm stumped. I can't seem to figure out what metadata to enter for individual tracks to get them to show up under the same album artwork. Most of the time entering the album title, album artists, and album artwork are enough to get them to group together. But not all of the time. Can you help me out?
As you say, the Artist, Album, and Album Artist tags are the most important to keep albums grouped, but there are a couple of others to check. Make sure that all the tracks have the same Disc Number tag. (Select the tracks, press Command-I, and you'll see the window below.) If they're all from a single disc, leave the two Disc Number fields blank, check the boxes next to them, and click OK.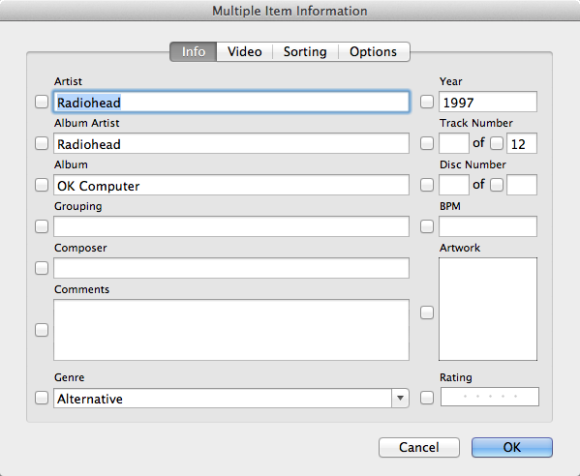 Another tag to check is the Compilation tag; you'll find this by clicking the Options tab in the window shown above. Set that to No if it's not a compilation. Finally, check the Sorting tags—click the Sorting tab to access them—and make sure they all have the same information.
[Ask the iTunes Guy is a regular column in which we answer your questions on everything iTunes related. If there's something you'd like to know, send an email to the iTunes Guy for consideration.]