During the past two weeks, we've explored Mountain Lion's Apple and Finder menus as well as its File and Edit menus. Let's wrap it up with the last four menus in the series: View, Go, Window, and Help.
View menu
As its name indicates, the View menu is for changing the way Finder items look. The majority of these commands apply to the appearance of windows and their contents. The remaining commands address the ways items are arranged on the desktop.
The first four items—'as Icons', 'as List', 'as Columns', and 'as Cover Flow'—are options that I've covered in an earlier column about Finder windows. To refresh your memory: You can look at items within a window in these four views. Icon view displays thumbnail images of the items, List view is exactly what it sounds like, Column view presents items in a cascading hierarchy, and Cover Flow view places large icons at the top of the view and a list of files below.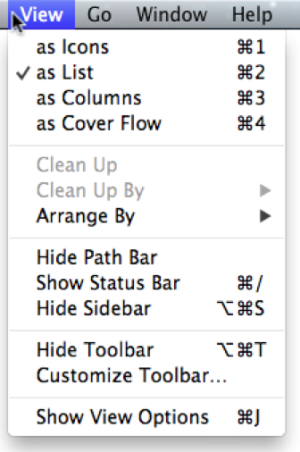 Clean Up: If you've ever saved a few files to the Mac's desktop or tossed several files into a folder in icon view, you may wonder how the Mac manages to line them up so neatly instead of piling them on top of one another. Wonder no longer: The desktop and Finder windows are ruled by an invisible grid. The Mac places files in the next available grid space; in the Finder, it starts in the upper-right corner, and then moves down and left. In Finder windows in icon view, it arranges icons from left to right in rows.
You can override this grid—for example, by dragging files onto the desktop or into a Finder window—and leave files all over the place, even on top of one another. When this happens, it's time to invoke the Clean Up command, which tells all the items in a window or on the desktop to spread out and stick to the grid. If you select a few files, this command changes to Clean Up Selection and affects only those selected files.
Clean Up By: By default, when you toss things onto the desktop or into a folder in icon view, they stay where you put them. But when you're cleaning up, you can impose a measure of order on them. This command makes that happen. Choose Clean Up By, and from the submenu select Name, Kind, Date Modified, Date Created, Size, or Label, and the Mac will reorganize your items according to the selected criterion. For example, if you have files named Moe, Larry, and Curly on the desktop and you choose Clean Up By Name, the files will arrange alphabetically as Curly, Larry, and Moe. This command applies to all files in a window or on the desktop, even if you've selected only a couple of them.
A word about the active state of things: Before we go on, a bit of explanation.
Every so often I'll toss around the term active. This doesn't mean that the item I'm referring to is shimmying around your computer or that it maintains a healthy workout regimen. Rather, it applies to the thing that you're currently working with. For example, if I launch iTunes on my Mac and that app is front and center, with the name iTunes appearing on the left side of the menu bar, that is the active application. But if I'm working in the Finder and I open a new window, that window is active. If I then click on the desktop, the desktop is active, not the window. (You can tell whether a window is active by looking at its title bar: If it's black, it's active. If it's gray, it's not.) The only way to determine whether the desktop is active is that nothing else seems to be.
Clear enough? Then on we go.
Sort By and Arrange By: If the Mac's desktop is active, this command will be Sort By. If a window is present and active, this command will be Arrange By. The two are similar but not identical. We'll start with Sort By.
Just a couple of paragraphs ago I said that when you toss things onto the desktop or into a window, they generally stay where they are. That's true provided that you haven't chosen one of the commands that appears in the Sort By submenu (which contains None, Name, Kind, Date Last Opened, Date Added, Date Modified, Date Created, Size, and Label commands). If you select one of the commands (other than None)—Name, for instance—then items on the desktop will display in that order.
More important, when you add new items to that window or desktop, the new item will fit into the arrangement. Let's say you've chosen Sort By Name, and the files Chico, Harpo, and Zeppo are lined up appropriately on the desktop. When you then save the file Groucho to the desktop, Harpo and Zeppo will shift down a position to make room for Groucho, as that file falls alphabetically after Chico.
Arrange By works much the same way within Finder windows, with just a couple of differences. One difference is that the Arrange By submenu includes an Application entry (so that you can gang all your Pages documents together, for example). The other is that when you impose one of these options, the window will be divided into sections. So, if you choose Kind, the window will contain such categories as Folders, Images, Presentations, and Documents, with files placed under the appropriate category heading.
Note: When you purchase something after clicking links in our articles, we may earn a small commission. Read our affiliate link policy for more details.
Chris has covered technology and media since the latter days of the Reagan Administration. In addition to his journalistic endeavors, he's a professional musician in the San Francisco Bay Area.