Reader Richard Patterson finds his way blocked when trying to launch a favorite application. He writes:
I have been using the Onyx utility for years to tweak the Mac OS. I recently upgraded to Mountain Lion and downloaded a compatible version of Onyx. While I was able to download it I'm told that I can't open it because I didn't get it from the Mac App Store. What's going on?
Though you're unaware of it, you've just shaken hands with Mountain Lion's Gatekeeper feature. It works this way:
Gatekeeper is designed to prevent cootie-laden applications from releasing their bothersome payload into your Mac. It does this by offering three levels of protection. The most strict allows you to initially launch only those applications that you've acquired from the Mac App Store. The second level requires that you launch applications from either the Mac App Store or from approved developers. (This second option is the default setting.) And the least restrictive is the ability to launch applications that you've found any old place on the web. Some explanation follows.
First, you'll note that I said launch rather than download. You can download any software you like, regardless of how Gatekeeper is configured. It's when you attempt to launch an application for the first time that Gatekeeper kicks in. Once you have launched that application, it's no longer of interest to Gatekeeper. You've apparently approved that initial launch and so Gatekeeper won't butt in again for that specific application.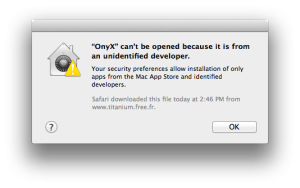 Secondly, about those approved developers. Those developing Mac software sold outside the Mac App Store don't have to suffer through an onerous approval process. Rather, to become approved in the eyes of Gatekeeper, developers need to apply to Apple for a Developer ID and then code-sign their applications. Doing so identifies the application to Gateway so that it doesn't throw up the Ixnay sign when you attempt to launch it for the first time.
For reasons best known to him, Onyx developer appears to not be interested in getting Apple's blessing. And that means that unless you have Gatekeeper configured correctly you won't be able to launch it without knowing a trick I'll reveal shortly.
To configure Gatekeeper to allow these kinds of applications, launch System Preference, select the Security & Privacy preference, and click on the General tab if it's not already selected. In the area marked Allow Applications Downloaded From you'll see three choices—Mac App Store, Mac App Store and Identified Developers, and Anywhere. Click the Lock icon, enter an administrator's user name and password, click Unlock, and change that setting to Anywhere. Onyx will now launch without complaint.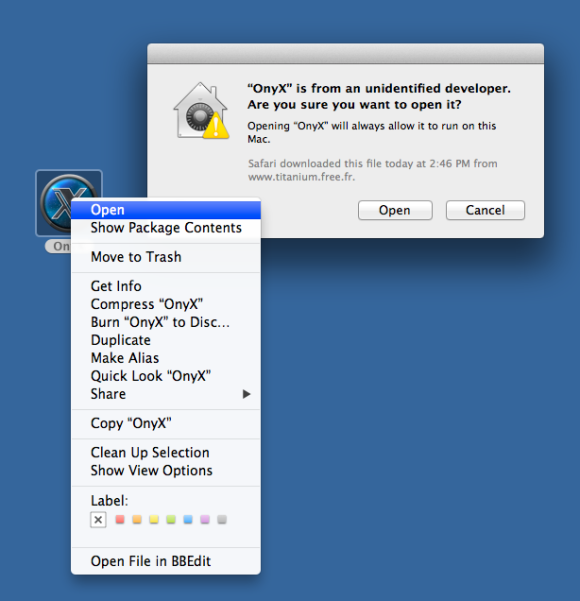 But what a bother to dash between the application you want to launch and the Security & Privacy pane. Unless you always want to open applications from anywhere, don't bother making this kind of trip. Instead, Control-click on the application you want to launch and select Open from the contextual menu that appears. A different dialog box will appear that includes an Open button. Click Open and Onyx launches, never to bother you again with these kinds of messages.