Nokia's new Here Maps for iPhone and iPad launched in the App Store Monday, the latest offering in the flood of navigation apps trying to take advantage of widespread dissatisfaction with Apple's new native Maps app that, in iOS 6, replaced Google as the map provider. Nokia's product might not provide complete satisfaction to users pining for the old Google product, but it has a few tricks of its own.
Before you get started, you'll have to sign in—either by creating a Nokia account (if you don't already have one) or using your Facebook account. Even if you use Facebook, though, Nokia will send you an email asking you to create a password "to experience the full suite of Nokia services," though avoiding that hassle is ostensibly one reason you use your Facebook account in the first place.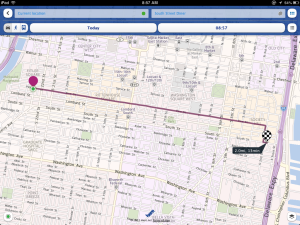 Once you sign in, Here opens, showing you roughly where you're located. A banner runs along the bottom of the page, listing some of the top attractions within a mile or so of your location—museums, college campuses, diners, and more—and some of those locations also appear as icons on the map itself. (You can choose to view distances in either kilometers or miles.) That banner isn't seen in the iPhone version of the app, which is one of the few differences in the app's presentation between platforms.
In the upper right-hand corner of the screen sits a small button; tap it and you're given the option to search for a new map location, look up a route for travel purposes, create a map "collection," or perform several other functions. Searching for a specific location is fairly straightforward. Finding a route is just a little bit trickier, because the navigation buttons aren't entirely intuitive.
You're offered three buttons for choosing your route: a car, which would seem to indicate driving instructions; a stick figure man, which would seem to indicate walking instructions, and a bus, which would seem to indicate transit. Tap on the car, though, and you're asked what time you plan to make the trip—a question better suited, but not offered, in the transit instructions. You can work around this, but Nokia should clean up the navigation in this part of the app to avoid confusion. Despite that confusion, though, the app's integration with local public transit services makes it feel more complete than Apple's native app, which lacks such built-in offerings.
Once you choose a route, you can choose voice-guided navigation. (Nokia says that this feature is in beta.) It will take a few moments to download the voice instructions, however, and there's no choice of voices—you'll be guided on your route by a slightly fussy, mildly cheerful British gentleman.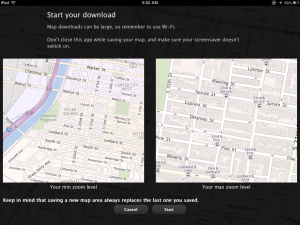 Back on the app's main screen, that upper right-hand button lets you create "collections" of your favorite maps—essentially bookmarks and folders of locations where you want to get around. You can also choose to save a map of a neighborhood for offline viewing; using my home's Wi-Fi, it took about a half-minute to download the map. You can only save one map at a time using this feature, so you'll want to choose wisely.
Also on the main screen, a button on the lower right-hand side offers a choice of Satellite View, Live Traffic View, and a Public Transport View—the last of these options showing routes and stops for the buses, trolleys, trains and subways in the area. What wasn't available—at least in Philadelphia, where I tested the app—is the promised "Community View," made of up maps "created and updated by users all over the world"—a feature that may flesh out once the app has been available to users more than a day.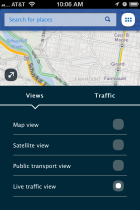 Here Maps app also lacks a way of showing you landmarks in the neighborhood you're trying to navigate. Google Maps, of course, offers the ground-level "street view" pictures of your destination, and Apple's new native Maps app tries to solve the problem with its sometimes-cool, sometimes-perplexing "flyover" feature. It may be that the "Community View" eventually solves this problem, but it's not fully available to users yet.
Users can share maps and routes via Twitter, Facebook, email, or text—as well as several social services more known and used in Europe.
Here Maps is free, and compatible with devices running iOS 4.3 or later. It is optimized for use with the iPhone 5.