Mountain Lion helps you stay on top of things, and notifications are its chief tool for doing this. A notification can alert you to impending Calendar events and reminders, as well as new email, Facebook, and Twitter messages. Sometimes the alerts require you to click a button to dismiss them. But other types of alerts appear for just a moment, as small, subtle messages at the top right of your screen, and then disappear.
The Notifications feature is a core part of Mountain Lion. If you've been using an iOS device for a while, you've seen notifications there: banners that pop up on your lock screen to display alerts for calendar events or to let you know you've received text messages. Still, notifications in OS X involve issues that bear some explanation. Here are some of the most frequently asked questions:
Q: What can notifications notify me about?
A: Any application can use notifications, as long as the app hooks into OS X's notifications feature. For starters, Apple programs such as Mail (

), Calendar, Reminders, and Messages can display notifications.

Many third-party apps use notifications as well. If you've added your Twitter and Facebook logins to Mountain Lion's Mail, Contacts & Calendars preference pane, you can see status updates and tweets. On my Mac, I also see notifications from Panic's FTP program, Transmit; Red Sweater Software's blogging tool, MarsEdit (

); and Literature and Latte's writer's tool, Scrivener (

), among others.
Q: Can I control how how notifications look?
A: Choose Finder > System Preferences (or click the System Preferences icon in the Dock) and click Notifications. Here you'll see all your options.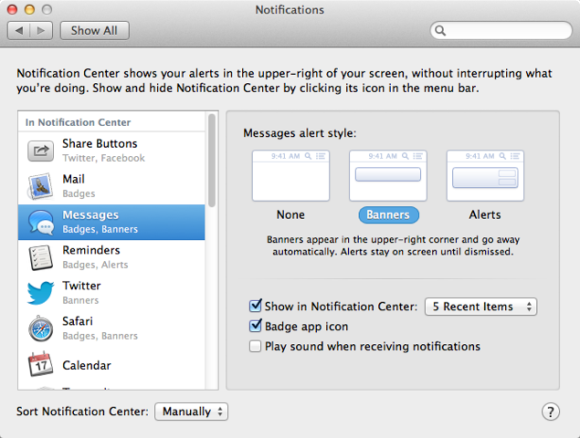 You make your decisions on an app-by-app basis; so first select an application from the list on the left. You can choose from three alert display styles: None, Banners, and Alerts. None means that you won't see any notifications. Banners are the type of alerts shown in the first screenshot above; what is unique about them is that they display on your screen for just a few seconds and then disappear. Choose this type of alert style for notifications you want to see when you're at your Mac but don't care about missing.

The last display style is Alerts. Like banners, these appear at the top-right of your monitor, but unlike banners, they don't go away until you act on them.
You can click the Close button to dismiss the alert, but you can also click the Show button to go to the application in question and see what just happened. In this example, you see an alert from the program Transmit telling me my file upload is complete. If I click Show, I'll open Transmit and see that app's window. If this were an alert for Mail, on the other hand, the Show button would display the email message the alert is telling you about; with the Messages app, clicking that button would show you the message; and so on.
Whether you select Banners or Alerts depends on how important it is for you to be notified. Remember, Alerts won't go away, so if you've left your desk, you'll see these alerts when you come back.
Q: Can I get more specific about what I get notified about?
A: Yes. If you look closely, you'll see more options in the Notifications preference pane, but the choices will change depending on which app you've selected. For example, click Calendar and you can choose how many items to show in the Notification Center. You can also choose to display information on the app's icon badge—the little red circle with a number in it on the corner of the icon. You can also choose whether to have an alert sound played when a Calendar notification comes in. Click on Twitter in the list, and then click the Notifications button to get even more specific. You can, for instance, determine whether notifications will show mentions and replies from only people you follow or from anyone.
Q: What exactly is the Notification Center?
A: So far, I've been talking about the alerts that display above your other windows, but there's another place to see your alerts: OS X's Notification Center, a kind of sidebar at the right edge of your screen. Click the rightmost icon in your menu bar—the one with the three lines—to display it.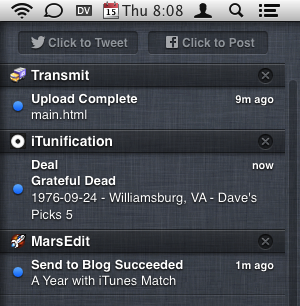 Depending on your settings, different applications can display their notifications here. As mentioned earlier, you can choose to have an application display an alert or not, but it can also show its notifications only in the Notification Center.
You need to choose which of your applications display in the Notification Center. To do this, scroll the list at the left-hand side of the Notifications preference pane until you find a divider labeled 'Not in Notification Center'. Then, drag the apps you want from below that divider to the top section.
You can choose the order in which apps display as well. From the bottom of this preference pane, click the Sort Notification Center menu and choose either By time (with the apps you've most recently received alerts for listed at the top) or Manually (in the app order you've specified in the Notifications preference pane).
The Notification Center offers a quick way to hop to applications that need your attention: Just click an item to open the parent application. Click an email notification, for example, and Mail will open to that message. To dismiss notifications in the Notification Center, click the X button to the right of an application's name.
Q: Are there any shortcuts for viewing the Notification Center?
A: One way to view the Notification Center is to swipe from the right side of your trackpad with two fingers to the left. Swipe back to the right to hide the sidebar.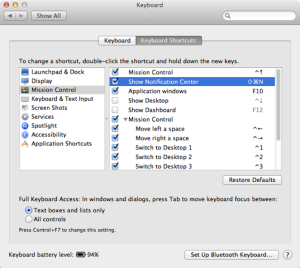 While there's no keyboard shortcut to view the Notification Center set up by default, you can create one if you wish. Go to the Keyboard pane of System Preferences, click on the Keyboard Shortcuts tab, and then select Mission Control in the left-hand column. You'll see a Show Notification Center entry. Check the box, double-click the rightmost part of its line, and then enter your keyboard shortcut.
I find it easier to set up a hot corner. With this, I move my cursor to the corner of my screen to show Notification Center. To do this, go to the Mission Control preference pane, click the Hot Corners button, and then click one of the menus to choose Notification Center for the corner you want to use.
Q: I'm overwhelmed by notifications. Can I get rid of them?
A: If you get too many notifications, go to the Notifications preference pane and choose the None alert style for all the applications you don't need to know about. Pare down your notifications to only those for the applications where they're most useful.
Q: I need to minimize distractions. Can I turn off notifications for a short time?
A: You can turn off notifications temporarily (until the next day) by Option-clicking the Notification Center icon in the menu bar. You'll see the icon go gray. Also, if the Notification Center is visible, scroll down, and a Show Alerts and Banners toggle switch will display; use this to get the same result.