A man who exposed a major privacy weakness that divulged email addresses of iPad users on AT&T's network plans to appeal his conviction on two felony charges.
Andrew Auernheimer, also known as "weev," used an automated scripting tool called the "iPad 3G Account Slurper" to pull the names and email addresses of 120,000 iPad 3G owners from AT&T's servers in June 2010. The company had linked the Integrated Circuit Card ID (ICC-ID), a serial number on the SIM card of an iPad with cellular connectivity, with the user's email address.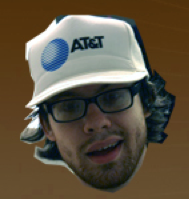 The U.S. District Court in New Jersey convicted Auernheimer on Tuesday of conspiracy to access a computer without authorization and fraud in connection with personal information. He could face up to 10 years in prison. Efforts to reach Auernheimer were not immediately successful.
Auernheimer wrote on Twitter that the verdict was expected. "I'm appealing of course," he wrote.
Auernheimer maintained he was helping AT&T with its security, but the company claimed nobody from Auernheimer's hacking group, known as Goatse Security, contacted it about the problem.
The email addresses, which included those belonging to New York Mayor Michael Bloomberg, former White House Chief of Staff Rahm Emanuel and top executives at Dow Jones, The New York Times Co. and Time Warner, were passed on to the online news site Gawker.
A co-defendant, Daniel Spitler, pleaded guilty to similar charges in June 2011.
Send news tips and comments to jeremy_kirk@idg.com. Follow me on Twitter: @jeremy_kirk