AT&T is now rolling out support for FaceTime over cellular networks to more of its customers, as the carrier announced last week, but there may be a twist. While AT&T said it would only extend the video-conferencing feature to LTE-enabled devices on tiered data plans, reports from several sources suggest that customers previously thought ineligible may also be able to join the party.
MacRumors was among the first to report that even customers with grandfathered-in unlimited data plans may be getting access to FaceTime over cellular. However, as the rollout is gradual—AT&T estimated it would take between eight and ten weeks to reach all customers—it's difficult to establish whether or not this is a case of quiet generosity on AT&T's part, an inadvertent error, or simply inaccurate information.
These newly eligible users would join customers of AT&T's Mobile Share plans, who the carrier said in August would be granted access to the feature when it arrived as part of iOS 6.
Macworld has reached out to AT&T to determine whether the carrier has expanded its pool of eligible customers; the carrier says it's investigating Wednesday's reports.
Responses from users we queried on Twitter were mixed, with some saying that their phones had gotten access to FaceTime over cellular on unlimited plans, and others saying the feature was not available to them.
On our own iPhones—both of which are on tiered plans—we found that the Settings preferences for allowing FaceTime over cellular were only partially enabled after a reboot on Wednesday morning. There are two places in the Settings app to check the status of FaceTime over cellular: Settings > FaceTime > Use Cellular Data and Settings > General > Cellular > FaceTime; only the former automatically slid to On after we rebooted our phones.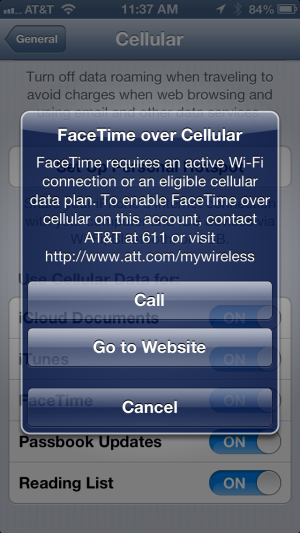 But, when we attempted to enable the latter option, or place a FaceTime call over cellular, an error message stated that "FaceTime requires an active Wi-Fi connection or an eligible cellular data plan," along with instructions for contacting AT&T to add such a plan. We heard similar responses from some of our colleagues.
It's entirely possible that we're dreadfully unlucky, or that AT&T's slow and unexpectedly broad FaceTime over cellular rollout hasn't reached our respective areas yet. It's also possible that the reports suggesting FaceTime over cellular works even on those grandfathered, unlimited plans are in fact mistaken—either about the option working, which cellular plan they have, or other important details.
We'll update this story with further details from AT&T when and if they become available.