Last week I discussed two ways to search your Mac: using Spotlight, and invoking the Finder's Find command. This week we turn to an automated form of search: smart searches.
Smart searches let you define one or more conditions that yield a set of files satisfying those conditions. You can then save the search and retrieve it later. Which means what exactly? Allow me to show rather than tell.
Create a smart search
In the Finder, choose File > New Smart Folder (meaning, select the New Smart Folder command listed in the Finder's File menu). When you do this, a New Smart Folder window will appear that looks suspiciously like the Find window I talked about last week. And it should, given that it works in exactly the same way.
Let's suppose that you want to create a smart search to look for all the files you've created in the past 24 hours. Click the plus (+) button near the top-right corner of the window. From the leftmost pop-up menu (labeled 'Kind') that appears, choose Created date. From the pop-up menu to its right (labeled 'within…'), choose within last; that's the default choice, so you don't actually have to choose anything in this case. Then enter 1 in the field before the rightmost pop-up menu (labeled 'days'). Altogether, the options you've selected (or left alone) in the New Smart Folder window form the condition Created date is within last 1 days. In the list below that condition, you'll see any files created on your Mac within the past day.
At this point you're probably thinking that it sure would be convenient if you could pull up this kind of search with a single click. If only there were a way to save this search…
Fortunately, there is—and that's what these smart folders are all about. They give you a way to make the results of a saved search readily accessible. To create your smart folder, click the Save button near the top-right corner of the New Smart Folder window. A dialog box will prompt you to name your new smart folder (in the 'Save As:' field) and to specify a location to save it in (in the 'Where:' pop-up menu). You'll also see an option to add it to Finder windows' sidebars. You can name your folder anything you like, but for now I'd keep Saved Searches (the default choice) as the save location; if you want quick access to your smart folder, leave the box next to Add To Sidebar checked.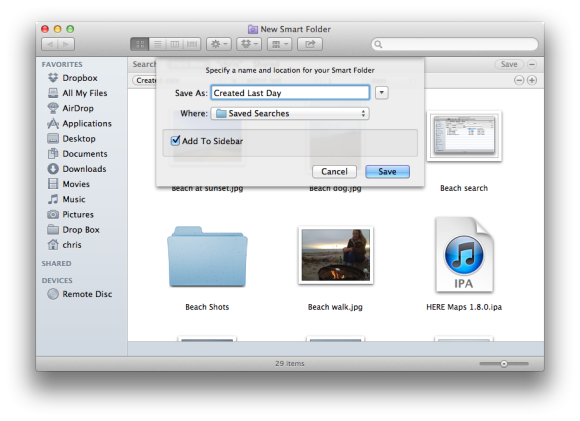 When you click Save, your smart folder will appear in the Finder window's sidebar, under the Favorites heading. You can identify it by the gear icon that appears next to its name.
Putting the 'smart' in smart folders
What makes this search so smart? Well, not only can it seek out files based on conditions that you've created, but it can continuously change the list of results based on what its conditions demand. In other words, it doesn't treat the search as a one-time-only operation. Instead, it continues to monitor your Mac, and when it finds files that meet the conditions you've created—whether a day, week, or year after you created the smart folder—it updates the list of results accordingly.
To demonstrate, let's walk through a scenario involving the smart folder you just created. It's Thursday; and when you open the folder, you see the three files that you created that morning—File A, File B, and File C. On Friday afternoon, you open the same folder and notice that Files A, B, and C are missing; but Files D, E, and F—which you created on Thursday night—are there.
Why? Because by the time Friday afternoon rolls around Files A, B, and C no longer meet the search's condition—the requirement that folder show only files that were created within the past day. On Friday afternoon, the folders created on Thursday morning are more than 24 hours old and so no longer qualify for inclusion in the folder's search results. Files D, E, and F, on the other hand, still satisfy the condition and will continue to appear until their day is up—at which point, out they go.
When I say "out they go," I don't mean that the files get deleted from your Mac. Any entry that appears in a smart folder is simply an alias (which we've discussed in the past). When a smart folder ceases to include particular individual results, it deletes only the aliases associated with the original files, not the original files themselves.
Getting into conditions
As with the Finder's Find searches, you can (and should) create smart searches that establish multiple conditions. To demonstrate how this work, let's edit the smart folder you just created.
Open a Finder window, hold down the Control key, click your smart folder, and choose Show Search Criteria. The search you created will appear as you last configured it.
Now, in the condition you created, change the option in the rightmost pop-up menu (the one labeled 'days') from 'days' to weeks, so that the condition reads Created date is within last 1 weeks. Click the plus button, and configure a new condition to read Name ends with .jpg. You've now narrowed your search to list only JPEG image files created in the past week.
Click the plus button again, and create this condition: Name contains beach. Now you'll see only JPEG files created in the past week that include the character string "beach" in their file name.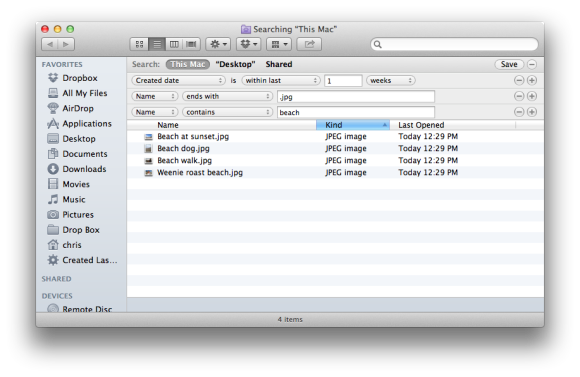 You get the idea: By adding more conditions, you narrow your search. Click Save to save your smart folder with the new conditions in place.
It's well worth your while to explore all of the New Smart Folder window's pop-up menus—the second one, which narrows the scope of the first, in particular. You'll find that you can create some fairly sophisticated smart folders to help you more easily find the files that are most important to you.
One last note before we wrap up for the week. Although I won't get into the details now, Apple makes this smart search technology available all over the Mac. If you venture into iTunes you'll find that you can create playlists based on these kinds of conditions. Within the Mail application, you can create rules that specify conditions to help file your incoming email into mailboxes other than the Inbox. iPhoto includes a Smart Album feature that simplifies the task of creating photo albums based on your photos' name, description, date, rating, place, and camera settings.
This is exactly the kind of thing that computers are good for. I urge you to give smart searching a try.
Next week: Dealing with the dock