Getting a job these days isn't easy. And it's nearly impossible if you can't construct a decent resumé. Resume Designer—a $3 app for iPhone and iPad from Fall Day Software—offers job-seekers the basic building blocks they need attract an employer's eye.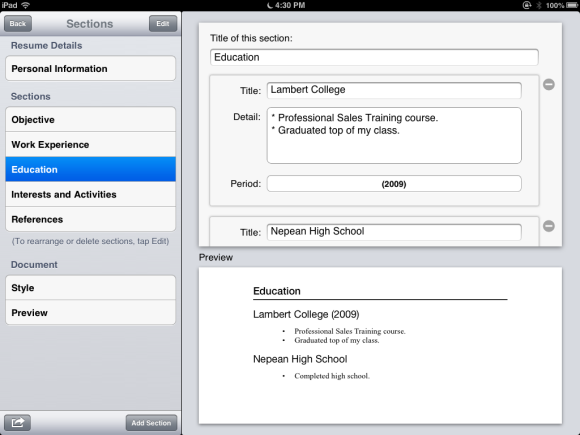 The app comes with two basic templates: One helps you emphasize your work experience; the other emphasizes your education. Choose one, and from there it's basically a fill-in-the-blanks proposition.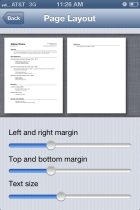 If neither template satisfies your resume needs, you can opt to construct one more to your liking by adding fields to showcase other relevant activities—like volunteer experience, for example. In both the pre-set and custom templates, you can fiddle with the heading and body fonts, as well as margin sizes, to create an individualized document. Once you've filled in all the blanks, you can print or email the document, or drop it into Dropbox as a PDF.
Don't expect the final Resume Designer product design to completely wow your prospective employers. The documents you create won't necessarily demonstrate that you have superior design skill—but that's OK. Resume Designer will showcase your experience in a bare-bones template, but you'll have to do any sprucing up on your own.