Editor's note: This week's column addresses issues with iTunes 10. iTunes 11 was released on Thursday, and the iTunes Guy is hard at work on an in-depth review, which will post soon.
In this week's column, we look at five very different questions. Read about sharing your iTunes library at home and splitting it when two people part ways. Find out how to add descriptions to TV episodes, sort iTunes U course and listen to podcasts on your Mac at different speeds.
Q: Is there a way to limit what is accessible to my iPad when using Home Sharing with iTunes? Our iTunes library is shared by the whole family but I have music I'd rather the rest of the family not be able to access.
Yes, you can choose exactly what you want to share from your iTunes library. Choose iTunes > Preferences, then click on the Sharing icon. In this window, check Share Selected Playlists and check the ones you want to share. At the top of the list are the various media libraries in your iTunes library. So you can choose to share or not share your Music, Movies, TV Shows, Podcasts, etc. Scroll down to see any playlists that you have made and choose to share them or not.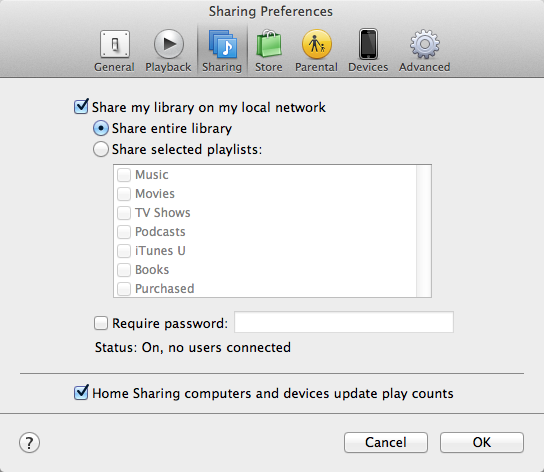 Q: I have had a few TV episodes download from iTunes that are missing the episode's description. How do I fix this?
The description of a TV episode is a tag that you can edit. To do this, select the episode, press Command-I, then click on the Video tab. You can put any text you want into the Description field.
If you're looking for descriptions, you should check IMDB. Search for the series, then find the link to the episode list, which looks like this. Copy the description and paste it into the Description field as explained above. Many TV series also have episode lists on Wikipedia, and you might want to use those descriptions as well. ( Here's an example.)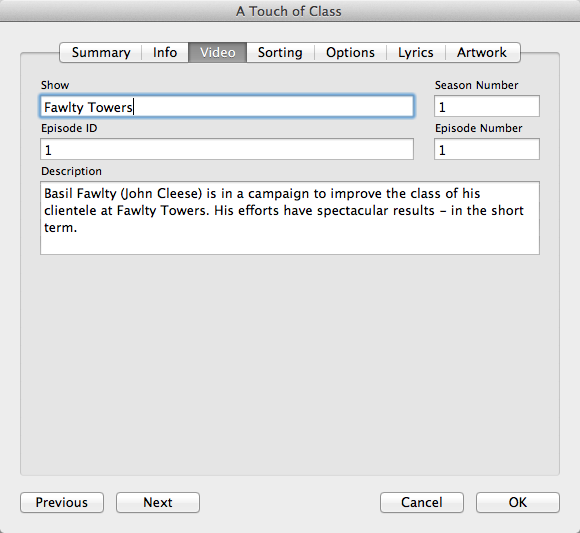 Q: I am studying Greek and Hebrew using iTunes U. Some of the college level courses consist of 100 or more longish video lessons and lectures taken during actual classes. When all of the lessons appear in my iTunes library they are not in any kind of order. It takes me quite a while to put all of the over 100 lessons in order on a playlist. Why don't they appear in proper order in iTunes U since I downloaded them in proper numerical order?
I've noticed that iTunes U content is often out of order. Since you can only view iTunes U content by Collection, in the iTunes U library of your iTunes library, you may often see this disorder. The only solution is to move these items into individual playlists and sort them by name (if the names are something like Lecture 1, Lecture 2, etc.) or by track number (assuming there are track numbers). Barring that, you'll have to re-order them manually.
Q: After years of sharing a single iTunes Library, what is the best way to migrate the library when the owners part ways? All songs were purchased using the same iTunes Store account, and all added songs reside in the same library. If both owners have a copy of the music, and the store account changes its password, will the other owner be unable to listen to the purchased music? All the music is on iTunes Match now, by the way.
The only problem you'll have with purchased music is if that music still has DRM; since you say that all the music is on iTunes Match, that is unlikely (though you may still have some music that wasn't upgradable by iTunes Match). Note that this doesn't apply to videos, books or apps, which are protected by DRM. Those items are linked to the purchasing account forever. (And you raise a good point: Apple should provide a way of splitting a library in this case.)
As for iTunes Match, since you'll probably be changing the password for the iTunes Store account it is linked with, only one person will be able to access that music.
Legally, however, both people can't keep copies of the music; if you're living together you can share it, but if not, you should split the collection.
Q: Is there a way to control the playback speed of podcasts and audiobooks in iTunes? The computer, obviously, has plenty of processing power compared to its mobile counterparts, but yet I can't seem to find that feature.
No, iTunes doesn't offer that option, unfortunately. If you listen to podcasts on a Mac, however, this hint shows one way to listen to them at a faster speed using QuickTime Player.
Ask the iTunes Guy is a regular column in which we answer your questions on everything iTunes related. If there's something you'd like to know, send an email to the iTunes Guy for consideration.