A reader who wishes to remain anonymous has some difficulty maintaing a holiday spirit throughout the year. He writes:
It's the time of year when we like to play the holiday music that's in my iTunes library. The difficulty is that at other times of the year I use iTunes' genius feature to create mixes. Although that music is clearly labeled "holiday," it still creeps into these mixes. Is the genius feature not clever enough to know to exclude such music at other times of the year?
The term "genius" shouldn't be taken literally in this case. If the feature really had that kind of intellectual power it would automatically delete the copy of Perry Como's Greatest Christmas Songs (that you've retitled "Krunkin' Krismiss" so as to not be embarrassed when someone spies the album title via home sharing) and revoke your iTunes purchasing privileges until well after the holiday season concludes.
In the case of genius playlists you must indicate to iTunes where you don't want the genius feature to tread. And you do that by simply switching off the tracks.
To do so I'd suggest that you choose File > New > Smart Playlist and configure the rule to read Genre Contains Holiday. This will create a Holiday playlist that appears in iTunes' sidebar (which, in iTunes 11, you can expose by choosing View > Show Sidebar).
Select this playlist to expose its contents. Between the Number and Name columns you will see checkboxes. Hold down the Command key and click any one of these boxes. All the tracks in the playlist will be disabled. Once you do this, those tracks become ineligible to the genius feature in nearly every way. The exception is that you can use one of these tracks as the "seed track" for generating a genius playlist, but nothing else within that list will appear in the playlist.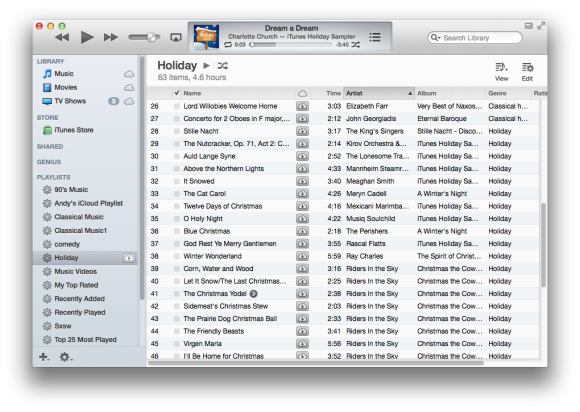 If you discover that some of your holiday tracks continue to pop up in your genius playlists, cock a stern eye at those tracks' ID3 tags. I'm going to wager exactly one large candy cane that "holiday" does not appear as a genre tag. Rather you might see something like "classical," or "Christmas," or "Chanukah," or "Kwanzaa," or "beach music" (if you live south of the equator). It's your job to then ensure that the ID3 tags are put right.
To do that select a bunch of the offending tracks, press Command-I to bring up the Multiple Item Information window, and enter Holiday in the Genre field. You should now be holiday-music-free until the season rolls around again. At that point select your holiday playlist and hold down the Command key. Click on one of the checkboxes to enable them all and the tracks should once again be fodder for the genius feature.