[Editor's note: The iTunes 11.0.1 update released on 12/13/12 addresses several of the problems discussed in the review, including very slow searching and the missing ability to display duplicate tracks.]
iTunes 11, whose delayed release fueled much speculation about last-minute changes following an internal reorganization at Apple, sports the most radical alterations to the program's interface since its inception. Previous upgrades to iTunes were incremental, adding features and tweaking the interface, but iTunes 11 puts a whole new face on the software. In addition, iTunes 11 seems to be designed more for playing music than for organizing it—a slightly anachronistic approach, given the prevalence of portable devices.
The most obvious change is the reintroduction of color to the program. In my review " First look: iTunes 10," written in September 2010, I lamented the absence of color, saying, "iTunes 10 has a somewhat Soviet utilitarian look which, to my eyes, makes it less interesting to work with." Well, color is back, both in the sidebar and in the Library pop-up menu at the top left of the iTunes window. In addition, when you display playlists, their text will be larger and bolder, and the background of the Playlists column will be lighter, providing much better contrast. The program also uses a Helvetica font with reduced spacing between letters, enabling iTunes to display longer texts in short spaces (such as in the Playlists column).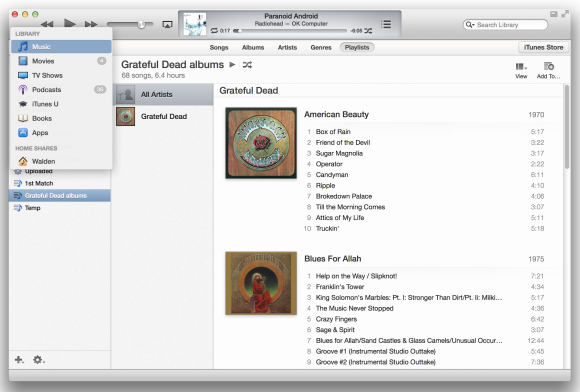 Viewing your music
The new options to view music by Genres or by Artists display sidebars showing icons for genres or for artists, with icons from your album art. (Videos, Books, and other types of content offer similar options.) You can sort items in these views as you like: Press Command-J to display a tiny View Options window, where you can sort by Title, Artist, Year, or Rating, for example, when in Genres view.
Apple removed some views from iTunes, but it increased the number of view options. In each view mode—Songs, Albums, Artists, or Genres—you have sort options, but if you click Playlists, and then select a playlist, the View button near the top right of the iTunes window gives you even more options. Although I regret the loss of Album List view, I'm quite happy with some of the new options.
In Albums view—the new default view—everything is an album; that is, whether the actual content is a single song, a few songs from an album, or an entire album, a single graphic represents it. The only way to determine how many tracks are collected there is to click the graphic. This design choice is surprising, as younger music fans tend to focus on individual songs rather than on albums.
When you're in Albums view, you can click a graphic to see what's behind it. The expanded view shows the tracks in several columns (if there are enough tracks), with the album artwork to the right. The background and text take on colors from the album art. (To turn off the expanded view's colors and album art display in the General preferences, uncheck Use custom colors for open albums, movies, etc.)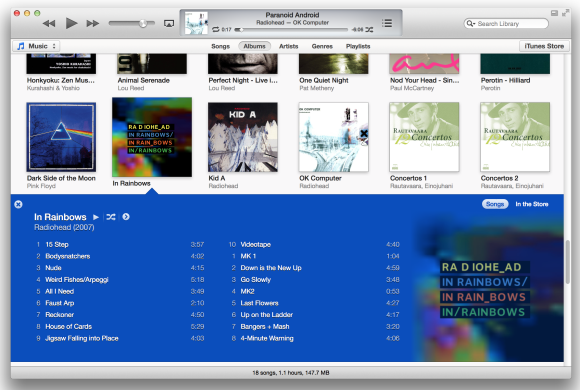 The limited information shown in Albums view can make it harder to choose what you want to play. Imagine that you have an album containing several songs you like, but you can't remember which ones. If you haven't rated them, there's no way to identify your favorites. In previous versions of iTunes, you could see information such as play counts and last-played dates, but in iTunes 11 you can't. So if you don't remember the song you liked so much on a particular Radiohead album, say, you won't be able to find it quickly. You can get the information in Songs view, but that view is sterile and uninviting, with no album art and no clear separation between albums.
Also in Albums view, iTunes groups compilation albums at the bottom of the list. This leads to two problems. First, nothing tells you that the compilations are compilations; as there are no letters to give you milestones in the album list—such as A, B, or C, for artists' names—you don't known where the compilations section starts (and it's hard to tell where a particular artist is at a glance). Second, the artist listed below the title of a compilation is the artist of the first track of the album; identifying the performer as "Various Artists" would have been more helpful.
You can't change the size of the icons in Albums view, most likely because of the new track display in the expanded view. The fixed icon size limits the way you view your content, and the very wide display of tracks is neither very practical nor economical, at least on a large display. On my 27-inch Cinema Display, 15 albums string across the screen in Albums view, and as many as four columns for track names in expanded view, which looks odd to me; when I make the window smaller, as on a laptop, the two or three columns that display are much more readable. Another drawback: The small icons truncate titles that are longer than about 20 characters.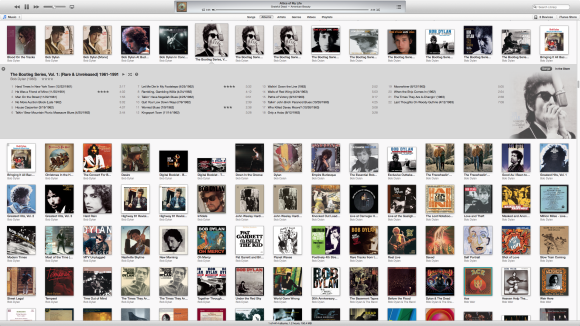 Other elements of iTunes 11 suggest that it was designed for small displays. If you don't show the sidebar, the buttons for accessing different features are very far apart. On the left, a pop-up menu lets you choose which library to view. But to access your devices—iPhones, iPods, and iPads—or to go to the iTunes Store, you have to move your mouse all the way to the other side of the screen. Clicking the button to activate the Mini Player involves the same long-distance mouse travel, though there's a keyboard shortcut for that: Command-Option-3.
By default, the entire iTunes window displays your content in what was previously called Grid View. The sidebar is hidden, though you can display it by pressing Command-Option-S or by choosing View > Show Sidebar. List View, which you can access it by clicking List in the header bar, is still available for content other than Music; but Cover Flow and Album List views are gone. In the Music library, this is called Songs view.
Classical music fans are out of luck with iTunes 11. The only way to view your music by Composer is to use the hard-to-navigate Songs view. Neither the Artists nor the Genres view provides a Composers column; and the Column Browser, which could simplify matters, is available only in Songs view.
Playlists
You can view playlists in a new way. Click Playlists in the header (the sidebar must be hidden for this option to be available), and you'll see a sidebar that displays only playlists. A pop-up menu above the list offers access to your different libraries—Music, Movies, TV Shows, and so on. Another pop-up menu, this one at the right side of the iTunes window, provides access to your iOS devices.
With the new Playlists view also comes a new way of creating playlists. Click the Add To button at the right of the iTunes window to show a two- or three-pane display. On the left are Songs or Albums in a single pane, or Artists and Genres with a list to the left and content in the middle. Your playlist is on the right; you can drag items to it, and click Done when you've finished.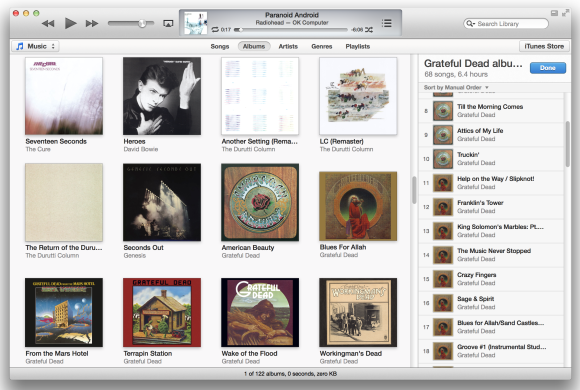 Curiously, if you have the sidebar displayed, you don't see the Add To button when you click a playlist, and you have to manually drag items to the playlist. This surprising situation is one of the many inconsistencies in iTunes 11, where controls appear and disappear according to what you are viewing and how.
All of these view options are essentially the same for other types of content. I've focused on music here, but movies, TV shows, books, and so on, inherit the same options.
What's next?
If you're accustomed to using the iTunes DJ playlist, you'll have to adjust to its quite different replacement, the new Up Next feature. Whereas iTunes DJ could extract tracks from a selected playlist or from your entire library, Up Next plays only what you tell it to. You can select items, right-click them, and then choose either Play Next, to play them after the current track, or Add To Up Next, to add them to the upper part of the queue, in front of what was already there.
You can also drag items to the iTunes LCD (the display at the top of the window). If you press the Option key and hover over an item, its track number will change to a plus (+) icon; click that to add it to Up Next. (Alternatively, you can press Option-Enter to add selected items, but this will add the items only to the top of the queue, not to the end.) Click the Up Next icon to open a popup window containing a list of what's to be played; you can reorder your play queue from this list, or delete songs that you no longer want to hear. Apple's updated Remote iOS app integrates with Up Next.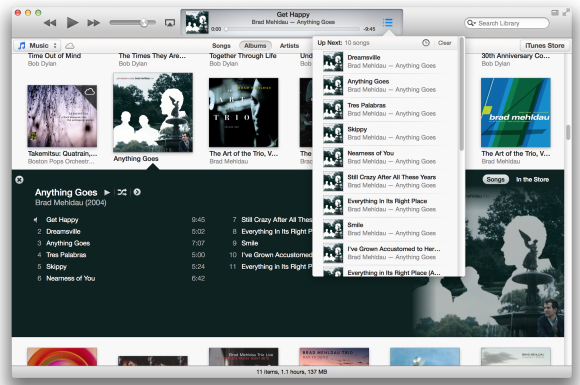 Up Next employs a new kind of contextual menu. When you hover your cursor over a song, a small arrow icon appears after its name. Click this, and you'll see a contextual menu containing a number of commands, including those for Up Next, as well as others for adding songs to playlists, starting Genius, viewing items in the iTunes Store, and more.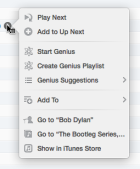 Although Up Next is a very useful feature, initially it's confusing. You can add items to the queue in various ways, but those ways are inconsistent, and it takes time to understand exactly what happens when you have songs in the queue and add others. Also, a perplexing dialog box appears when you have something in the Up Next queue but you go to play something else. The program asks whether you want to clear the songs in the queue—an odd question, since iTunes doesn't offer to put the songs at the end of the queue.
Updated MiniPlayer
The MiniPlayer has been redesigned as well, and now functions more as a control center for iTunes. In addition to providing the standard controls for play/pause, next, and previous, it shows you what's queued up in the Up Next list; also, a search field lets you find songs, albums, and playlists, and either add them to the Up Next list or play them immediately. Searching was abysmally slow in my 65,000-track library: I sat through more than 20 seconds of a spinning beachball before getting results, though those results were useful and practical. (On my blog, I posted a video of just how bad it was.) I found the MiniPlayer so useful that I've set up iTunes to display it all the time. (Since I use Spaces, setting up MiniPlayer for permanent display wasn't easy; this hint explains how to do it.) In a perfect world, I would frequently use this search field to find what I listen to from the MiniPlayer window, and to avoid visiting the main iTunes window as often.
Unfortunately the MiniPlayer lacks a progress bar. This is problematic for me in two ways. First, I sometimes want to see where I am in a certain track. Second, I often want to skip ahead in a track—for instance, when I'm listening to a podcast or when I want to skip through a drum solo in the middle of a live song.
Clicking the album art in the MiniPlayer brings up the artwork player window, which shows the album art in a larger window with QuickTime-type controls at the bottom (when you hover your cursor over that window). I opened that window, moved it just above the MiniPlayer on my screen, and then closed it. Now any time I want to access its controls, I click the album art in the MiniPlayer—and the larger control window displays in the same location.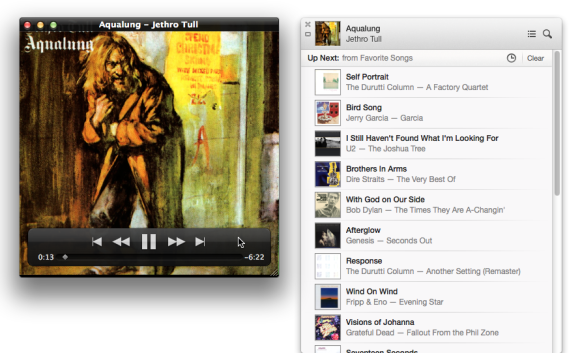 To change the MiniPlayer's volume, you click the AirPlay icon and change the Master Volume, rather than using a volume slider.
I wish that Apple had put the MiniPlayer controls and access to Up Next in the menu bar, but I expect third-party apps to add such functionality if possible.
Searching

iTunes 11's new search feature dramatically changes the way you'll search for content in your iTunes library. Previously, when you searched for something, you could do so only for the currently active library. So if you were in your Music library, you could search for music, but not movies, TV shows, or other content.
Now, by default, the search field is set to search your entire library. If you click the magnifying glass icon in the search window, you can uncheck Search Entire Library, and search only the currently active library.
To select a result, click the item. At once, iTunes will take you to that item in whatever library it lives.
The new search has two serious problems, however. First, as I noted earlier, searches of my large library took an astounding 20 seconds of beachballing before the search results appeared. Second, clicking an item dismisses the search list, so if you want to find additonal items from the same search, I had to wait the full duration of the search before seeing the results again. (I performed my testing on a late-2010 Mac mini carrying a 2.7GHz Intel Core i7 processor, 16GB of RAM, and a solid-state drive.) In contrast, searching a small library of about 1350 songs on a Retina MacBook Pro produced instantaneous results.
Search speed is much faster from the iTunes window if you uncheck Search Entire Library.
Syncing iOS devices
The method for syncing iOS devices hasn't changed much, but you'll access them slightly differently. If you have the sidebar displayed (View > Show Sidebar), your iPhone, iPad, or iPod will display there as before, but if you don't use the sidebar, you'll access your iOS devices from a button at the top right of the iTunes window.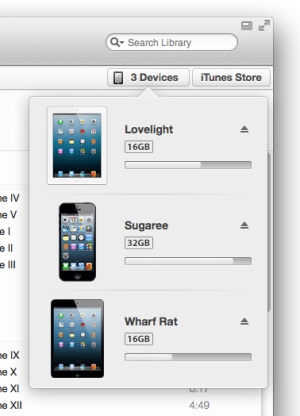 If you have, say, three iOS devices connected, the button will be labeled 3 Devices. Click it to see your devices, and then click one of the devices to access its syncing screens. These are much the same as before, though iTunes 11's Helvetica font makes them seem less airy. Small changes include displays of your device's current battery charge and of Install/Remove options instead of checkboxes for syncing apps to iOS devices.
After you've applied any settings you want, click the Done button to return to your iTunes library.
iTunes in the Cloud
iTunes 11 blurs the distinction between what's on your computer and what's in the cloud. If you check Show iTunes in the Cloud purchases in the Store preferences (it's activated by default), you'll see any music or video content that you've purchased from the iTunes Store in your iTunes library, whether you have physical copies of it on your hard drive or not. This differs from iTunes Match, where you can store your entire music library in the cloud; what you get here is just the addition of any items you may have bought and deleted.
This new display can be more of a hindrance than a blessing. Do you really want to see all of the free singles you've deleted after listening to them once? You can get rid of these items, but the process is slow: Go to the iTunes Store, click Purchased under Quick Links, and find the tracks that you don't want to see. In Album view, hover your cursor over an album and click the X icon located in the upper left corner. Doing so removes the album from your Purchased list and from your iTunes library. (To restore an item, go to your account in the iTunes Store, select iTunes in the Cloud > View Hidden Purchases, find what you want, and click Unhide.)
The new iTunes makes no visible changes to iTunes Match—most significantly, no change to the 25,000-track limit. I deleted my entire iTunes Match library to start from scratch, and ran into the same problems I've encountered since the beginning, with some albums matching partially, but not matching on one or two tracks. Any tracks that didn't match in the past also didn't match this time around.
I had hoped that Apple would improve its matching algorithm, but apparently it didn't. The only visible change in the updated version is a cloud icon on album corners, as for iTunes in the Cloud purchases. You can download individual songs by clicking the cloud icons next to each one, or you can download an entire album by clicking the cloud icon on the corner of its artwork.
iTunes Match and iTunes in the Cloud occasionally perplexed me. In my iTunes library, iTunes showed certain songs as being in the cloud, even though they were present in my library. Others appeared out of their proper order, and sometimes only a handful of tracks from purchased albums showed as being available from the cloud.
The new iTunes Store
The other major change in iTunes 11 is a new design for the iTunes Store. One of many ways to get to the iTunes Store is by clicking the iTunes Store button at the top right of the iTunes window. The new iTunes Store has a cleaner design than before, which you may already be familiar with from the iOS version of the store. The iTunes Store, like the program itself, seems to be optimized for a smaller display—say, a 15-inch laptop. On my large Cinema Display, the iTunes Store left a lot of empty space on either side of the store content; shrinking the window to about 60 percent of its width removes that space.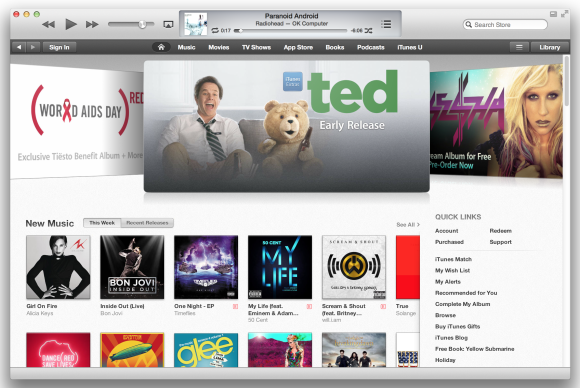 You can see some iTunes Store information from within your library. If you're in Albums view in your Music library, click an album to show its tracks, and then click the In The Store button to see (after a few seconds) Top Songs, Top Albums, and Recommended Songs by that artist—all while remaining in your library.
Absent from the iTunes Store are the quick-look preview panes. In the past, you could hover your pointer over an item, and click on the i icon to obtain more information about it. Now, however, you must click through to the item's page. Apple has also removed Power Search, which let you to search for items using multiple criteria, from the iTunes Store.
On the plus side, Apple added a nifty feature for redeeming iTunes gift cards. Click Redeem in the Quick Links section, and you can use your Mac's built-in camera to capture and submit the gift code—it's much easier than entering the code by hand.
But not everything is perfect…
Naturally, not everything is perfect with iTunes 11. Many people seem to have lost album art; in my case, all of the art for my movies and TV shows disappeared, and dozens of my albums lacked art. (See this hint for a way to get iTunes to redisplay art for movies and TV shows.) In views other than Albums, you can't click an album to select it and then (for example) press Command-I to change its tags; instead, you have to select the tracks—and if they're in several columns, doing so is harder than it usd to be. Some animations, such as when I created a new playlist, lag more than they should, even on a Retina MacBook Pro. And surprisingly, iTunes 11 doesn't hook into Notification Center. People will quickly adapt to many of the other small annoyances, but in other instances that they'll continue to miss the old approach.
A number of things have been cut from iTunes 11. For example, while you can go to List View for your music by clicking Songs, but you can't display album art in that view. Album List view, which was in iTunes 10, is gone. The iTunes window no longer includes an album art window at the bottom left. Instead, the album art for the currently playing song displays in the iTunes LCD (the top part of the window, with the progress bar); and if you click the album art, a larger window pops up. Also, you can't have multiple windows in iTunes. In the past, many people used a separate window for the iTunes Store or for certain playlists, but that's gone in iTunes 11.
Other notable MIAs include the Advanced menu; the Find Duplicates command; the Gapless Playback tag (which hardly anyone understood anyway); Cover Flow view; the Column Browser (other than in Songs view); and the iTunes Sidebar, which displayed iTunes Store and Genius information.
Bottom line
All in all, version 11 is a good upgrade to iTunes. Some parts of the program have been simplified, while others see new complexity. With the focus on playing instead of organizing, Apple is trying to turn iTunes into a more user-friendly tool for playing media.
What bothers me most about iTunes 11 is the way it imposes new ways of organizing and viewing content without offering familiar alternatives. Clearly, Apple considers Albums view—with tracks showing minimal information spread across columns—attractive and ideal for many users; but why not let others choose different ways to view their content? Songs view provides the best example: Allowing users to display album art (as with iTunes 10) when in a list view like this isn't rocket science. But removing that option forces users who want to view their music that way—and who are used to it—to adopt a new way of thinking. Ultimately the iTunes interface is simply a visual metaphor for the way people organize their music. But when someone comes into your home and rearranges things, it's hard to find them again.
Many of the controls in iTunes 11 are hidden, and become visible only on a mouse-over. Though you'll quickly figure out this sort of thing, and though not having buttons and arrows everywhere makes iTunes look less distractingly busy, the new design leaves the user the burden of figuring out how to perform basic operations.
If you have a small iTunes library, you'll probably like the new views and the ease of creating playlists. If you have a large library, however, you'll likely be disappointed by the limited viewing options in iTunes 11, and you may want to think twice about upgrading (at least until Apple makes some improvements).