Equal parts project manager, vector graphics engine, digital notebook, and slide deck, Zengobi's Curio 8 makes an ideal tool for anyone planning something big, complex, and multifaceted. Though it costs more than twice as much as the low-end version of Curio 7 (

) I reviewed last May, it packs plenty of potent new features within a pleasantly refreshed interface.
Rebuilt from the ground up for Lion and Mountain Lion, Curio 8 casts away the confusing multiple editions and feature sets of its previous version. For a single price, every user can employ all of the program's top-flight tools and abilities. (This also eliminates any feature-set confusion in Curio's top-notch help files.) Files from older versions migrate seamlessly into the new one, but users should keep in mind that Curio 8 uses a different file type that previous Curio versions can't read.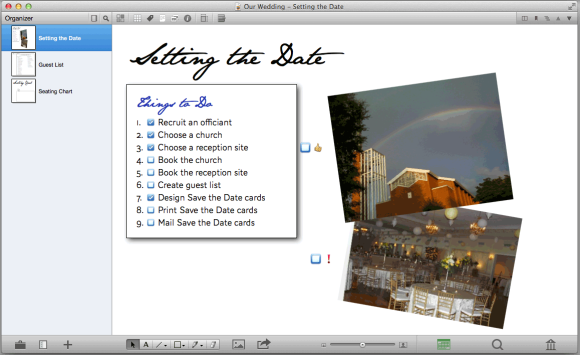 Within each Curio project file, users can create a series of Idea Spaces to house different aspects of their business presentation, lesson plan, novel outline, or photo scrapbook, among other uses. In a wedding planning guide, for example, one Idea Space can hold to-do lists, another the guest list, a third the seating chart, etc. Easy but powerful vector graphics tools and flow chart creators —here called "mind maps"— assist with the planning. You can adjust these and any other elements' shapes, colors, fonts, and much more, and save your own custom templates for any element.
Curio lets you drag in not only photos and video files, but also live Web page views, Google Drive documents, and live-updating file previews from a host of programs, including Adobe Creative Suite and Microsoft Word's heavy hitters. In Curio 8, you can now add YouTube and Vimeo videos, or record your own audio and video with the Mac's built-in tools. You can also link a project to your Calendar and Reminders, even if they reside in iCloud.
To help you track your project's progress, Curio can assign checkboxes or "percent completed" markers to any element. It'll then monitor those parts of your work project-wide to let you know which remain undone. Using your Mac's Contacts, you can assign different elements to different team members, or even have multiple team members working on different parts of the same element.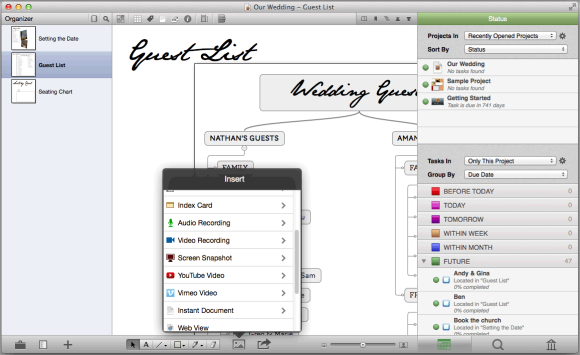 Curio 8 offers several higher-end features I hadn't seen in Curio Core 7. You can easily turn any project into a slideshow presentation, complete with customizable Core Image transition styles. And Mac users who remember Sherlock, the old Mac OS's rudimentary Internet search tool, may delight in Curio 8's Sleuth. In one handy window, it can search piles upon piles of Websites creative professionals may find useful, including font foundries and image libraries. The levels of thought and care Zengobi put into this and every other Curio feature never failed to impress.
This attention to detail extends to Curio's new interface, whose floating menus and tactile switches are heavily inspired by iOS. Despite the many different buttons and options that surround every edge of the Curio window, the interface proves easy to learn. The friendly, comprehensive Getting Started walkthrough project helps considerably.
Zengobi's concentrated as many features as possible into logical buttons and menus. For example, just one button opens the menu to insert every possible element into a presentation; clicking on the element you want leads into more detailed specifications, without cluttering up your screen. Everything's labeled with ToolTips in case you forget what a particular icon signifies. A new Share button exports your work as text, HTML, RTF, or PDF.
Finally, Zengobi gratifyingly fixed a few of the quirks that annoyed me in Curio Core 7. Video playback now works flawlessly, and while most Idea Spaces remain too big for a 13-inch laptop screen, holding the Q key zooms out to show the whole page, and releasing it refocuses on wherever your cursor points.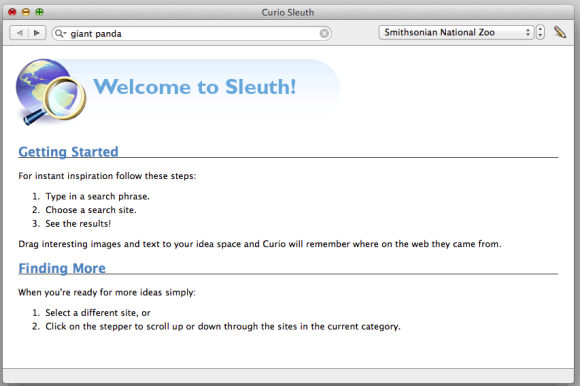 Bottom line
While Curio remains more expensive than many rival programs, I have yet to review a better, friendlier, or more powerful tool for taking on any project under the sun.