Up to a point, pretty much all Twitter clients look the same since, at their most basic, they all display a list of tweets. But within that spectrum, The Iconfactory's Twitterrific 5—the latest update to what was arguably the first Twitter client for iOS—has taken pains to distinguish itself from the competition and from its own previous editions.
The difference is apparent from the get-go. The previous version featured recognizable elements of iOS, from the buttons and the titlebars to the pop-up menus that appear when you tapped on an avatar or a tweet's reply button. The new version instead features a much more seamless design; yes, tweets are still broken up by dividing lines, but they still seem to flow into each other in a way that most common clients don't. The new design also isn't afraid to buck established conventions: Tap on a user's followers, or the people they're following, and you'll get a grid of avatar thumbnails instead of just the usual scrollable list.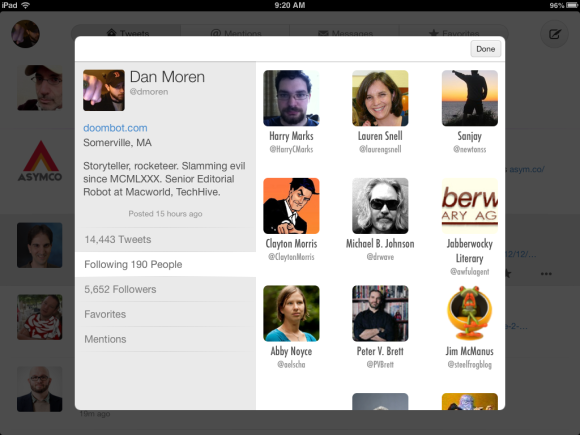 Content is front and center in the new design, which features large tabs at the top for Tweets, Mentions, Messages, and Favorites on the iPad; on the iPhone, those labels are condensed into icons, and Favorites is shunted into the sidebar. Symmetrical round buttons on the left and right allow you to view a sidebar and compose a tweet, respectively. There's also quick access to lists from the sidebar, and a simple search that offers you the ability to look for tweets or a particular user. On the iPad, the sidebar can be pinned permanently to the left hand side if you feel lost without it.
The Iconfactory's used animations for effect here, with dialog boxes flying in from the edge of the screen, but they're not overwhelming or unnecessarily flashy. (Well, except perhaps the pull-to-refresh animation that features the iconic Twitter bird hatching from an egg, but there's something too hypnotic about it to just dismiss it.) And despite those animations, the app is fast and responsive, with tweets loading and scrolling quickly.
The same low-key enthusiasm pervades all of Twitterrific 5. Subtlety is the name of the game here. Per-tweet controls like reply, retweet, and favorite don't appear until you tap on a tweet. Indicators on the mentions and messages tabs are small colored triangles. The palette in general is fairly monochromatic, with the rare exception of highlight colors that really draw attention. Tweets you haven't read yet have their timestamps in purple, instead of gray. Above all, it's simple and not overwrought.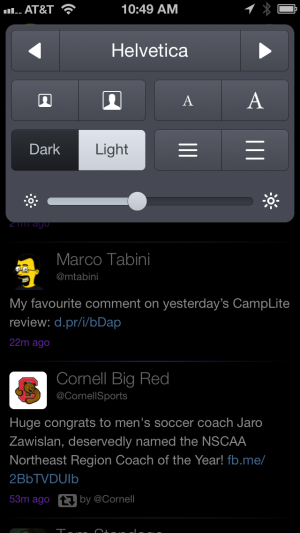 Twitterrific has long been heralded for its customization features, and version 5 offers quite a few of those. From the sidebar, tap on the change font size button (Aa) to summon a window with a number of display options, including changing the font face throughout the app (by default it's tried-and-true Helvetica, but four other options are also available), adjusting font size up and down, choosing from small or large avatar icons, and adjusting the spacing between lines of text. There's also a brightness slider, independent from iOS's own, and a choice between dark and light themes. In a nice touch, there's an option elsewhere in the app's settings to have Twitterrific automatically shift from dark to light themes based on time of the day.
Despite that customization, you won't find a laundry list of services for Twitterrific to interact with for uploading images and videos. You can choose a Sync Service to keep your Twitter timeline in the same position across devices: Twitterrific offers support for both iCloud, which allows syncing between the iPhone and iPad versions of the app, and Tweet Marker, which supports syncing across multiple clients, including Twitterrific for Mac. In addition, the app will detect if your device has the Instapaper or Pocket apps installed, and provide options for bookmarking URLs to those services.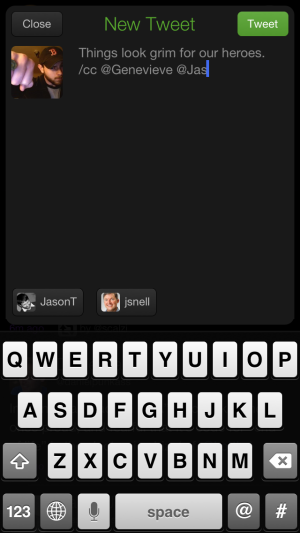 Gestures are on display here as well. Tapping and holding the profile picture in the top left will prompt you to change accounts, if you have more than one configured. Swiping left on a tweet will bring up a reply window to that message, while swiping right will show you the conversation thread or replies to that post. And when composing a tweet, you can tap the character counter to clear all text, and tap and hold on the camera icon to just attach the latest photo from your device's camera roll. In one bit of hocus-pocus that I'd never seen before, a two-finger swipe up or down in Twitterrific hides or reveals iOS's status bar. The Help section contains a list of all available gestures and where you can use them.
Twitterrific's emphasis on simplicity does have a few casualties beyond its integration with services. Push notifications are nowhere to be found, for example, though the app's description says that you'll get in-app notifications for mentions and direct messages. For notifications while the app isn't in the foreground, you'll need to set up a solution like Boxcar. If you're a fan of other external services, such as Favstar, you won't find easy access to them here either.
Twitterrific 5 does offer gap control, which lets you go back and load all the tweets you may have missed. While it does a good job of eventually loading all tweets, I found that it took more taps to load all my tweets than it did on Tweetbot.
There are plenty of Twitter clients on iOS, but Twitterrific has been around the longest and The Iconfactory's willingness to completely redesign the app every few years is part of the reason the app's success lingers. While Twitterrific 5 features a more competitive ecosphere than ever, there's no reason it can't co-exist alongside other excellent clients like Tweetbot; there's audience enough for both Tweebot's industrial design and Twitterrific's more spartan approach.