Apple has almost entirely abandoned DVDs—remember, those shiny discs that no longer fit into many modern Macs? But despite the shift to online photo and video services, not everyone is capable of streaming media over the Internet. A DVD (and increasingly, a high-definition Blu-ray disc) is still a near-universal way to share the photos and videos as a holiday gift. Besides, friends and family members can't unwrap a pipeline of bits and bytes.
When I wrote about this subject four years ago, iDVD did most of the heavy lifting—an app that let you build slideshows, assemble video, and burn a disc. However, Apple's interest in iDVD fizzled along with its interest in DVDs as a whole—and Blu-ray media never even got a foot in Apple's door. Unless you already own a copy of iDVD from the purchase of an older Mac or iLife, the only way to get it is by buying a boxed version of iLife from a third-party reseller; Apple doesn't sell iDVD at all. Fortunately, you have other options.
Content is everything. The first step in creating a holiday DVD is the fun part: assembling your content. Start pulling together photos and video snippets from your cameras (whether from stand-alone cameras or camcorders, or mobile devices such as the iPhone or iPod touch) on your Mac. Photo applications such as iPhoto '11 ($15), Aperture 3 ($80), Adobe Photoshop Lightroom 4 ($149), and Photoshop Elements 11 ($100) import both types of media, giving you a central location for organizing your project's assets. I suggest making a new album or collection, or a folder in the Finder, to hold the pieces you want to use.
Before you start, take a moment to think about the project's structure and how your viewers will interact with it. Will they watch just one movie? If so, you probably want to build that in a video editor such as iMovie '11 ($15) or Premiere Elements 11 ($100), which gives you a lot of control over the movie's presentation.
Or perhaps you want to give your viewers the option to pick and choose from several items, such as discrete video clips and photo slideshows from different events, in the order they choose. In that case, you may not need to lean on a full-featured video editor; instead you can add individual video clips and slideshows from a variety of sources.
Photo considerations. You can use one of several applications to build a photo slideshow. In iPhoto, for example, you create a new Slideshow project and then configure settings such as how long each slide appears, what type of transition appears between images, and whether you want music to play during the show. (Be sure to set the Aspect Ratio pop-up menu to HDTV (16:9) in the Slideshow Settings window if it's likely that your viewers have widescreen HDTVs.)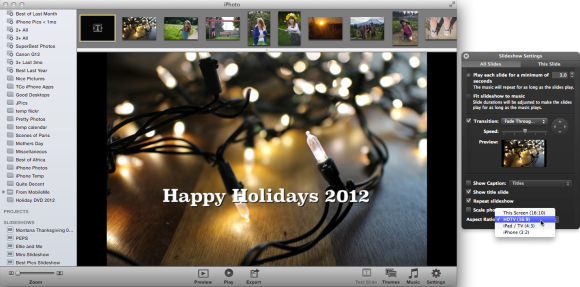 If you want even more ways to customize your slideshow, turn to an application such as Boinx's FotoMagico 4 ($100). Its sole purpose is to build slideshows. It features multiple audio tracks; a broad assortment of transitions; titles; precise panning, zooming, and rotation of images; and more. (iMovie builds slideshows in a similar fashion, but FotoMagico's workflow is smoother and offers more customization.)
However, there's another way to present photos on a DVD. Instead of creating a movie, iDVD and Roxio's Toast Titanium 11 ($75) can build a slideshow on the fly; viewers can then manually move between images via a DVD player's remote, or they can let the show play on its own. You don't get the same number of options for transitions, background music, and animations, but both applications make it easy to automatically include the original photo files on the disc in case someone wants to copy them to their own computer.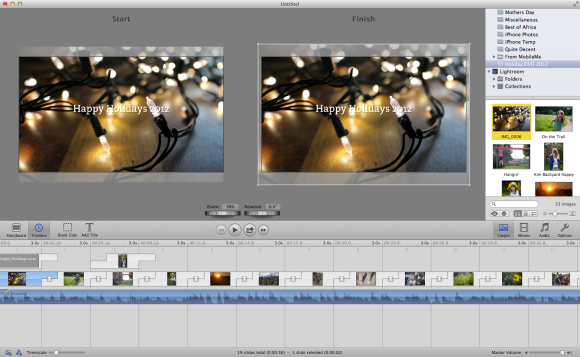 If you want the best of both approaches, you can build a slideshow using FotoMagico or another app and then add the image files yourself as DVD-ROM content (this is an option in each app that enables you to include any type of file on the disc).
Burn notice. When the content is all set and exported, add it to iDVD or Toast by dragging and dropping the items from the Finder or from the application's Media pane. If you built a movie in Premiere Elements, you can click the Publish+Share button, choose Disc, and then specify which type.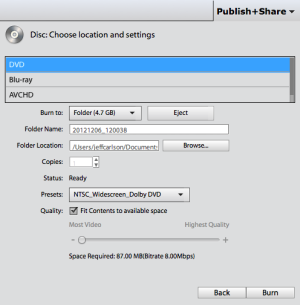 iDVD offers extensive ways to customize the look of the menu screens that your viewers will see, including dozens of pre-made themes and the ability to use media elements in animated "drop zones." Toast is much more conservative about appearance, though you can change the background image easily.
At this point, you'd normally click a Burn button, insert a blank DVD, and wait for the data to be encoded and written to the disc. DVDs employ a specific folder structure and specific video encoding settings, so you can't just burn the media onto a disc in the Finder. But that brings us back to Apple's abandonment of optical discs: Your Mac may not include a DVD burner at all.
In this case, you have a few options. You can purchase an external disc burner from Apple or another vendor. If you want to burn Blu-ray discs, your only option is an external drive, as Apple has never shipped a Blu-ray burner in its Macs.
You can also take the project to another computer that does have an optical drive. For example, I have an older Mac mini that acts as a media server in my house, but you could also use a friend's computer.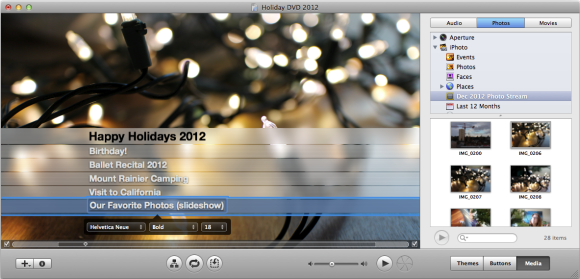 Instead of burning the data to a disc, you can save it as a disc image. You end up with a single file (which may be quite large, depending on how much content you included) that you can transfer over your network or via a USB drive or portable hard drive. Copy that file to the other computer and use Apple's Disk Utility or Toast (if it's installed) to burn the contents to a disc.
Repeat as needed for as many discs as you want to send out. In fact, even if you do have an optical drive in your Mac, I recommend creating a disc image or using Toast to make it easier to burn several copies of the DVD (especially if you plan to burn in batches over time and not lose any encoded media when you quit an app or shut down your Mac).
Pack and ship. The disc is done, but unless you want your home to become a mini Blockbuster, it's time to label and mail the discs. Sure, you can scribble the title on each disc (using a marker that's designed for writing on optical media), but it doesn't make for a polished gift.
I recommend Smile's DiscLabel 6 ($36) for designing custom labels, with your own artwork and typography, that you can print onto peel-off templates and affix to the discs.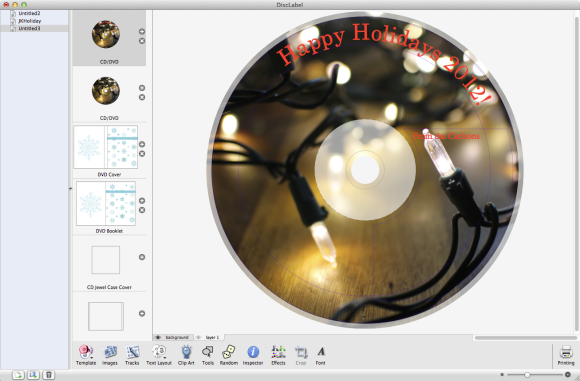 And once all the discs are assembled, don't forget to mail them in time! You can print addresses onto sheets of labels using OS X's built-in Contacts app (the app formerly known as Address Book), but a better option is BeLight Software's Labels & Addresses ($50), which offers templates as well as more options for organizing and customizing the labels' appearance. Remember that a disc is likely to cost more in postage than a typical envelope, so it's worth weighing one and looking up the price or taking the discs to your local post office for mailing to ensure that they aren't returned to sender.
Most important, give yourself plenty of time to create the content, burn the discs, label them, and mail them out, so that when the holiday arrives you can enjoy watching the fruits of your labor peacefully with your own family.