Barreling ahead with its master plan for the subscription-based Creative Cloud software, Adobe has launched new upgrades to Photoshop CS6, the Muse visual Web design package, and a host of other Creative Cloud services.
Updates were announced on Tuesday at Create Now, an online event streamed live via the company's Facebook page. In addition to software upgrades, Adobe announced a new initiative for Creative Suite training, a new team version of Creative Cloud, and new desktop-based sync capabilities.
All new features are available now for Creative Cloud subscribers in Adobe's continuing effort to lure Creative Suite users away from perpetual licenses and into its emerging cloud-based arena.
Photoshop 13.1 and Muse
Photoshop CS6 (version 13) is now at version 13.1. In this new version (provided as a software update), Adobe is implementing Retina display support for all users of both Photoshop and Illustrator.
Retina display support allows both programs to deliver more pixels to the screen than the previous versions to assist users in designing with and for new high-resolution displays from Apple.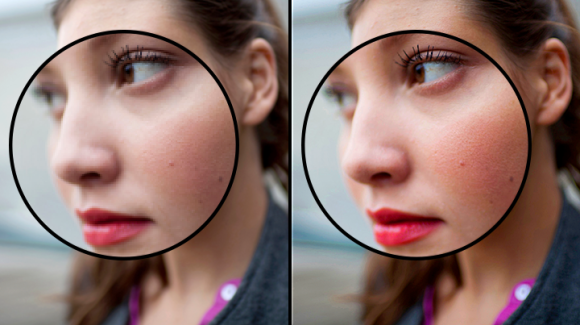 Retina display support also assists users of the programs in showing a crisper interface. For programmatic tools, text, menus, and pointers, the pixels will look more crisp and clear. Without Retina support, the interface on a new Retina display can look fuzzy.
"Adobe has always provided free updates to all customers for three things: Bug fixes, security patches, and hardware compatibility," said Scott Morris, Adobe's senior marketing director. "Retina is a hardware compatibility thing for us and we fully intend to to continue providing those updates to perpetual customers…so that feature goes to everyone."
Photoshop 13.1 also has a significant number of additional new features catering to designers, photographers, and videographers. But those updates are available only for Creative Cloud subscribers. These include improvements to the Crop tool, smart object support for the Blur Gallery and Liquify filter, support for CSS and larger JPEGs, default type styles, improved 3D effects, image-based lighting enhancements for 3D that let you wrap images around objects, and enhanced 3D map generation.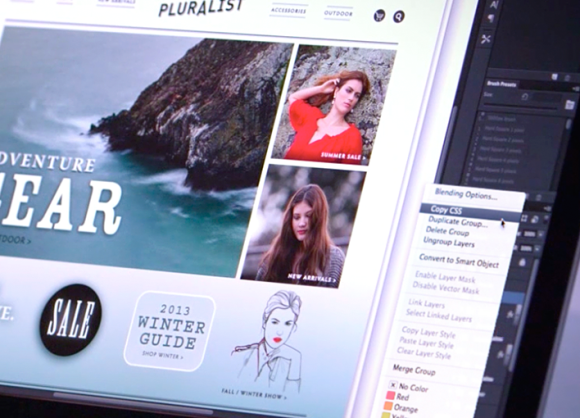 Adobe has also improved Actions. Subscribers now get the advantage of conditional actions, which let users add if-then statements to existing actions for further flexibility and automation.
Adobe has added global type styles to Photoshop, and made CSS code available to users. That means artists who design websites in Photoshop can now click on a layer and copy the CSS styles to the clipboard for use by a developer.
Updates to Muse include the ability to use the software to generate specific sites for tablets and mobile phones. Adobe has added widgets to Muse that let you view your site as it would look on a tablet or phone and lets you revise the layout for an optimized mobile site experience.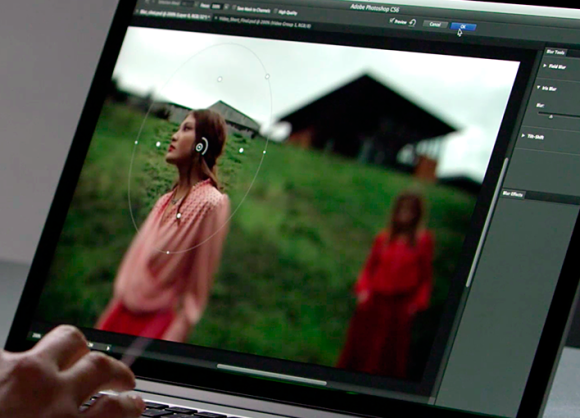 Training
Because the Creative Cloud subscription offers members access to professional programs outside of their specific areas of expertise, Adobe is now stepping in to offer training opportunities as part of the cloud subscription.
The new Creative Cloud training initiative, designed to pair Adobe with assorted third-party training partners, has been on the roadmap since the launch of the subscription service, but this announcement signals that the planned program is now underway.
"The goal is to help customers be successful with all the stuff we're putting in Creative Cloud," said Morris. "The place you go to get your tools, access your services, and access and sync your content is the same place you'll go to get your training. It's all integrated into the same experience."
Creative Cloud Training will include an extensive library of tutorials and trial courses from Kelby Training, Video2brain, and Attain. These partners, along with Adobe, will provide training videos in English, Japanese, French, German, Spanish, and Italian, with more languages planned for later.
Because Creative Cloud has an open API, Adobe is hoping that various partners will take the opportunity to integrate directly into its interface to build valuable add-ons.
Team memberships
So far, Creative Cloud has been available only for individuals and small design shops. However, Adobe always said team memberships were on the horizon, and with this announcement, they are a reality.
Adobe has unveiled a new plan to offer Creative Cloud membership to teams of unlimited numbers. "This is the volume licensing version of Creative Cloud," said Morris. "All of the elements for individuals are included, but there's more team-specific elements, too."
For example, a team membership lets you create virtual workgroups to collaborate on projects. Plus, each team member gets 100GB of storage on Adobe's servers, as opposed to the 20GB associated with an individual Creative Cloud membership.
The new team update also offers centralized purchase and administration and easy management for adding and redeploying seats. Members can transition from an individual to a team account without penalty. Team membership takes the software support up a notch too. Each team member gets two one-on-one support calls with web conferencing per year with an expert Adobe support person. A customized version of Creative Cloud is also in the works for the enterprise.
Finally, Adobe has broadened the availability of Creative Cloud by making it available through certified Adobe retailers.
Desktop Sync
While Creative Cloud always let you sync files to the cloud via the browser, Creative Cloud's new Desktop Sync feature, called Creative Cloud Connection, promises to simplify the process of syncing, and eventually sharing both files and folders. Adobe is implementing a DropBox Style desktop sync for files now and is working on a similar scheme for sharing project folders among collaborative teams for rollout soon.
Pricing
Adobe Creative Cloud is available to individuals and teams for $50 and $70 per month respectively, based on a year's subscription. Month-to-month prices, though higher, are available. Adobe is making Creative Cloud for teams available with special pricing for current customers. Any existing customer who purchases Creative Cloud for teams gets a 1-year discount that matches the price for an individual subscriber.