One of my all-time favorite Mac utilities was MaxMenus, a System Preferences pane that let you create multiple custom menus, each containing your choice of apps, files, folders, volumes, and other frequently accessed items. Unfortunately, MaxMenus appears to have been abandoned—you can no longer download it, its website is dead, and while it currently works under Mountain Lion (OS X 10.8.2), I suspect some future update to OS X will render MaxMenus useless.
I've tried—and quickly discarded—a number of alternatives, but one that works well is PointWorks's $2 CustomMenu ( Mac App Store link). Launch CustomMenu, and its systemwide menu icon appears on the right-hand side of your menu bar. Click this icon and choose Customize Menu, and you can choose the items you want to appear in the menu.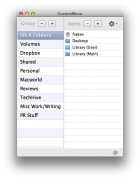 Click the Add (+) button next to Group on the left to create a new group—a section of the menu that's separated from other sections by a divider line. I don't know if there's a limit to the number of groups, but I had ten groups in my menu while testing CustomMenu, and the utility still let me add another. These group names and dividers take up space—and you can't add items to the menu without using groups—but they make the menu much easier to navigate than if all your items were in a single, uninterrupted list.
Select any group, and you can add items to that group by either dragging apps, files, and folders from the Finder into the group's item list, or clicking the plus-sign (+) button next to Items to use OS X's standard file-navigation dialog box. You can also move an item between groups by dragging it. Select an item and click the minus-sign (-) button, or press the Delete key, to remove the item from the list.
Any changes you make are reflected immediately in CustomMenu's menu. Select any app, file, or folder from the menu to open that item: apps launch, folders open in the Finder, files open in their respective apps. Command+selecting any item reveals it in the Finder. CustomMenu offers hierarchical submenus for browsing the contents of folders and volumes, letting you navigate to, and open items in, any subfolder.
Hidden in a secondary settings sheet (accessed using the gear icon in the configuration window) are a few additional settings. The most useful for keyboard jockeys is a systemwide keyboard shortcut for opening the CustomMenu menu. Press this shortcut, and you can then navigate your custom menu using the arrow keys (or by typing the names of files and folders); press Return to open the selected item, or press Command+Return to reveal it in the Finder. Another nifty option: While many menu-bar utilities offer several menu icons to choose from, CustomMenu lets you change its menu icon from CM to any string of up to three text characters. I used OS X's Character Viewer palette to use the Command (⌘) character for my menu's icon.
One drawback of CustomMenu is that you can't stick its menu in the corner, or even position it all the way to the right-hand side of the menu bar—locations that, in accordance with Fitts's Law, would make it faster and easier to access the menu. (I personally use the outstanding Bartender [

], which lets you reposition third-party menu items, to get around this limitation.) I'd also love to be able to assign keyboard shortcuts to items within CustomMenu's menu.
I look forward to future updates to CustomMenu, but even now, it's a great utility for quickly accessing your favorite apps, files, and folders from within any app—even when you're using an app in full-screen mode.
Want to stay up to date with the latest Gems? You can follow Mac Gems on Twitter.