Despite its status as one of the early popular photo-sharing sites, Flickr's seen its domain increasingly threatened from Facebook on the Web and Instagram in the mobile realm. On Wednesday, Flickr's parent company Yahoo launched a heavily overhauled iPhone app in a bid to keep the service relevant.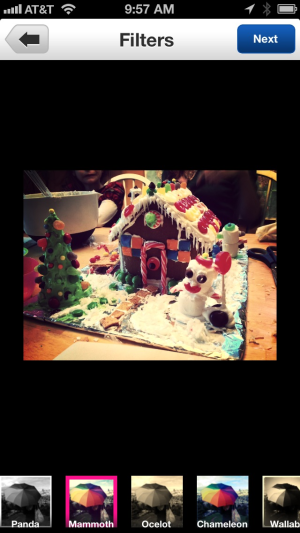 The program has more or less languished since its introduction in 2009, but the new update brings many of the features users seem to expect from their photo-sharing apps these days. Chief among those, filters: Flickr now includes 16 filters, an assortment of monochrome and color effects that can be applied before you upload your photo to the service. There are also editing tools that let you crop, straighten, adjust brightness and contrast, remove red eye, tweak blemishes, whiten, and even draw or add text.
Despite this renewed focus on mobile photo-posting, the traditional Flickr features haven't gone anywhere. When uploading pictures, you can still add photos to groups and sets, tag them, identify people, and so on. Integration with social networking services lets you simultaneously share pictures on Facebook, Twitter, and Tumblr, or by email.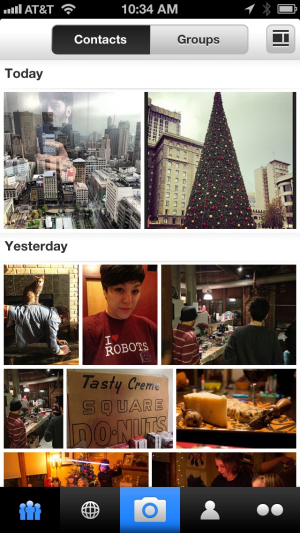 Browsing remains a cornerstone of the Flickr experience as well, with the ability to look at photos taken near your current location and those uploaded by your contacts, and to post comments on and favorite pictures that strike your fancy. You can also search for pictures and people and view your own photostream or activity.
The app also contains one of the most fine-grained notification systems I've seen, allowing you to specify exactly which events you want to trigger an alert.
Yahoo's also clearly been working on performance—the new app is very speedy, letting you quickly browse through lots of photos, in an attractive "justified" layout, without lag or slowdown.
However, one thing is still conspicuously absent from this update to Flickr: The app still doesn't have an iPad native interface, almost three years after Apple first announced the tablet.
This is the second major revision to an app that Yahoo has released in as many days; on Tuesday, the company rolled out a revamped Yahoo Mail for iOS, Android, Windows 8, and the Web. It's hard not to attribute this renewed focus on key consumer-facing products to Yahoo's new CEO, Google veteran Marissa Mayer, who took over in July. Shortly after she took the job, an Internet campaign sprung up, asking her to "make Flickr awesome again"; with Thursday's update, it seems like she might have taken that plea to heart.