We've gotten a lot of questions about iTunes 11, since its release two weeks ago. In this week's column, I address some of the most common questions about iTunes 11, about what's missing, and what's changed.
Q: I used to use the Column Browser to view my music, but I can't see how to turn it on. When I look in the View menu, the Column Browser commands are all dimmed.
The Column Browser—which I, too, used regularly to drill down into my music library—is gone for the most part. You can only display it when you are in Songs view, or when you view a playlist and choose List from the View button at the top right of the iTunes window. In addition, you can no longer display the Column Browser at the left of the window; only at the top.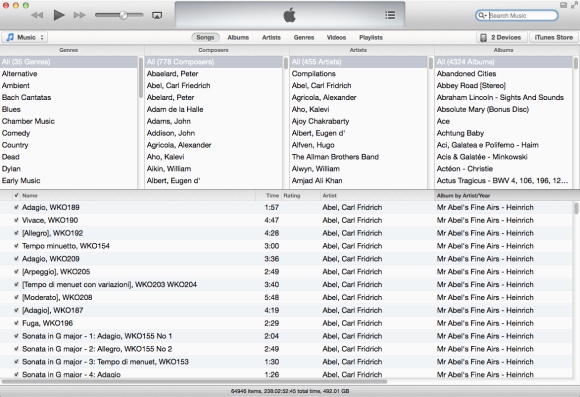 Q: What happened to iTunes DJ?
Apple has eliminated iTunes DJ, which was a practical way of setting up a listening queue, and having iTunes automatically populate it from your Music library, or from a selected playlist. The new Up Next feature does some of what iTunes DJ did, but it doesn't offer the same random playback from a playlist or your library. We'll be running a detailed how-to article about Up Next in the near future.
Q: After upgrading to iTunes 11, some of my artists appear twice in the Artists list. For example, I see two distinct groupings of songs with Bob Dylan as the artist. I checked for other possible sorting issues that may be the reason for the separation but can't find anything. There is no Album Artist listed for any of them, none are part of a compilation, and there appears to be nothing distinguishing the files at all. In fact, when I look in the Finder at my iTunes folder, all of these songs are contained within the same Bob Dylan folder, just not displayed that way in iTunes.
The same thing happened to me after the upgrade, and it took me a while to find a solution. In my case, the artist was Bach, Johann Sebastian, and there were about 1600 tracks in a second group. I even noticed that these files weren't in the iTunes Library.xml file, which reflects the contents of your iTunes library.
Eventually I found a solution. Select all the tracks from both groups and press Command-I. Change the artist to anything—I used Test—then click OK. After all the tracks have changed, go to the Test artist, select all the tracks and change them back to the correct artist.
Q: Before iTunes 11, I used to be able to shuffle playlists by clicking the double-arrow icon. This would change the order of tracks, and when I synced my iPod, the new order would get synced. With iTunes 11, this button is gone; is there any way to shuffle playlists?

With iTunes 11, the shuffle button has been removed, but there is a "play shuffle" button at the top of each playlist. If you click this button—the double-arrow button—the playlist will play in shuffle mode, but this won't change the order of the songs. iTunes 11 skips through the playlist, keeping the songs in the same order.
If you want a playlist that's really random, you need to create a smart playlist, in which you choose a number of items, or a duration, and have them selected at random (this is an option just below the playlist conditions). If you have a playlist like this, then you can re-populate it by selecting all the tracks and deleting them; iTunes will make another random selection. But other than that, there seems to be no way to shuffle a playlist for syncing, especially if it's not a smart playlist.
The other option is, of course, to use the shuffle feature on your iPod, but you'll need to remember to turn it on and off depending on what you're listening to (albums, playlists, and so on.)
Q: I don't like iTunes 11. Can I uninstall it and reinstall iTunes 10?
It's possible, but it's not simple. You need to have a backup—such as one done by Time Machine—of your Mac from before you installed iTunes 11. Then, have a look at this hint on the Mac OS X Hints website to find out the steps to follow. Make sure you back up your Mac before trying this, because if you make any mistakes, your Mac might not work correctly.
[Ask the iTunes Guy is a regular column in which we answer your questions on everything iTunes related. If there's something you'd like to know, send an email to the iTunes Guy for consideration.]