Google's new Maps app for iPhone arrived in the App Store late Wednesday, in a move likely to please users disappointed with Apple Maps in iOS 6. While the new app leverages Google's robust mapping data, it has a few weak spots of its own—most notably the lack of an iPad-optimized version.
That said, Google's new app may well soothe some of those iOS 6 users who find themselves frustrated by iOS 6's built-in, Apple-powered Maps. Some users in some locations have found that Apple's Maps data is seriously lacking. Apple CEO Tim Cook apologized for the Maps issues in September.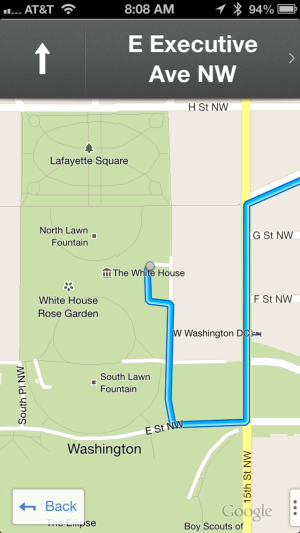 The new, free Google Maps app launched Wednesday offers features that the iOS 5 version of the Maps app—built by Apple, powered by Google—lacked, making this new Google-powered Maps app more on par (in terms of functionality) with Apple's Maps app in iOS 6. Among those features: vector-based maps for faster loading and panning, and turn-by-turn navigation with spoken directions.
And Google Maps offers some functionality completely lacking in Apple's app: public transit directions, synced searches between the iPhone and your computer via your Google account, and Google's Street View. Though Google's app offers its satellite view data, it unsurprisingly doesn't offer a direct match for the Flyover feature Apple introduced in its own app in iOS 6. And Google Maps doesn't (yet) work natively on the iPad.
The free app requires iOS 5.1 or later, and is localized in a variety of languages.
We'll have more analysis and hands-on reporting with Google Maps on Macworld.com soon.