It may have "mate" in its name, but MailMate doesn't want to be your friend. It doesn't want to hold your hand while you create a stylish message on elaborate premade stationery. It won't track your to-do list or remind you of your appointments. MailMate's here to help you bend your email to your will, to tame the chaos of even the most cluttered and sprawling account. And MailMate doesn't mess around.
You want POP3 email? Exchange integration? Too bad. MailMate will give you support for IMAP and only IMAP, and you'll like it. Hoping for whimsical, painstakingly crafted icons? Tough. Aside from Mac OS X-standard folder images, MailMate uses gray buttons with plain, straightforward text for its interface, trading aesthetic flair for clear communication.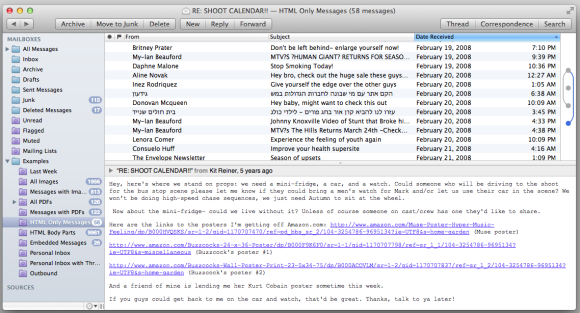 Planning to send fancy formatted HTML messages? You better know Markdown, the open-source formatting language MailMate supports. Otherwise, MailMate deals proudly in plain text. It'll bend this rule enough to display basic HTML messages sent to you, and sometimes—but not always—it can be bothered to display attached images within the body of individual messages. It'll even show inline PDFs, but only if you ask it nicely in its Preferences.
Though MailMate won't warn you away from phishing attempts and scam emails, it turns off all images in your messages by default, to keep any from "phoning home" via clever coding. It also cooperates with several third-party security add-ons, including the SpamSieve filter and PGP-based encryption.
MailMate will import your IMAP accounts from other clients with no fuss or fanfare. Larger accounts may take a while to load the first time, but they'll snap to attention swiftly upon subsequent use. To trawl through those messages, MailMate offers an extensive suite of straightforward keyboard shortcuts. You can make those commands even simpler, and customize them to your liking, in Preferences.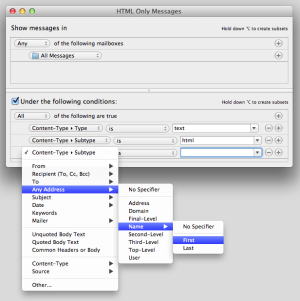 But MailMate's true, jaw-dropping power lies in its ability to search and filter messages via Smart Mailboxes. Here, MailMate doesn't just offer search criteria you'd never think of; it provides options that, unless you administer email servers for a living, you've probably never even heard of.
Other mail clients let you sift messages by the contents of their To, From, and Cc fields. MailMate lets you drill down to the different components of those fields: just the address, for example, or the name, or any one of the various headers embedded within. You can search subjects by their prefixes, or by a specific word contained within them. You can flag messages by their level of server domain, and on and on and on, with remarkable, borderline brain-breaking precision.
As email search abilities go, this seems less like bringing a gun to a knife fight, and more like thundering into that particular duel at the controls of a helicopter gunship.
Thankfully for mere mortals, the clear and efficient help files (by this point, did you expect anything less from MailMate?) provide a thorough accounting of the different options. The program also comes with a healthy set of sample smart mailboxes to help show you the ropes, including folders that slice and dice your messages into those with images, those bearing PDFs, HTML-only messages, and more.
MailMate makes one more use of its search powers in its Statistics view, where you can see how the contents of an entire folder or account stack up according to any of the program's assorted criteria. Curious what percentage of your messages came from, say, Mozilla Thunderbird? MailMate can tell you.
Other view options include a widescreen-friendly three-column layout; the classic three-pane view most mail clients use; a collection of your correspondence with whoever's message you clicked on last; and, in the program's lone touch of esoteric style, a view that lets you follow messages in a thread as a series of nodes connected by curving arcs. It's weird and a little difficult to navigate, but given how staid, straitlaced, and efficient the program is in every other respect, I can't begrudge it this one chance to let its hair down a little.
Needless to say, the program never crashed, glitched, or gave me any sort of trouble during my tests. MailMate does not know weakness.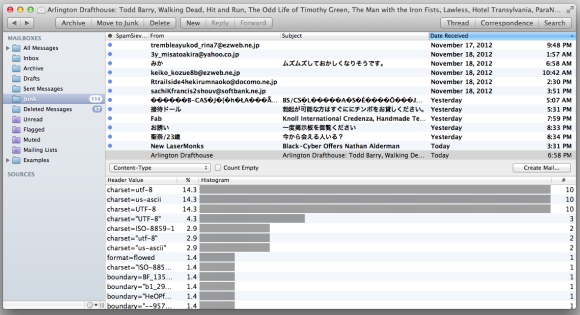 Bottom line
If you just use email like most of us humans—to send mail to friends, loved ones, and occasional business associates—MailMate packs way, way, way more power than you will ever need, in a decidedly spartan package. But if you live and die by email, MailMate may prove a godsend, especially at its reasonable $30 price tag.