Apple on Thursday released iTunes 11.0.1, the thrilling sequel to iTunes 11, the late-November overhaul to the company's all-in-one music player, iOS device syncing center, and app, music, video, ebook, and podcast store. While 11.0.1 unsurprisingly offers far less drastic changes than its immediate predecessor included, we have discovered a variety of significant but subtle improvements in the minor update.
The release notes in full for 11.0.1 read as follows:
This update to the new iTunes addresses an issue where new purchases in iCloud may not appear in your library if iTunes Match is turned on, makes iTunes more responsive when searching a large library, fixes a problem where the AirPlay button may not appear as expected, and adds the ability to display duplicate items within your library. This update also includes other important stability and performance improvements.
Senior contributor Kirk McElhearn confirmed on his blog that when searching his very large library of 65,000 tracks, iTunes 11.0.1's performance improves significantly over iTunes 11. "Searches that took more than 30 seconds with the initial release are nearly instantaneous now," he writes.
Another fix we found in iTunes 11.0.1 is that it properly attributes albums to "Various Artists" when appropriate in Album view. Previously, the app would pick the artist behind the first track on your mixed-artist album, and list that performer below the album's name—at least for some albums, for some users. That small visual glitch has followed Ping into the iTunes graveyard.

Yet another fix concerns the new MiniPlayer for folks with Full Keyboard Access enabled in the Keyboard section of System Preferences. (That option lets you use Tab to move between more on-screen controls.) With Full Keyboard Access turned on, the MiniPlayer in iTunes 11 always showed the currently playing track's album art and playback controls (previous, play/pause, next). In iTunes 11.0.1, the MiniPlayer correctly shows the currently playing track's title and artist—with the playback controls appearing only when you move the mouse over the MiniPlayer.
A bug that mistakenly allowed users to edit the behind-the-scenes Smart Playlists that generated certain views in iTunes is also squashed in iTunes 11.0.1.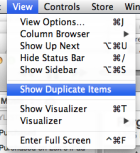 The restored Show Duplicates command, which had vanished with the release of iTunes 11, appears back under the View menu in iTunes 11.0.1. The tool remains as simpleminded as it was in earlier versions of iTunes: It looks only at identically-named tracks, ignoring important factors like whether the tracks are very different lengths (indicating different versions, like live versus studio versions), but it's useful for very casual identification of tracks in your library more than once.
If you spot other fixes or improvements in iTunes 11.0.1, let us know in the comments below.