iTunes 11 introduces a number of changes to the way you view the content in your media library. If you were used to displaying your music, movies, and playlists in a certain manner, you may have to change the way you use the software.
iTunes 11 introduces a whole set of new views and gets rid of most of what was available in previous versions. With iTunes 10, you could view your content in four ways: List view, Album List view, Grid view, and Cover Flow view. (Note that these were the views for music; some types of content, such as apps, didn't offer all these options.) In the new version, all four of those views are more or less gone. Here's a look at the different views iTunes 11 offers.
Songs view
What was called List view before is now known as Songs view. It's similar to what iTunes 10 offered—though with the new, narrower font iTunes 11 uses, it looks more compressed and is harder to read. This shows you one song per line, with no artwork.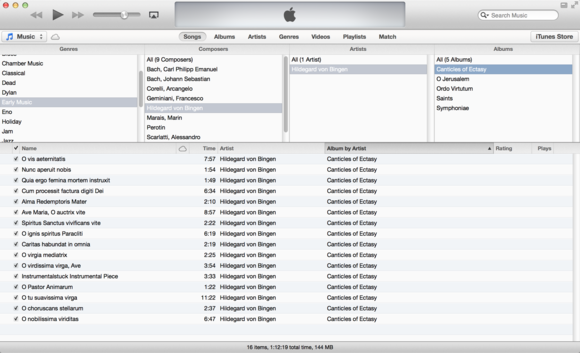 You can still use the Column Browser in Songs view, but there is no artwork viewer at the bottom left of the iTunes window. So when you select a track, you don't get any visual indication of what album it belongs to.

The main advantage of using Songs view is the ability to display any columns you want with information from your media files' tags. To do so, press Command-J, and check the columns you want to display. This View Options window is greatly improved in iTunes 11, with different types of tags grouped into sections so they're easier to find.
Albums view
Albums view is the new default view in iTunes 11, and it is similar to the previous Grid view, with some exceptions. With iTunes 10, you could change the size of the artwork that displayed; in iTunes 11, you have no such option. You can change the sort order in Albums view—press Command-J to display a small window, where you get two sort criteria. For example, you can choose to sort your content by Artist and then Title.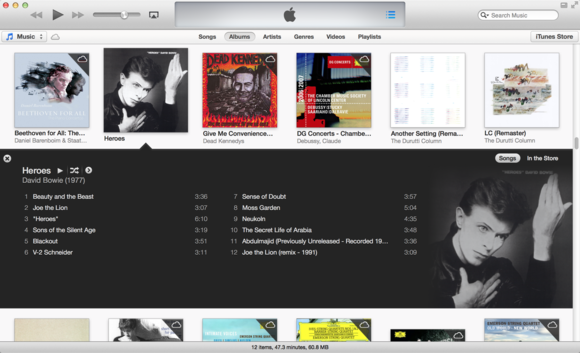 In addition to Albums view, a new Expanded Album view lets you see what's inside an album and then start playing items or otherwise work with them. (This view works with movies and TV shows too.) Click an album's artwork image, and you'll see its contents displayed below the artwork, in a color scheme iTunes bases on the dominant colors in the artwork, though you can turn this option off if you wish. Choose iTunes > Preferences, click the General tab, and in the Views section, uncheck Use custom colors for open albums, movies, etc.
Artists and Genres views
Artists view and Genres view are also new in iTunes 11. When you choose one of these views, you'll see a sidebar at the left of the iTunes window showing a list of either artists or genres, respectively. For artists, iTunes uses album art in your library to illustrate the entries; for genres, it uses built-in icons for standard genres; but if you have custom genres, it uses art from one album of that genre.
These views let you examine your music more closely, displaying album art, album titles, track names, and times. Also, if you've entered the year of the album's release, you'll see that date displayed at the right of the iTunes window.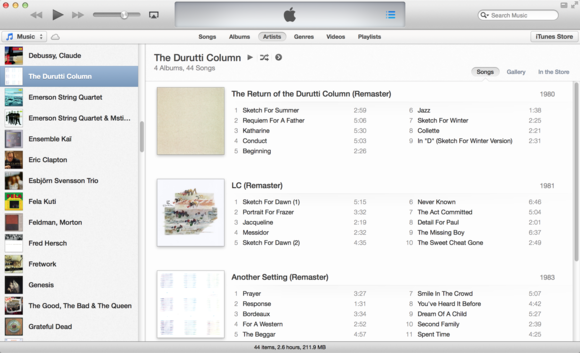 You have limited sort options in these views. You can press Command-J, and choose to sort by Title, Genre (in Artists view) or Artist (in Genres view), Year, or Rating. With each of these views, you can change the size of the artwork via a slider; and in Artists view, you can choose to group compilations, so you don't have the tracks of compilation albums scattered throughout the list.
As mentioned earlier, the Albums and Genres views display a new sidebar at the left of the iTunes window. You probably recall the sidebar in previous versions of iTunes: It displayed your media libraries, any connected devices, and all your playlists, among other things. If you miss that old sidebar, you can reenable it by choosing View > Show Sidebar, or pressing Command-Option-S. It will stay at the far left of the iTunes window, regardless of which view you choose.
Playlists view
Finally, there is Playlists view. This shows all of your playlists in a sidebar at the left of the iTunes window, and is available only if you don't display the sidebar mentioned above (which displays your playlists just as it did in iTunes 10). If you select a playlist, you can see its contents, and for each playlist you can choose a number of view options. You can display the Column Browser (View > Column Browser), or you can click the View button at the top right of the iTunes window to choose three ways of seeing the playlist: List, a simple list view; Grid, similar to Albums view; and Artist List, similar to Artists view.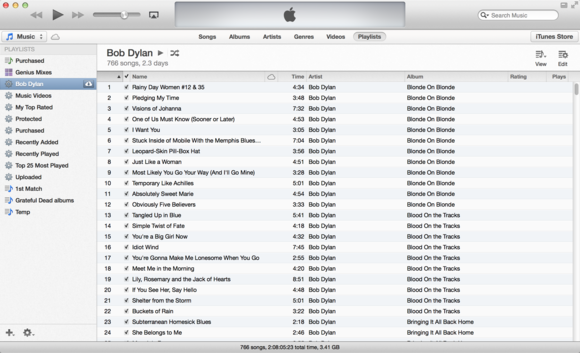 You also have view options available by pressing Command-J, and these change according to which of the three views you choose. In List view, for example, the View Options window lets you choose which columns to display; in other views, you can select a sort order, choose whether to group compilations, and adjust artwork size.
New and improved?
iTunes 11 introduces some new ways for you to view your media. Even if you're a longtime iTunes user, take some time to try out the different views and their options to figure out which ones work best for you. But don't forget that you can switch views at any time, depending on what you're doing in iTunes. Though you may find it hard to adjust to the new views, you may find them to your liking once you've had some time to get used to them. And if you still hate the new setup, you can always try rolling back to iTunes 10 if you're feeling particularly adventurous.