One of the big changes in iTunes 11 is the new MiniPlayer. The iTunes MiniPlayer has been around for years, but its functionality has been enhanced with iTunes 11. In addition to being a control center for playing your music, you can also use it to search for songs, playlists, and more, and to access the Up Next queue. Here's how you can get the most out of the iTunes MiniPlayer.
A mini window
First, if you want to use the MiniPlayer, you need to display it. In iTunes, choose Window > MiniPlayer, or press Command-Option-3, to display this window. This will bring up a MiniPlayer in addition to the main iTunes interface. If you want to just use the MiniPlayer, click the rectangular button at the upper right of the main iTunes window (just to the left of the control to enter full screen), select Window > Switch to MiniPlayer, or press Command-Option-M.

If you want to use the MiniPlayer a lot, you can close the iTunes window (Command-W), and set a preference that makes the MiniPlayer float above all your other windows. Choose iTunes > Preferences > Advanced, then check 'Keep MiniPlayer window on top of all other windows.' (Note that if you want to use the MiniPlayer with iTunes in full-screen mode, or if you use multiple spaces, this hint will tell you how to get it to work so it displays above other windows and in all spaces.)
So what can you do with the MiniPlayer? Of course it can tell you what's playing, but it does much more; you can access a number of controls if you hover your cursor over the MiniPlayer window.

From left to right, the controls are as follows:
First you'll see an X and below it, a rectangular-shaped button. The former closes the MiniPlayer, while the later expands the MiniPlayer back to the full iTunes interface.
Clicking the > button displays a contextual menu that lets you rate the currently playing song, play it next, add it to the Up Next queue, add the song to an iOS device or to a playlist, and go to it in your iTunes library or in the iTunes Store. Note that this button only shows up while music is playing.
The next three buttons are for controlling playback: They are previous, play/pause, and next.
The AirPlay icon lets you do two things. First, there's a volume slider here, which you can use to change iTunes' volume. Second, you can choose to stream your music to one or more AirPlay devices from this menu.
The next icon is the Up Next icon; you can access the Up Next queue here. You can move songs around in the queue, remove them from the queue, or play songs you've listened to recently.
Finally, the Search button lets you search your iTunes library, finding content that you may want to play right now, or add to the Up Next queue.
Using AirPlay
If you click the AirPlay icon, you'll see a menu showing any AirPlay devices you have, as well as a general volume slider.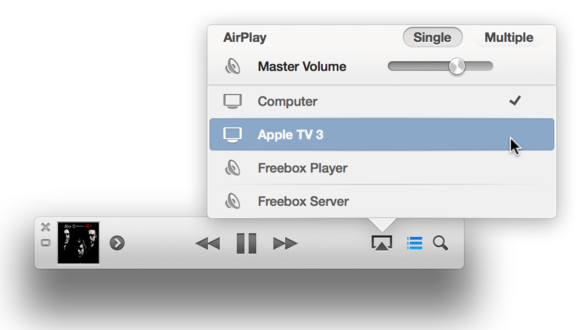 As you can see to the right, Computer is checked. If I want to send audio to my Apple TV, I just need to click on its line. You can send audio to multiple devices as well; click on the Multiple button, and check the ones you want to use. And the Master Volume slider adjusts iTunes' volume; if you choose to stream to multiple devices, each of them will also have its own volume slider.
Up Next
The MiniPlayer gives you access to your Up Next queue; just click the Up Next icon to have the queue display. You can see what's going to play soon; what you've recently played (click the clock icon); and you can drag tracks around, delete them, and more. Check out our extensive review of iTunes 11 to find out more about what you can do with Up Next.
Searching
If you click the magnifying glass icon, a search field appears on the MiniPlayer. Type one or more words, and you can search your Music library from the MiniPlayer (by contrast, the search box in the main iTunes window lets you search your entire iTunes library if you want). Search results will display quickly in a menu below the MiniPlayer.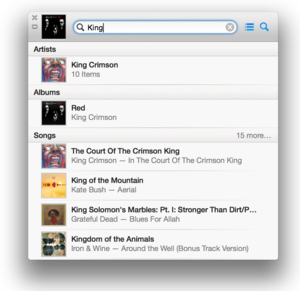 In the screenshot to the right, you can see artists, albums, and songs, but playlists will also display here. There's only one artist in my library with the word 'King', but there are several albums and a lot of songs. Only four items display in each section of the menu. To see all the songs in one long list, click '15 more….'
From this list, you can hover over an item and click the > icon to display a contextual menu to add items to Up Next, play them next, and perform other operations. If you double-click an item, it will start playing.
What's missing?
The MiniPlayer is missing one important thing: a progress bar. The previous version of this tool had one, so you could see where you were in a track, and skip ahead or back if you wanted to. You might not need this feature as often for music, but I always found it particularly useful for podcasts.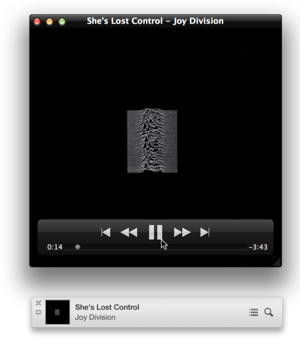 You can, however, get similar functionality by clicking the album artwork at the left of the window. This displays the Artwork Player—hover your mouse over this floating window to see controls and a progress bar.
As you can see above, the Artwork Player also has other controls, but they're more easily accessible from the MiniPlayer. There's nothing stopping you from displaying both of these windows, if you have enough screen space. If you want to use this, and keep it above other windows, iTunes' Advanced preferences has a 'Keep movie window on top of all other windows' window. Select that option and it will keep the Artwork Player visible at all times.
The MiniPlayer is a great tool to control iTunes, manage what you're listening to, and quickly search for music. If you get used to it, you may find yourself controlling much of your listening from this small window instead of visiting the main iTunes window.