Though Apple's 2012 might have seemed dominated by Mac, iPhone, and iPad news, other big stories for the company cropped up throughout the year. This was Tim Cook's first full year as Apple's CEO, and Apple faced challenges in the realm of security, made transitions in its online services, and updated one of its flagship applications. We've already recounted the year in iOS news and the year in Mac news. Here are highlights from Apple's 2012 in terms of, well, everything else.
This is Tim
This year marked Tim Cook's first full calendar year as CEO. And he wasn't quiet. Despite his promise that Apple would double down on secrecy, Cook spent a surprising amount of time in 2012 talking publicly about Apple's plans and strategies.
He followed in Steve Jobs's footsteps by speaking at the annual D10 conference. He reassured unhappy customers that a new professional Mac would arrive in 2013. He coined the term " toaster fridge" in describing why Apple isn't looking to make a hybrid Mac/tablet, and he explained his vision of the post-PC world.
Cook also made a public statement about iOS 6's Maps app—specifically, saying that Apple was " extremely sorry" for the frustration the app had caused. He even took the step of suggesting that customers disappointed with Maps try mapping options from other companies such as Google, Microsoft, and Motorola. That, moment, dear Mayans, is when the world as we knew it drew to a close.
Sometimes, actions speak louder than even Tim Cook's words. In late October, Cook oversaw personnel changes at Apple's highest level, a staff shake-up that sent Scott Forstall and John Browett packing, with Jony Ive, Eddy Cue, and Craig Federighi all assuming significant, new responsibilities. That may well prove to be the most impactful decision of Cook's year.
In security
For a platform long held to be as safe and secure as the Mac, it was a surprisingly noisy year on the security front. The insidious Flashback Trojan horse left many Mac owners feeling angsty about their computers. The malware, which could infect your Mac if you merely visited the wrong nefarious website, exploited various weaknesses in Java. On other computing platforms, Oracle—which owns Java—had already issued updates that patched those vulnerabilities. But since Apple issued Java updates independently, Mac users were largely left in the lurch; if you had Java enabled, you were at risk. Analysts at one point claimed that more than 600,000 Macs were infected with Flashback.
Apple made changes: Beyond merely releasing a Flashback removal tool and finally patching Java itself, Apple eventually disabled Java by default, and automatically turns off the Java browser plug-in if it goes unused for a while.
Beyond Flashback, Apple took other big steps in security in 2012. With Mountain Lion's Gatekeeper feature, Apple aimed to make Mac users safer by limiting which apps could run on their computers by default. And by requiring developers to sandbox their apps, Apple pared down what even safe-to-run apps could access on Macs.
iTunes, Brute?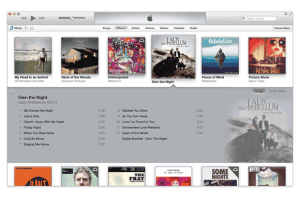 Midyear, we bid adieu to Ping, Apple's social network, which departed this earth a mere two years after its introduction, owing to a number of problems. We had a better experience with the iTunes Match cloud streaming service after a year, though that still has room for improvement.
But the biggest news in iTunes this year came in September, when Apple announced that it would be overhauling the venerable media player/app store/syncing application. iTunes 11 was first scheduled to come out in October, but as that got down to the wire, Apple announced that it would be delaying the release until November, in order "to take a little extra time to get it right."
Even with that, iTunes 11 didn't appear until the end of November, and when it did arrive, it was to a mixed review: While people applauded some of the new features, many of the changes came across as off-putting to longtime users.
Cloudy with a chance of outages
The service previously known as MobileMe entered its second year in 2012, and although Apple improved some of its capabiltiies, it remained largely unchanged this year. We did bid good-bye to some old friends: As promised last year, Apple shut down iWeb hosting and iDisk in the middle of the year, though it graciously extended storage upgrades for those users by another year. iWork.com likewise took a long walk off a short pier.
Apple encountered some bumps in the road, though. In September, the company confirmed an extensive outage of iCloud email that affected many users, including a singer/songwriter.
Developers also expressed their frustration dealing with Apple's online service, and we pointed out that iCloud has a surprising lack of collaborative and sharing features. Here's hoping that 2013 will give us something to look forward to in that department.
TV or not TV
Though Apple didn't release the television set of Gene Munster's dreams, it did show some love for its favorite hobby (after philately): the Apple TV. The third-generation Apple TV made its grand debut, adding 1080p support and not much else, without moving the $99 price tag an inch.
Perhaps the bigger story in the Apple TV arena was the introduction of Apple TV Software Update 5.0, which revamped the set-top box's interface entirely, permitting quicker and simpler navigation—and seemingly making it possible for Apple to introduce Apple TV apps one day, should the company ever be so inclined. There's always 2013.
Other Apple hardware
Apple quietly updated the AirPort Express in June, which pleased us greatly, thanks to the base station's newfound ability to provide simultaneous dual-band networking and its addition of a second ethernet port.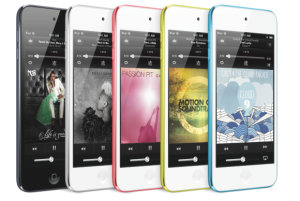 The company also unveiled updates to the iPod touch and iPod nano. The new iPod touch comes in a variety of colors, and includes a color-matched wrist strap to go along with it. Sporting a dual-core A5 processor and a much-improved camera, the venerable iPod touch remains Apple's stalwart iPhone without a phone.
The iPod nano, meanwhile, gained a 2.5-inch Multi-Touch screen and a Home button, and once again supports video.
The lonely Shuffle and iPod Classic scored no updates at all, but at least Apple still sells them. For now.