The tenacity of paper is amazing. Given that electronic screens permeate our lives and a whole generation has grown up with the Internet in their homes, it seems that paper should be obsolete by now. Yet we still get account statements in the mail and little strips of paper every time we make a purchase (Apple Stores notwithstanding). Mariner Software's Paperless 2.2.1 can't prevent those papers from drifting into your life, but it can hasten their trip to the recycling bin.
Paperless couples with a Fujitsu ScanSnap or an Image Capture-compatible document scanner to digitize things like receipts and business cards (TWAIN devices are not supported). Once you scan the document, its image is processed using optical character recognition (OCR) to create a searchable archive. Finally, thanks to Paperless's built-in smarts, it attempts to parse the document so that it can fill in metadata with information like dates and dollar amounts.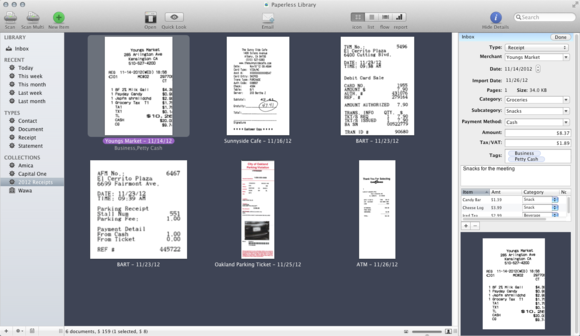 Paperless uses a three-column window to display your document library. The left column provides access to sets of items called collections, and default collections filter your library by date ranges like 'this week' or 'last month'. It also offers up items by type if you want to scan through all your contacts.
Paperless provides a space for two flavors of custom collections. The standard custom collection is essentially a folder that holds whatever items you drag into it. Smart collections work like iTunes' smart playlists: You choose the criteria to search for, and Paperless places the matching items into the collection. Frustratingly, a smart collection can't match on OCR text despite the fact that Paperless's search bar does include results from that text. This seems like a major missed opportunity to organize automatically.
Once you select a collection from the left column, the constituent library items appear in the large center pane of the Paperless window. By default they appear in icon view showing each document's name and resizable thumbnail. When dealing with more than a few dozen items, you may want to switch out of icon view in favor of the more compact list view, or split the difference with a Cover Flow option. Clicking any document will populate the Details column on the far right side of the window—this is the part that displays the document's metadata. The data you see depends on the type of document you've selected. Generic documents show generic metadata like a title, date, and category. Classify an item as a receipt, and more-specific fields like amount and tax are offered up. While a few document types come predefined, customization is where Paperless shines. If you want to add a field for Twitter handles in your Contact items but don't want to see phone numbers, the customization features aims to make such fine-tuning a breeze. Using its Library Configuration window, Paperless allows you to define your own document types with any combination of built-in and custom fields.
A reporting function geared toward expense reporting attempts to aggregate information from your receipts and display them in a useful way. The Expenses report lists the items you've found for your report at the top, then lists them again with a small image of each just below. If you've taken the time to enter each receipt line item as metadata, each line item appears separately with an image of the receipt it was on. Thus, if you have five items on one receipt, the expense report will display five images of the exact same receipt. Switching to the Table report does away with the images and shows just the aggregated list—a View Options button lets you choose which metadata gets displayed. The Chart report displays a pie chart with the items grouped by the field of your choice. While accurate, the chart doesn't resize to fit its own labels, and information gets cut off. Print any of the reports, and Paperless will waste ink by printing the configuration buttons that appear at the top.
Paperless's design and use of Mac features like Quick Look make using it easy and comfortable. Several times, however, things simply didn't work. Clicking the button to create a custom field sometimes had no apparent affect until I closed and reopened the customization window to find the new, untitled field. Twice during my evaluation a dialog box popped up informing me that Paperless had encountered an error, and offering to transmit a report of the incident back to Mariner Software. After both events, the program remained open and unstable, and it was up to me to force-quit and relaunch.
Bottom line
Paperless is a solid effort, but glitchy behavior casts a shadow. If you can live with that, and you have a compatible scanner and the desire to get out from under your paper mountain, download the free demo and see if Paperless hits the spot for you.