Input Sources
If you have an inability to imagine what life is like outside your country's borders, you may believe that Apple ships Macs that work exactly as they do on your home turf. The keyboard is arranged in what we consider the traditional QWERTY order, typing Option-4 invariably produces the ¢ character, and the Mac smells like home cookin.' (Okay, Macs do smell like home cookin',—even when that cookin' involves a heap of cumin and curry powder—but otherwise, no.) It makes little sense to print English alphanumeric characters on keys when another region's language doesn't use them. And therefore, the QWERTY arrangement makes little sense on these Macs.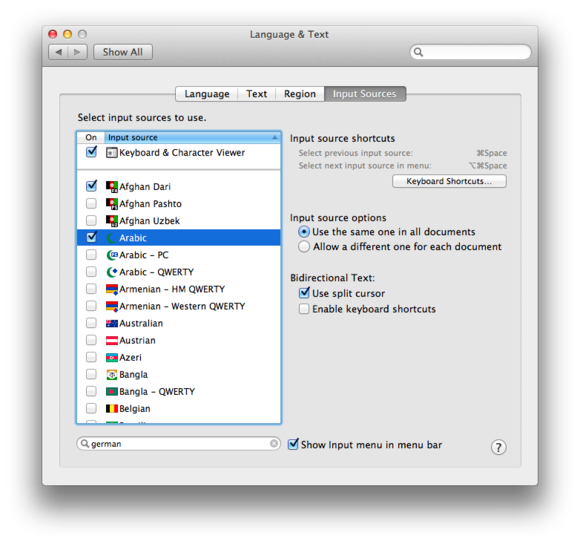 But for some people, there are times when they need to type in a language that didn't ship as the default for the Mac they're currently using. And that's a big part of what the Input Sources tab is about. Here you find yet another list of languages. When you select the United States, the stars-and-stripes appears in the menu bar. Click this flag and you can choose any other language that you've enabled in the Input Sources tab. Select one of these languages and the Mac's keyboard will be remapped to use that language as well as the character set that accompanies it.
For example, if I enable the Canadian French – CSA input source and choose it, when I type Option–4 I don't see the ¢ character, but rather than € symbol. If I choose Afghan Dari and type, I see a series of characters completely unfamiliar to me.
To the right of the list of languages, you find that you can choose to use the same input source for all of your documents or use a different one for each document.
Within the list of languages, you'll spy a helpful option at the very top of the list—Keyboard & Character Viewer. Enable this option and its symbol will appear in the Mac's menu bar. Choose Show Character Viewer from this menu and a window will appear that contains loads of uncommonly used characters including arrows, punctuation, currency symbols, pictographs, bullets/stars, math symbols, letter-like symbols, and Emoji and Latin characters.
You can page through these symbols, seeking the one you want, and then double-click it to insert it into the document you're currently working with. Or, if you're looking for a variation of a character that you do know how to type—an asterisk, for instance—type that character in the Characters window's Search field and a group of variations appears in the window below. Again, just double-click the character you want to insert.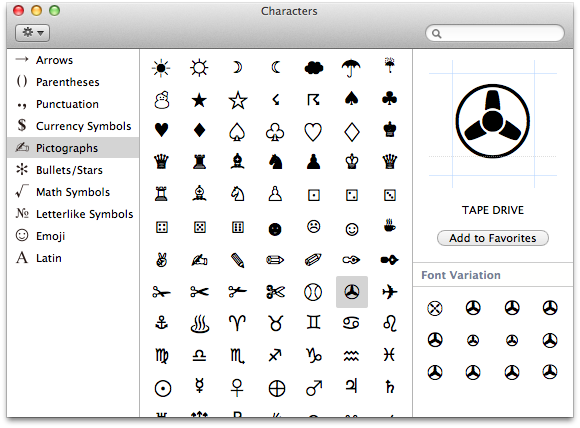 When you select Show Keyboard Viewer, a representation of the Mac's keyboard will appear in a small window. You enlarge this window by clicking its green Zoom button in the top-left corner (or just drag one of the window's corners).
This window can be helpful in a couple of ways. First, if you've forgotten how to type a character you rarely use—the ¥ symbol, for example—you can find it by pressing one or two of the Mac's modifier keys. In this case, press the Option key and you'll find that you can produce this character by pressing Option-Y. Hold down Shift and Option and another group of characters appears.
It's also helpful when you're using an input source other than the one you normally use. You may be unaware, for example, that to produce the German keyboard's Z character, you press the Y key on a keyboard designed for English-speaking countries.
And that's the Language & Text system preference—one that's full of options that can make it easier to type as well as type in your preferred language.
Next week: Notes on notifications
Note: When you purchase something after clicking links in our articles, we may earn a small commission. Read our affiliate link policy for more details.
Chris has covered technology and media since the latter days of the Reagan Administration. In addition to his journalistic endeavors, he's a professional musician in the San Francisco Bay Area.