Nappy New Year! If you depend on a phone call, text message, or third-party app to wake you each morning, there's a good chance you got to sleep in today.
According to posts on Apple's Discussions forums, complaints on Twitter, and reports around the Web, many people awoke this morning—late—to discover that iOS's Do Not Disturb mode didn't turn off when it was supposed to.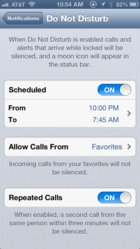 Do Not Disturb is a convenient feature, added in iOS 6, that lets you configure specific hours during which your iOS device won't bother you with phone calls, text messages, or notifications. So, for example, you can configure your iPhone to keep quiet between 10pm and 7am, regardless of whether or not you've muted the phone using the Ring/Silent switch. (Do Not Disturb does not affect alarms set in iOS's Clocks app; however, it does suppress alarms from third-party apps.)
The problem—for some people, at least—is that come New Year's Day 2013, Do Not Disturb apparently forgot to set its own alarm (or anthropomorphically slept right through it). These users awoke to see the familiar crescent-moon icon in the status bar, meaning that Do Not Disturb mode was still active, hours after it was scheduled to disappear. A Macworld editor, for example, discovered that Do Not Disturb was still enabled at 10:30am, even though it was scheduled to turn off at 8:25am.
If you're experiencing this issue, we've seen a number of suggestions for fixing it, though none of these fixes seems to work for everyone. Try the following procedures, in this order, until Do Not Disturb successfully turns off:
Disable Do Not Disturb mode (on the main Settings screen).
Change the Do Not Disturb schedule (in Notifications: Do Not Disturb: Scheduled) and then change it back to your preferred schedule.
If you've scheduled Do Not Disturb to go on after midnight, change the schedule so that it starts before midnight—for example, 11:59pm.
Restart your device by holding the Sleep/Wake button down until Slide To Power Off appears on the screen; use that slider, and once the phone turns off completely, hold the Sleep/Wake button down again until the silver Apple icon appears on the screen.
We haven't tested to see if this is something that happens only on January 1, or if the bug will continue to affect Do Not Disturb schedules until Apple releases an update to iOS 6.
Interestingly, this isn't the first time iOS has tried to help us get enough sleep on New Year's Day. Last year, non-recurring alarms set in the Clocks app didn't go off on January 1. That bug allegedly affected only the first three days of 2011.