Attentive reader Sarah Wagner wants more from her Kindle. She writes:
I watched your video on syncing books to Kindle devices and apps and thought it was helpful. But I'd like to sync documents other than ebook files. Is that possible?
It is indeed. In that video I showed you that with the free Send to Kindle application on your Mac you can upload Kindle-compatible ebook files to your Kindle. But the Kindle platform supports more than just these files. Also supported are Microsoft Word (.doc, .docx), HTML (.html, .htm), RTF (.rtf), JPEG (.jpeg, .jpg), Kindle Format (.mobi, .azw, .azw3), GIF (.gif), PNG (.png), BMP (.bmp), and PDF (.pdf) files.
There are a couple of ways to move these files to your Kindle or a Kindle app on your iOS device. The first is the Send to Kindle application I mentioned. Just drag into it the files you want to sync, choose the Kindle devices and apps you wish to sync with, and upload the files to Amazon, where they'll be synced with the devices you've chosen.
If you've installed the Send to Kindle application on your Mac, you'll discover that Send to Kindle is now an option within Print dialog boxes. Choose this option and the document you're working with will be converted to a PDF file and appear within the Send to Kindle application that launches automatically. Again, choose your devices and apps and sync. (Note that while you can transfer PDF files to your Kindle devices and apps, last-page sync doesn't work with PDF files or those files transferred via USB.)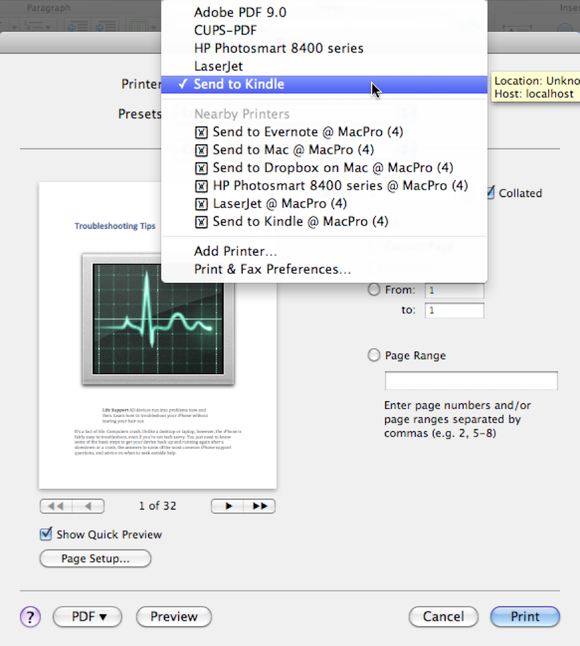 You can also send files to your devices using each Kindle's email address. In order to do that, you must provide Amazon with a list of approved addresses that documents can be sent from. You do this via your Manage Your Kindle page. Once there, click the Personal Document Settings option and in the Approved Personal Document E-mail List area click the Add a New Approved E-mail Address link and in the window that appears, add the address you wish to approve.