If, as is the case for an increasing number of people, your first experience with an Apple product came via an iPhone, iPod touch, or iPad, you've likely noticed that your iOS device and your Mac offer some of the same features. This is part of Apple's "Back to the Mac" strategy, where features introduced in iOS, its mobile operating system, are then brought to the Mac OS. One such feature is Notification Center, the subject of today's lesson.
Notification Center, whether found on an iOS device or a Mac running Mac OS X Mountain Lion, is a place where alert messages of various kinds are gathered together. On the Mac you'll find a Notification Center icon on the far right of the menu bar—represented by what appears to be a bulleted list. Click this icon, and the Notification Center pane appears.
The topography of Notification Center
Exactly what you see in Notification Center depends on how you've configured the Notifications system preference, but here are the basics. Within Notification Center you'll see various application headings. You might, for example, see entries for Mail, Calendar, and Game Center. Beneath each heading is a list of notifications that apply to that application. In the case of Calendar, you see current and upcoming events. Under the Mail heading, you spy, by default, the last five email messages you've received.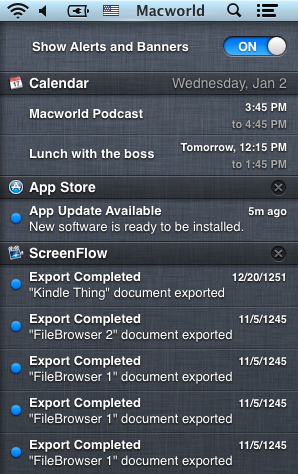 When you click on a notification, its host application opens and shows you the associated item. For instance, if you click on a notification that appears under the Mail heading, Mail launches (if it's not already running) and displays the entire message associated with the notification you clicked. If you click on a Calendar notification, Calendar opens and shows you the Edit window for the event you clicked.
To remove notifications from beneath most headings, just click the small X that appears next to the heading's name. The heading and its notifications will disappear. The heading will reappear when that application next generates a notification. The exception to this behavior is Calendar. There is no such X within this heading. Instead, Calendar notifications automatically disappear after events have taken place.
Above these notifications is a hidden area. You can view it by swiping up or down on a trackpad (depending on how you've configured the trackpad's scroll direction) or use the scrollwheel/ball on a mouse for this same purpose. Here you'll find a 'Show Alerts and Banners' entry with an On/Off toggle switch next to it. This is akin to iOS's Do Not Disturb feature (though the OS X implementation doesn't allow you to schedule when notifications are blocked). You use this switch to disable notifications until the next day (at which point the switch automatically toggles back on) or until you manually switch them back on, whichever occurs first.
You might use this feature if your Mac sits nearby your sleeping form and you'd rather not have late-night audio alerts wake you. If you find it too much trouble to use the switch, you can simply hold down the Option key and click on the Notification Center icon in the menu bar. It will turn gray, indicating that notifications have been switched off.
If you've set up Twitter and/or Facebook accounts within the Mail, Contacts & Calendars system preference (something we'll discuss in the future), you'll also find 'Click to Tweet' and/or 'Click to Post' buttons in this area. To use these buttons, just click on one and a small text window will drop down where you can enter your tweet or Facebook post. If you click on Click to Post, you can choose who can view your post on Facebook—everyone, friends, only me, family, close friends, or acquaintances. Both of the buttons support the Mac's ability to broadcast your location, so if you want the world to know where you've tweeted/posted from, just click Add Location and your whereabouts will be appended to your entry.
At the bottom of the pane you'll see a Settings icon. As it happens, that's what we'll address next.
Note: When you purchase something after clicking links in our articles, we may earn a small commission. Read our affiliate link policy for more details.
Chris has covered technology and media since the latter days of the Reagan Administration. In addition to his journalistic endeavors, he's a professional musician in the San Francisco Bay Area.