If, as is the case for an increasing number of people, your first experience with an Apple product came via an iPhone, iPod touch, or iPad, you've likely noticed that your iOS device and your Mac offer some of the same features. This is part of Apple's " Back to the Mac" strategy, where features introduced in iOS, its mobile operating system, are then brought to the Mac OS. One such feature is Notification Center, the subject of today's lesson.
Notification Center, whether found on an iOS device or a Mac running Mac OS X Mountain Lion, is a place where alert messages of various kinds are gathered together. On the Mac you'll find a Notification Center icon on the far right of the menu bar—represented by what appears to be a bulleted list. Click this icon, and the Notification Center pane appears.
The topography of Notification Center
Exactly what you see in Notification Center depends on how you've configured the Notifications system preference, but here are the basics. Within Notification Center you'll see various application headings. You might, for example, see entries for Mail, Calendar, and Game Center. Beneath each heading is a list of notifications that apply to that application. In the case of Calendar, you see current and upcoming events. Under the Mail heading, you spy, by default, the last five email messages you've received.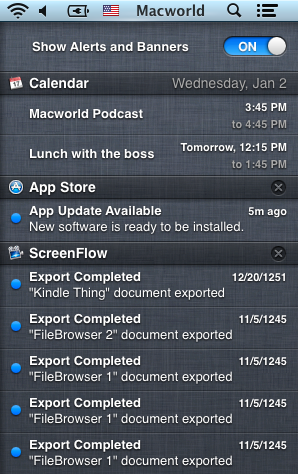 When you click on a notification, its host application opens and shows you the associated item. For instance, if you click on a notification that appears under the Mail heading, Mail launches (if it's not already running) and displays the entire message associated with the notification you clicked. If you click on a Calendar notification, Calendar opens and shows you the Edit window for the event you clicked.
To remove notifications from beneath most headings, just click the small X that appears next to the heading's name. The heading and its notifications will disappear. The heading will reappear when that application next generates a notification. The exception to this behavior is Calendar. There is no such X within this heading. Instead, Calendar notifications automatically disappear after events have taken place.
Above these notifications is a hidden area. You can view it by swiping up or down on a trackpad (depending on how you've configured the trackpad's scroll direction) or use the scrollwheel/ball on a mouse for this same purpose. Here you'll find a 'Show Alerts and Banners' entry with an On/Off toggle switch next to it. This is akin to iOS's Do Not Disturb feature (though the OS X implementation doesn't allow you to schedule when notifications are blocked). You use this switch to disable notifications until the next day (at which point the switch automatically toggles back on) or until you manually switch them back on, whichever occurs first.
You might use this feature if your Mac sits nearby your sleeping form and you'd rather not have late-night audio alerts wake you. If you find it too much trouble to use the switch, you can simply hold down the Option key and click on the Notification Center icon in the menu bar. It will turn gray, indicating that notifications have been switched off.
If you've set up Twitter and/or Facebook accounts within the Mail, Contacts & Calendars system preference (something we'll discuss in the future), you'll also find 'Click to Tweet' and/or 'Click to Post' buttons in this area. To use these buttons, just click on one and a small text window will drop down where you can enter your tweet or Facebook post. If you click on Click to Post, you can choose who can view your post on Facebook—everyone, friends, only me, family, close friends, or acquaintances. Both of the buttons support the Mac's ability to broadcast your location, so if you want the world to know where you've tweeted/posted from, just click Add Location and your whereabouts will be appended to your entry.
At the bottom of the pane you'll see a Settings icon. As it happens, that's what we'll address next.
Notifications settings
Earlier I mentioned that what appears in Notification Center depends on how you've configured it. And configure it you shall in the Notifications system preference. You can reach this preference either by clicking on the aforementioned Settings button or by choosing System Preferences from the Apple menu and clicking on Notifications in the resulting System Preferences window.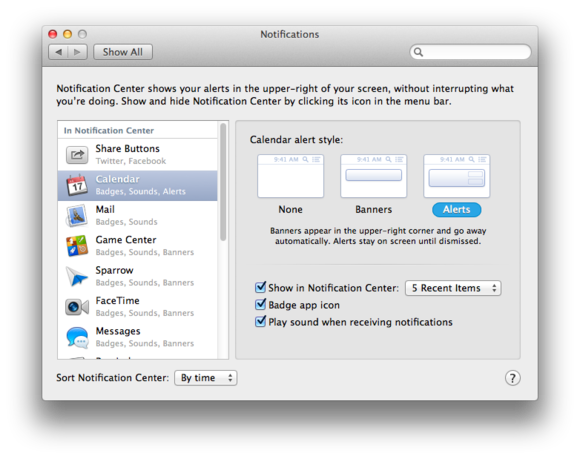 Along the left side of the window, you'll see a pane that lists applications that are capable of sending you notifications—this includes Apple applications as well as third-party applications that support notifications. Those that appear under the In Notification Center heading are capable of making their presence known in Notification Center. Applications that appear under the Not In Notification Center heading support notifications, but you've chosen not to allow them to produce such notifications. (I'll show you how that's done soon.)
To the right is the area you use to configure how notifications are presented. Select Calendar and I'll show you how this works.
Near the top of the area, you see three alert styles—None, Banners, and Alerts. We'll start with banners and alerts.
A banner notification is one that appears briefly and then disappears. For example, you might see the subject heading and sender of an email message. An alert notification requires that you manually dismiss the notification by clicking a button within the notification. Calendar alerts, by default, use this kind of notification.
If you select None, no notification will pop-up on your Mac's screen to warn you of the impending event. However, the notification will still appear in Notification Center.

In nearly every case, banner and alert notifications don't reappear. The annoying exception is Apple's own Software Update notification. When this alert notification appears, you can dismiss it only by clicking either its Details or its Update button, each of which causes the Mac App Store application to launch. Yes, you can drag the notification off the screen to the right but this is only a temporary fix—the notification will reappear after a few minutes.
Three options appear below the alerts area. The first, 'Show in Notification Center', allows an application to appear under the In Notification Center heading. If you uncheck the option, the application won't display notifications and will be relegated to a position under the Not In Notification Center heading. (You can optionally drag applications so that they appear under this heading.) Next to this entry is a pop-up menu where you can choose the number of items that appear under an application's heading—1 Recent Item, 5 Recent Items, 10 Recent Items, or 20 Recent Items.
The Badge App Icon option determines whether a small red icon indicating unaddressed actions appears on the application's Dock icon. For instance, with this option on for the Mail application, the number of unread email messages will appear within Mail's badge. Turn it off and you'll see no such badge.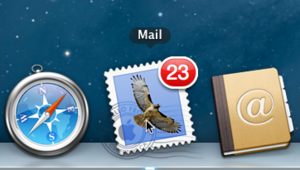 Finally, the Play Sound When Receiving Notifications option allows you to mute alert sounds.
If you've configured Twitter and/or Facebook for your Mac, you'll find at least two more entries at the top of the pane on the left side of the window. The first is Share Buttons, which appears at the top of the applications list. Select it, and you can choose whether to show the 'Click to Tweet' and/or 'Click to Post' buttons in Notification Center.
If you've configured Twitter and select it in this preference, you see a Notifications button to the right. Click it and you can choose the kind of tweets that will appear in Notification Center—direct messages, messages and replies from people you follow, or mentions and replies from anyone. (You can also choose to see no mentions and replies.) Facebook lacks such a button, as well as the Badge App Icon and Play Sound When Receiving Notifications options.
Order up
It's within this system preference that you configure the order in which notifications are displayed. Choose By Time from the Sort Notification Center pop-up menu at the bottom of the window, and the applications in Notification Center will be listed in the order of the last received notification. For example, if the last notification you received was for an email message received by Mail, the Mail heading will appear at the top of the list. If the previous notification was from Calendar, Calendar will appear after Mail in Notification Center.
If you choose Manually from the Sort Notification Center pop-up menu, you can do exactly that. Within the preference pane, click and drag applications so that they appear in the order you prefer. If you want Calendar notifications to always appear at the top of Notification Center, for example, just drag Calendar to the top of the list. (And yes, it can appear above the Share Buttons entry, but it won't appear above the hidden 'Show Alerts and Banners' switch.)
There you have the ins and outs of Mountain Lion's notifications—a handy way to keep up-to-date on the events and messages that are most important to you.
Next week: Sight and Sound