Many of today's DSLR (digital single-lens reflex) cameras can shoot not only great images, but also outstanding high-definition video. And when you're ready to edit video that you've shot with a DSLR, Final Cut Pro X makes browsing, selecting, importing, and backing up your media—both video and stills—fast and easy, even if you've already used another application to move the media onto the computer. Let's take a look at the options you have for importing media shot with a DSLR into Final Cut Pro X.
First, to see whether your camera is compatible with Final Cut Pro X, check this chart on Apple's website.
Connection options
You can directly import media from most popular DSLRs into Final Cut Pro, either by connecting your camera directly to your Mac with a USB cable or by taking the media card (usually a Compact Flash or Secure Digital card) from the camera and plugging it into a card reader attached to your Mac.
Either way, Final Cut Pro will recognize the media card in the attached camera or card reader, automatically launch the Media Import window, and display it at the top left corner, under the Cameras section.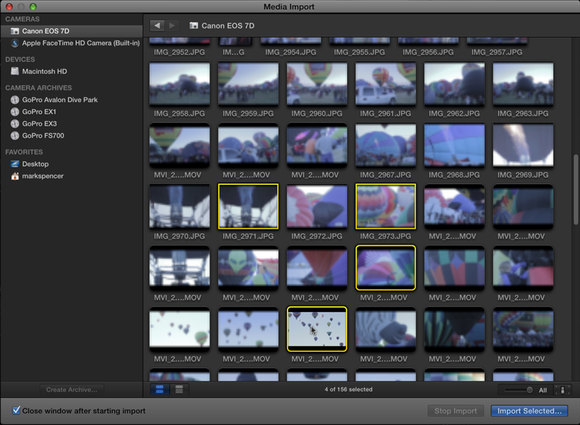 The videos and images from your camera appear in the main window, where you can select, preview, and import them into Final Cut Pro for editing. You can choose to view your clips either as thumbnails for quick browsing or as a sortable list. In List view, you can sort the entries by any column header, which makes it a great way to find clips shot on a specific date, say, or to locate specific video clips quickly, such as those shot on a certain date.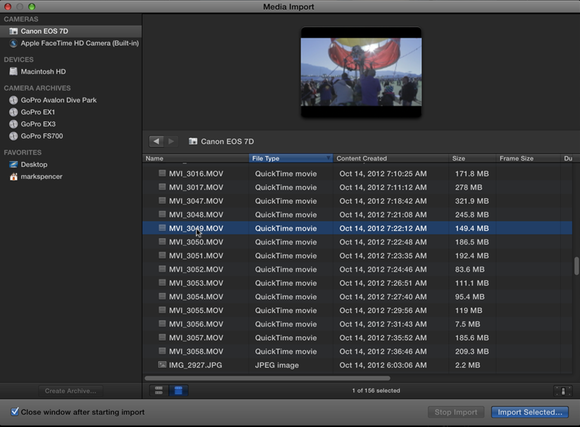 Though either connection method allows you to browse, select, and import clips, using a card reader gives you more options. For one thing, you can select and import a specific range of a video clip, instead of importing the entire clip. To do so, click-drag across the clip, or play the clip, and then press I to set the range's Start point and O to set its End point. You can even select multiple ranges on the same clip. If you're using a mouse to select video, use the Command key to create additional ranges. If you're working from a keyboard, press Shift-Command-I and Shift-Command-O for each additional range Start point and End point. This approach works especially well if you've shot a long clip, such as an interview, and want to grab just a few choice soundbites.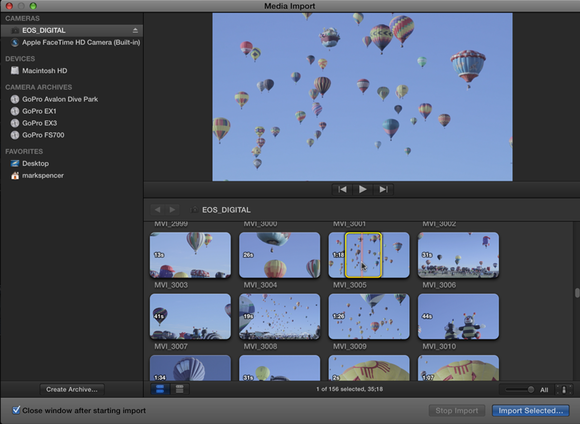 In addition, with a connected card reader, you can create a camera archive. An archive is a bit-for-bit copy of the media and the folder structure of your card. It's a great way to back up your media. To create an archive, click the Create Archive button at the bottom left of the Media Import window. After creating the archive, you can erase the card and resume shooting. The archive appears on the left side of the Media Import window, where you can select it and then import your clips.
Import options
Having selected the images and movie ranges that you want to work with, click the Import Selected button at the bottom right to bring up a new window with options for organizing, transcoding, and analyzing your clips.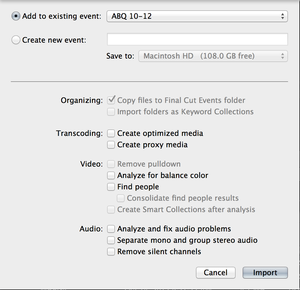 Start by choosing an event to receive and hold your imported media. You can select an existing event or create a new one.
The Organizing section contains two checkboxes. You can't uncheck the 'Copy files to Final Cut Events folder' checkbox, since your files are on a media card. This is a safety feature: if you failed to copy the files and then removed the card, all of your files would go offline. Likewise, you can't check 'Import folders as Keyword Collections' because it applies only to media located on a drive.
Next come the Transcoding options: 'Create optimized media' and 'Create proxy media'. If you're working on a relatively new iMac, Mac mini, or MacBook Pro, you can safely leave both of these options unchecked, since your system can probably handle your original, native files without a hitch.
If you're using a late-model Mac, you might consider optimizing the media for better playback performance and faster rendering. However, since you can choose to transcode media after importing, I would leave both of these options unchecked, and transcode later only if necessary.
The Video and Audio options are useful if you have white-balance issues or audio problems, or if you need a quick way to locate shots that have people in them. Final Cut Pro won't automatically correct any problems that it discovers, but it will flag the relevant shots so you can fix them with a simple click if you choose to.
When you click the Import button, the Media Import window will close, and your clips will begin appearing in the Event Browser. You don't have to wait for all of the clips to import; in fact, you can start selecting and editing clips immediately— even if they are being transcoded in the background.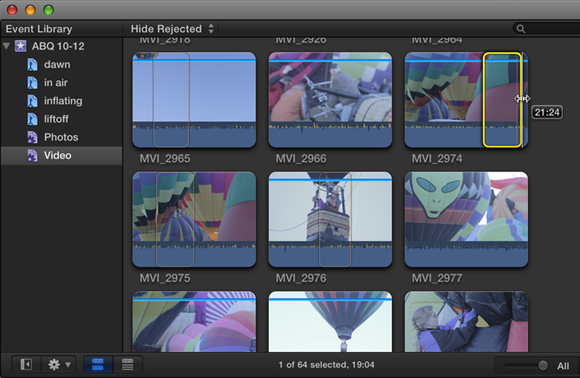 iPhoto and Aperture
The process I've just described is great for new material, but how do you deal with movies and images that you've already imported into iPhoto or Aperture? No problem. Just click the camera icon at the right side of the toolbar to open the Photos browser.